8x1 – Das Ritual der Rache
When a body is found cut into pieces and wrapped in a plastic bag, all signs point to an old-fashioned Mafia-style execution. Why is Detective Montalbano's trusted colleague Mimi Augello suddenly behaving erratically, and insisting on handling the case alone? Could Mimi somehow be involved in the murder? An old friendship is tested as Montalbano tries to help Mimi out of a dangerous situation.
Gesehen von 1 User
8x2 – Der Tanz der Möwe
Fazio is missing and everything points to a fatal outcome. Salvo shows his deep caring for his team and is devastated; yet pursues relentlessly to find out what happened and who is behind. After we learn about deeper implications of powerful players. Montalbano at his best perceiving what's behind the scenes and unexpected situations. Finally Salvo plays it masterly with his superiors forcing a tight conclusion and the scene where he physically expresses his satisfaction must be an all time classic.
Gesehen von 1 User
8x3 – Die Jagd nach dem Schatz
Inspector Montalbano is intrigued by a series of clues sent to him during a slow period. The mystery opponent is building up to a "beautiful treasure" just for the Inspector.
Gesehen von 1 User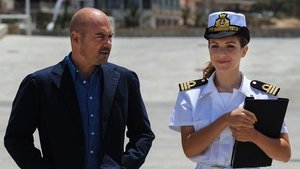 8x4 – Die Tage des Zweifels
Inspector Montalbano visits a luxury boat driven into Vigata harbor by a storm, because while off the coast the crew found a corpse in a drifting row-boat. This is a murder case because the dead man was both poisoned and disfigured to prevent identification.
Gesehen von 1 User