4x1 – Liebe und Brüderlichkeit
Salvo is called to the scene of a dead blind man and finds himself taking responsibility for his guide dog. Once the investigation determines that the man was murdered, a course of events lead Salvo to deceive 'Livia into taking a "working" vacation weekend to visit the man's sister and finding that they are in debt with the loan sharks. It is later determined that the murdered man left his substantial savings to his sister - but where did the money come from?
Gesehen von 1 User
4x2 – Montalbanos Arancini
Montalbano must solve a murder case before the New Year's end dinner.
Gesehen von 1 User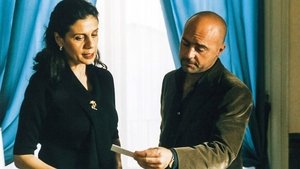 4x3 – Der Kavalier der späten Stunde
A well respected financial planner disappears, and Montalbano must find out what's up.
Gesehen von 1 User
4x4 – Der Kater und der Distelfink
A series of muggings ends in tragedy when one of the victims is killed. Meanwhile a man reacts badly on hearing that his daughter is pregnant and a doctor is missing.
Gesehen von 1 User