6x1 – Flittern für die Ewigkeit
Cameron isn't ready to conclude his honeymoon with Mitchell after their wedding. Gloria takes Jay to task over his appearance. The Dunphys must ready themselves for the return to school.
Gesehen von 50 Usern
6x2 – Nicht drücken
Phil, Luke, and Haley cause nothing but aggravation for Alex when they tag along on her tour of Caltech. Jay and Gloria have trouble finding the perfect gifts for their anniversary.
Gesehen von 50 Usern
6x3 – Wer mehrmals niest, dem glaubt man nicht
The Dunphys are down with a cold, thanks to Phil. Jay and Gloria try to help Manny deal with playing football, and Cameron doesn't know how much playtime to give him. Mitchell debates with Lily's new friend, Sydney.
Gesehen von 50 Usern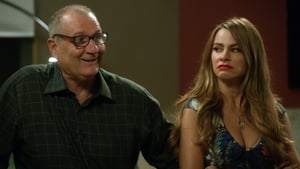 6x4 – Bis zum Wahnsinn lieben
Things become tense when the Dunphys temporarily move into a hotel, Gloria is suspicious of Manny's new girlfriend, and Mitchell discovers that he has jinxed Cameron's football team.
Gesehen von 50 Usern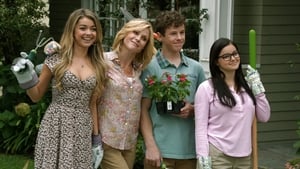 6x5 – Gute Nachbarn, schlechte Nachbarn
The Dunphys try to persuade the perfect couple to move in next door, Manny dates the daughter of Jay's biggest nemesis, and Mitchell and Cameron try to get Lily a new teacher.
Gesehen von 50 Usern
6x6 – Halloween 3 – Die Rache der Claire Dunphy
Phil takes over Halloween decorating duties from Claire. Jay is upset when he wants to dress up as Prince Charming but Gloria buys him a Shrek costume. Mitchell has a problem in court with the stenographer working in a scary costume.
Gesehen von 50 Usern
6x7 – Mit anderen Augen und ganzem Herzen
Haley and Andy start spending a lot of time together. Gloria wants Manny to learn Spanish at school instead of French, and a reporter takes more than a passing interest in Cameron and Mitchell's lives.
Gesehen von 50 Usern
6x8 – Truthähne, eins, zwei, drei
Phil and Luke take over Thanksgiving duties but Claire readies an emergency plan. Jay and Gloria get their holiday plans interrupted and regret not telling anyone. Cameron has to think of a way to get Lily to wear a dress for dinner.
Gesehen von 50 Usern
6x9 – Der Besuch der durchgeknallten Dame
Jay and Gloria try to get out of parties they must attend. Mitchell's kind gesture to a co-worker backfires on him, and Phil and Claire think Alex is lying when she tells them she found a boyfriend.
Gesehen von 49 Usern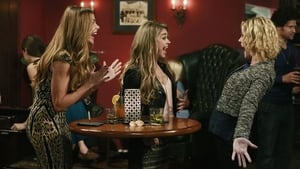 6x10 – Haleys 21. Geburtstag und die Reifeprüfung der Gäste
Haley celebrates her 21st birthday, but will anything go wrong?
Gesehen von 49 Usern
6x11 – Der Tag, an dem wir fast gestorben wären
While driving out to get breakfast, the Dunphys including Manny have a near death experience causing everyone to reevaluate their lives. Claire resolves to be more fun and less uptight, Haley and Alex agree not to fight anymore, Manny refuses to ever ride in a car again, Luke wants to check off his bucket list, Phil decides to be a take action type of guy and the rest of the family has to bear the brunt of all the new attitudes.
Gesehen von 49 Usern
6x12 – Schwere Geschütze
The Dunphys want their neighbors to move their boat out the driveway, Jay is determined to potty train his son while Manny learns the hard way he wasn't a special child, and Mitchell disapproves when Cam trains Lily to be Fizbo's sidekick.
Gesehen von 49 Usern
6x13 – Ausschlaggebende Entscheidungen
When Phil thinks Luke is giving him the cold shoulder. Andy becomes Phil's new right-hand man. Meanwhile, Jay may have to give Stella away because Joe is allergic to her, and Mitchell savors being the popular guy in the office.
Gesehen von 46 Usern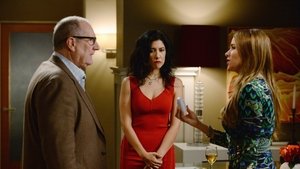 6x14 – Wenn Schwestern lästern am Valentinstag
Claire has difficulty in accepting that Phil is more interested by her alter-ego Juliana. Gloria's sister tries to seduce Jay. Mitch and Cam have to get back a present for their friend Anders.
Gesehen von 46 Usern
6x15 – Liebe vergeht wie im Flug
A single first-class upgrade comes between Phil and Claire, Sal abandons her baby during Mitchell and Cam's baby shower, Jay helps Manny confront a bully, and Alex and Haley help Luke break up with a girl via text message.
Gesehen von 46 Usern
6x16 – Folgen bedenken und Hirne verrenken
Claire is stuck at an airport and trying to digitally track down Haley after an argument.
Gesehen von 46 Usern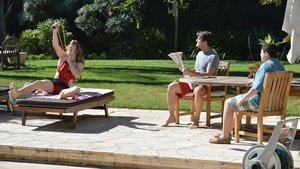 6x17 – Ein Schrank - Gott sei Dank!
Jay and Claire scramble to shoot a commercial in response, but there might be some creative differences between father and daughter. A peeping-Tom in the neighborhood keeps using a drone to spy on Gloria.
Gesehen von 46 Usern
6x18 – Lust und Launen
Hayley gets Alex drunk at a concert, Phil becomes jealous of Luke's increasing abilities, Cam gets in trouble over a song at a talent show, and Mitchell and Jay try to go behind their spouses' backs.
Gesehen von 46 Usern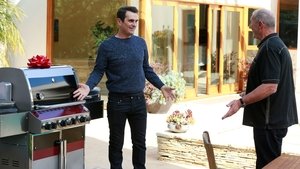 6x19 – Gut gegrillt, Löwe?
Jay isn't impressed with Phil's birthday gift, Alex isn't excited about her acceptance to Cal Tech, Mitch and Cam get an inheritance, Andy sees Hayley for the first time since the hospital, and the boys sneak alcohol behind Gloria's back.
Gesehen von 46 Usern
6x20 – Kapriolen
Jay agrees to sub on Cam's bowling team, not knowing it's an all-gay league. Phil and Claire finally bond with their neighbors over an offensive statue. Gloria and Mitchell agree to a night out with Haley to prove they're not too old.
Gesehen von 46 Usern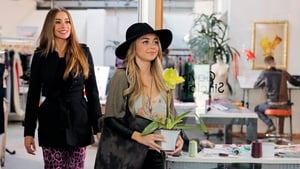 6x21 – Revolution am Rande
Jay talks Phil into standing up to Claire, but freaks out when Phil turns the tables on him. Claire lobbies for Luke to win a school award. Mitch and Cam finally address a sensitive topic while babysitting for Joe.
Gesehen von 46 Usern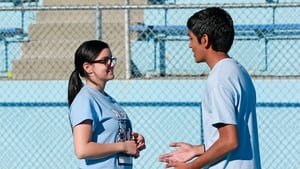 6x22 – Die Stunde der Patriotin
Alex is not satisfied when she is named co-valedictorian, and neither is her competitor. Gloria prepares to take her citizenship exam until she finds out the real reason Jay wants her to take it. Mitch and Cam consider joining a protest.
Gesehen von 46 Usern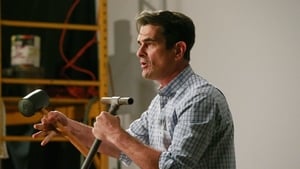 6x23 – Die Situation der Emotion
Claire thinks about leaving her job with her father. Phil, Haley and Luke take Alex on her "senior ditch day". Mitch and Cam are worried that Lily doesn't show empathy. Gloria tries to drive a wedge between Manny and his girlfriend.
Gesehen von 46 Usern
6x24 – American Skyper
As Alex finally graduates from high school, Phil uses Skype because he stuck in Seattle. Mitchell loses his job and Claire has to find the perfect gift for Alex while Andy is caught between Haley and Beth.
Gesehen von 45 Usern