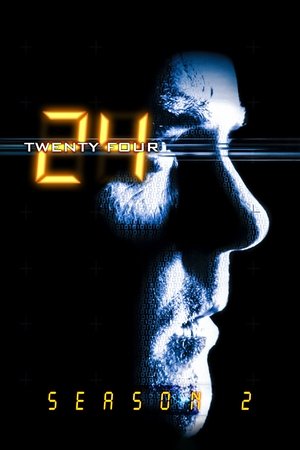 Trailer
2x1 – 08:00 - 09:00 Uhr
Retired federal agent Jack Bauer is pulled back into field work after CTU learns of an impending nuclear attack in Los Angeles, while Kim's new job as a nanny takes an unexpected turn for the worse.
Gesehen von 47 Usern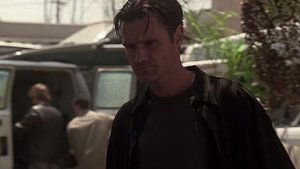 2x2 – 09:00 - 10:00 Uhr
Jack goes undercover to find Joseph Wald, where he learns that CTU is going to be bombed. While Kim tries to save Meghan from her abusive father, Gary. Kate Warner becomes suspicious of sister's Middle-Eastern fiancé.
Gesehen von 47 Usern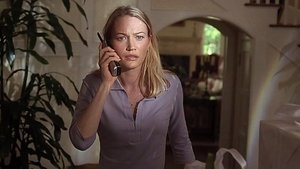 2x3 – 10:00 - 11:00 Uhr
Jack sends out a warning that CTU is the target of a terrorist attack. Director Mason leaves CTU to personally check up on a lead on the nuclear bomb's location.
Gesehen von 47 Usern
2x4 – 11:00 - 12:00 Uhr
CTU is attacked and faces serious casualties. Jack discovers who gave Joseph Wald the schematics for CTU. President Palmer fires Rayburn after Kresge tells him about the 30-minute gap between Jack's warning and the bomb explosion.
Gesehen von 47 Usern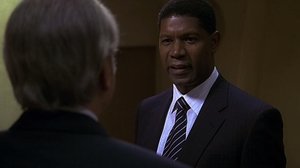 2x5 – 12:00 - 13:00 Uhr
Mason and Jack make preparations to interrogate an old enemy who gave the terrorists access to CTU. Tony goes to the Warner household to check up on Reza's possible connection to Syed Ali.
Gesehen von 47 Usern
2x6 – 13:00 - 14:00 Uhr
Jack takes charge of the Nina Meyers interrogation. Sherry returns with information on the conspiracy against President Palmer.
Gesehen von 47 Usern
2x7 – 14:00 - 15:00 Uhr
Jack boards a plane with Nina Meyers and several FBI agents because they have to meet a contact in Visalia,California who has info on the bomb's location. Nina tries to escape after meeting the contact. President Palmer and Mike Novick try to ascertain NSA Director Stanton's loyalty. Mason tries to make contact with his estranged son. Tony takes Bob Warner and Reza to CTU for further questioning.
Gesehen von 47 Usern
2x8 – 15:00 - 16:00 Uhr
Jack and Nina try to get more information out of her contact on the way back to LA. Tony learns of Bob Warner's status as a CIA contractor. Stanton expresses concerns about Sherry's presence as she tries to make a deal with a detained reporter.
Gesehen von 47 Usern
2x9 – 16:00 - 17:00 Uhr
The plane carrying Jack and Nina is shot down and together they must fight off a group of soldiers. Mason plays Bob Warner against Reza to find out which one working with the terrorists. Kate Warner is captured and interrogated by Syed Ali. Mason reveals the truth of his condition to Tony.
Gesehen von 47 Usern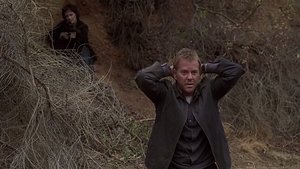 2x10 – 17:00 - 18:00 Uhr
Jack is captured by Nina Meyers and used as leverage in an attempt to get a presidential pardon. President Palmer learns the identity of one of the conspirators in his administration. After being set free, Reza learns the identity of the person who set him up when he goes to get incriminating evidence on Bob. Jack begins to suspect the soldiers who shot him down were with the NSA as he heads to capture Syed Ali.
Gesehen von 47 Usern
2x11 – 18:00 - 19:00 Uhr
Kate Warner leads Jack on mission to locate and id Syed Ali. President Palmer places Stanton under arrest and makes an out of character decision on how to handle the interrogation. CTU discovers that Marie killed Reza and the two agents trailing him.
Gesehen von 47 Usern
2x12 – 19:00 - 20:00 Uhr
Jack tries to get information out of Syed Ali. Mason gets Bob Warner to reveal some previously classified history on Marie that paints Reza's murder in a new light. Lynne Kresge becomes suspicious of Sherry.
Gesehen von 47 Usern
2x13 – 20:00 - 21:00 Uhr
Jack discovers the bodies of six additional Coral Snake Commandos as a Tactical Team gets closer to the bomb's location. Division sends in Brad Hammond to look into CTU LA's situation. Stanton finally reveals that he has known about the bomb all along and allowed it be smuggled into the country.
Gesehen von 47 Usern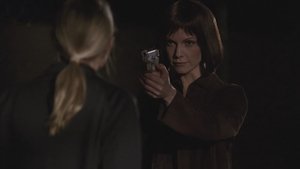 2x14 – 21:00 - 22:00 Uhr
Jack and Kate try to get Marie to reveal the exact location of the bomb in the airfield. Mason steps down as Director after his condition worsens. President Palmer confronts Sherry.
Gesehen von 47 Usern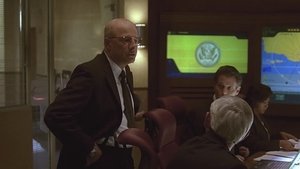 2x15 – 22:00 - 23:00 Uhr
Jack must deal with the nuclear bomb at the airport. CTU discovers a recording implicating that Sayed Ali is supported by three presidents of Middle-Eastern countries.
Gesehen von 47 Usern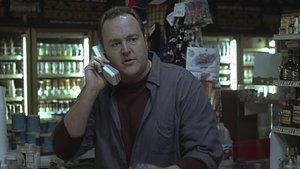 2x16 – 23:00 - 24:00 Uhr
Jack gets back to CTU after the bomb exploded. The situation there is tense since Tony became head of the Unit, especially when a key witness is assassinated. President Palmer and his staff prepare a retaliation on the three countries involved with Ali.
Gesehen von 47 Usern
2x17 – 24:00 - 01:00 Uhr
Jack and Kate leave CTU to meet with the lone surviving member of the Coral Snake Commandos who says he has evidence that the tape is fake. President Palmer wants to wait and see what Jack finds out before launching a retaliatory strike.
Gesehen von 47 Usern
2x18 – 01:00 - 02:00 Uhr
Jack, Kate, and Yousef try to get Wallace to a hospital after he gets shot by unknown assailants. President Palmer tries to deal with civil unrest as Muslim communities across the country are targeted.
Gesehen von 47 Usern
2x19 – 02:00 - 03:00 Uhr
Jack is captured by a group of men working for an oil magnate named Peter Kingsley who's looking to capitalize on the coming war. Lynne Kresge discovers that Vice-President Prescott is planning on seizing the presidency by way of the 25th Amendment. President Palmer deals with some increasingly impatient Joint Chiefs of Staff. Kate and Yusef are attacked by angry American citizens when they try to get the chip behind the Ali recording back to CTU.
Gesehen von 47 Usern
2x20 – 03:00 - 04:00 Uhr
Jack tries to escape from the Kingsley's men after being tortured. Lynn Kresge tries to warn President Palmer about VP Prescott. Regional Director Ryan Chappelle returns to CTU and exerts his authority. Kate tries to retrieve the stolen computer chip. President Palmer begins to suspect something is wrong when Prescott won't return his phone calls.
Gesehen von 47 Usern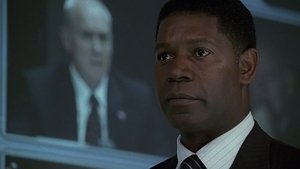 2x21 – 04:00 - 05:00 Uhr
After saving Kate from her attackers Jack heads to meet Alex Hewitt who may be the person who designed the computer chip. President Palmer's ability to the run the country is questioned when the Vice-President and members of the cabinet invoke the 25th Amendment.
Gesehen von 47 Usern
2x22 – 05:00 - 06:00 Uhr
Jack discovers that Shery Palmer is somehow involved in the conspiracy when he tries to talk to Alex Hewitt. Tony and Michelle make a critical decision on how to handle the Chappelle situation.
Gesehen von 47 Usern
2x23 – 06:00 - 07:00 Uhr
Jack has Sherry contact Peter Kingsley who turns out to be the mastermind behind the tape. Mike Novick realizes that he has made a huge error in judgment in supporting Prescott. Deputy Regional Director Brad Hammond places Tony and Michelle under arrest.
Gesehen von 47 Usern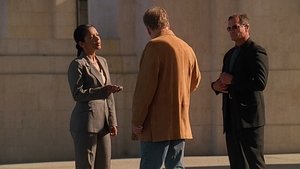 2x24 – 07:00 - 08:00 Uhr
Jack and Sherry head to LA Coliseum to meet Peter Kingsley. Upon hearing evidence via the live audio feed, President Prescott aborts the air strike. David Palmer is reinstated as President, and speaks to the nation about the nuclear bomb.
Gesehen von 47 Usern
Quelle:
themoviedb.org