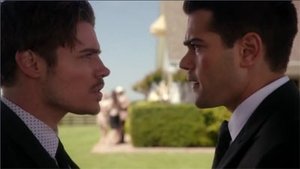 1x1 – Changing of the Guard
Two decades since viewers last saw them, the Ewings are back. Television's first family of drama, sabotage, secrets and betrayal are gathering at Southfork Ranch for the upcoming wedding of Bobby's adopted son, Christopher, to Rebecca Sutter. Although the occasion is joyous, an old family rivalry crosses generations after secret oil drilling on Southfork results in a major gusher. Everyone has his or her own agenda when the fight over oil and land threatens to tear the Ewings apart once again.
Gesehen von 4 Usern
1x2 – Hedging Your Bets
Christopher is relieved when Rebecca proposes to postpone their honeymoon until after the Southfork and gas deals are closed, ignoring she and her brother Tommy have been hatching a plot for years. Trusted lawyer Mitch Lobell blackmails John Ross to quadruple his bribe not to tell J.R. about his plans to steal Southfork, but the impatient fox, having reentered the public stage at the oil barons ball, consults his old Mexican friend don Del Sol and discovers the 'paperwork delay' is a scam worthy of a son of his, who is meanwhile drugged by Elena. Bobby gets wife Anne ...
Gesehen von 4 Usern
1x3 – The Price You Pay
Just as John Ross sets out to claim his birthright and make his father proud, J.R. decides to move back to Southfork, much to Ann's dismay. Bitter Ewing family enemy Cliff Barnes returns and tries to reconnect with his nephew, Christopher. A startling family announcement offers an opportunity to heal old wounds.
Gesehen von 3 Usern
1x4 – The Last Hurrah
John Ross seeks to gain an upper hand on a family member and resorts to blackmail, but J.R. decides to handle the situation his own way. Meanwhile, Christopher opens up to Bobby about his difficulty in choosing between the two women he loves.
Gesehen von 3 Usern
1x5 – Truth and Consequences
With tension mounting between the newly married Christopher and Rebecca, family ties begin to unravel when the deed to Southfork is revealed. In order to thwart J.R.'s schemes, Ann seeks help from someone in her past, and Christopher decides it is time to fight dirty.
Gesehen von 3 Usern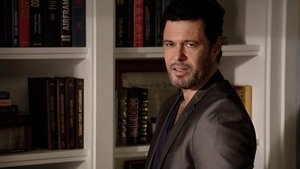 1x6 – The Enemy of My Enemy
John Ross is bothered by the weight of having to do his father's dirty work and decides to move into Southfork. Strife continues to grow between Ann and Bobby when it is revealed she went to her ex for help with a family problem. Rebecca approaches Bobby and Christopher with information that she believes might help save the ranch.
Gesehen von 3 Usern
1x7 – Collateral Damage
Christopher suspects another ploy and demands a paternity test when told, after Elena guessed, that Rebecca is pregnant. Desperate for oil he can't drill on Southfork but already sold to ruthless Venezuelans, John Ross tries in vain to win Ray's vote trough Lucy. Sue Ellen forces Elena to help him out temporarily during an extension which Vicente Cano grants after John Ross betrays Veronica, the false Martha, who admitted having stolen from them while offering in vain to team up with John Ross in bed and business again. Threatened with a nasty lawsuit, Bobby ...
Gesehen von 3 Usern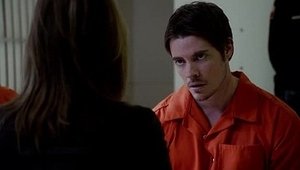 1x8 – No Good Deed
After Veronica, the false Martha, falls to her death, presumably a staged suicide, from her hotel John Ross is arrested as sole murder suspect, having been seen leaving there, while her video camera there has disappeared. Vicente Cano, whose goons probably did it after John Ross told him she stole from them, repeats during a jail visit his threat to foreclose on Southfork unless the contractual oil delivery is made in time and has a Latino prison gang beat John Ross into the infirmary. JR interrupts his Vegas operation to visit John Ross secretly. Desperate to save ...
Gesehen von 3 Usern
1x9 – Family Business
After Bobby has another tumor crisis, operated successfully but within an inch of his life, J.R. laughs away the women's moral appeal for the family to stand united, yet ends up signing over the Southfork deed to Bobby. John Ross now doubts the point in trying to please or at least impress his father enough to accept Christopher's offer to form a partnership, Ewing Energies, with Elena. J.R. believes Cliff Barnes's 'undervalued' right hand 'Smiling' Frank his weak point, but Bum finds no angle. Meanwhile Tommy tries in vain threatening Rebecca, who is winning ...
Gesehen von 3 Usern
1x10 – Revelations
Family bonds bring the Ewings together as a loved one faces a medical crisis. Christopher and Elena begin to learn that not everyone is who they appear to be, including the people closest to them. Long buried secrets are revealed as the past rears its ugly head.
Gesehen von 3 Usern
Quelle:
themoviedb.com