1x1 – Josh Just Happens to Live Here!
Outwardly, twenty-six year old Rebecca's life seems great, as witnessed by her recent promotion to junior partner at the prestigious New York City law firm where she works. But she knows she isn't happy, as she once tried to commit suicide while in college, is on a plethora of prescription medications to deal with her anxiety, and her whole life has been spent on her career primarily at the urging of her controlling mother. It isn't until she runs into Josh Chan, who she hasn't seen in ten years, they who dated at summer camp that year and he who broke up with her at ...
Gesehen von 2 Usern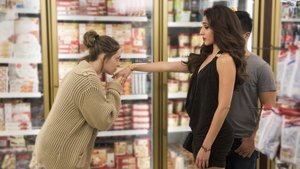 1x2 – Josh's Girlfriend Is Really Cool!
Rebecca befriends Josh's new girlfriend.
Gesehen von 2 Usern
1x3 – I Hope Josh Comes to My Party!
In an attempt to get closer to Josh, Rebecca throws a housewarming party despite her lack of social connections in West Covina and a childhood fear of hosting parties. When Paula finally convinces her, the party turns out to be nothing like they anticipated.
Gesehen von 2 Usern
1x4 – I'm Going on a Date with Josh's Friend!
Rebecca Bunch goes on a date with Josh's friend.
Gesehen von 2 Usern
1x5 – Josh and I Are Good People!
After Rebecca and Greg's disastrous date, Greg accuses her of being a terrible person in front of Josh. Rebecca takes drastic measures to prove she is a good person, which includes helping Darryl with his messy divorce.
Gesehen von 2 Usern
1x6 – My First Thanksgiving with Josh!
It's a couple of days before Thanksgiving. Rebecca's Thanksgiving plans are to head back to New York and spend the day with her mother as usual, despite it feeling more like an obligation than a want. But when Rebecca learns from Josh that Valencia generally has Thanksgiving dinner with the extended Chan family and from Greg and Chris that Josh's stereotypically Asian parents don't like Valencia because they don't see her as being smart, Paula not only convinces Rebecca to try and wrangle an invitation to the Chan family Thanksgiving dinner, but sets in motion a plan ...
Gesehen von 2 Usern
1x7 – I'm So Happy That Josh Is So Happy!
Paula is irked that Rebecca spent Thanksgiving with Greg instead of Josh, and that she is happy about Josh and Valencia moving in together, Rebecca having even bought them the meaningful house warming gift of a rice cooker to bridge their two cultures. But an incident makes Rebecca come to the realization that she isn't really as happy about Josh and Valencia as she had made out. Against the advice of the hallucination of Dr. Phil, Rebecca decides the best way to make herself feel better is to self-medicate. As she threw away all her prescription anti-anxiety ...
Gesehen von 2 Usern
1x8 – My Mom, Greg's Mom and Josh's Sweet Dance Moves!
It's the December holiday season. Because Rebecca didn't go back to New York to spend Thanksgiving with her mother who has controlled most everything that has happened in her life up until she moved to West Covina, her mother decides to come to West Covina for Hanukkah. Rebecca doesn't want to admit that she still is a "mom pleaser", doing everything in her power to make her mother happy. But Rebecca does admit that she wants the family heirloom of the Garfinkel ring for what it means. It is passed down through the female lineage of her family, that transfer which was...
Gesehen von 2 Usern
1x9 – Episode #1.9
Gesehen von 2 Usern
1x10 – Episode #1.10
Gesehen von 2 Usern
1x11 – Episode #1.11
Gesehen von 2 Usern
1x12 – Episode #1.12
Gesehen von 2 Usern
1x13 – Episode #1.13
Gesehen von 2 Usern
1x14 – Episode #1.14
Gesehen von 2 Usern
1x15 – Episode #1.15
Gesehen von 2 Usern
1x16 – Episode #1.16
Gesehen von 2 Usern
1x17 – Episode #1.17
Gesehen von 2 Usern
1x18 – Episode #1.18
Gesehen von 2 Usern
Quelle:
themoviedb.com