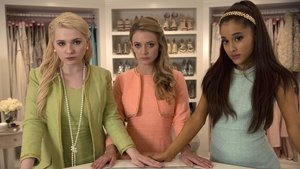 1x1 – Tanz mit dem Teufel
Dean Munsch declares that Kappa must accept any pledge; Chanel's plan to scare the pledges goes horribly wrong; The Red Devil begins wrecking havoc.
Gesehen von 18 Usern
1x2 – Die Höllenwoche
As Chanel hazes the new pledges, the murders continues; Gigi hires security to protect the sisters; Grace learns a dark secret about Kappa house.
Gesehen von 17 Usern
1x3 – Das Kettensägenmassaker
Chanel turns Hester into her next project; Chanel #3 shares a secret; A surprising connection between two students is revealed; Chad leads the fraternity into a witch hunt for the Red Devil.
Gesehen von 15 Usern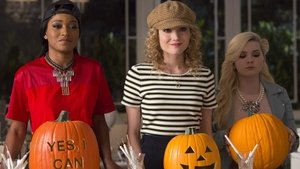 1x4 – Das Spukhaus
Zayday makes a stunning announcement; Chanel concocts a devious plan; Pete and Grace visit a mysterious woman connected to Kappa's past; Dean Munsch struggles to keep Wallace University open.
Gesehen von 13 Usern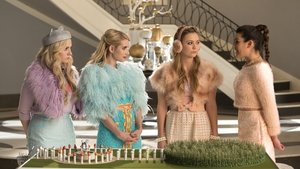 1x5 – Teuflisches Labyrinth
Dean Munsch makes an announcement that impacts Chanel's plan to throw a pumpkin-patch party; Pete and Grace search for Zayday.
Gesehen von 13 Usern
1x6 – Sieben Minuten in der Hölle
Chanel makes a decision in an attempt to protect herself that puts Zayday in a position of power; The Kappa sisters make a shocking discovery during a slumber party.
Gesehen von 13 Usern
1x7 – Vorsicht vor jungen Mädchen
Dean Munsch comes face-to-face with her ex-husband's mistress; The Chanels use a Ouija board in hopes of communicating with the deceased Chanel #2 and identifying the killer.
Gesehen von 13 Usern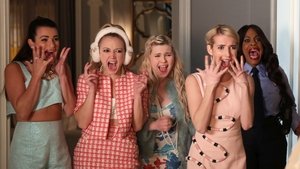 1x8 – Meine liebe Rabenmutter
Grace enlists Chanel's help to learn more about Kappa's past; Dean Munsch becomes a target; A shocking figure from the past makes a return.
Gesehen von 13 Usern
1x9 – Geistergeschichten
Denise tells a terrifying ghost story; Hester's announcement pushes Chanel to the brink; A familiar face returns; The killer claims another victim.
Gesehen von 12 Usern
1x10 – Es ist angerichtet
Chad takes Chanel to his family's home for Thanksgiving, where a surprise guest shows up uninvited; Dinner at Kappa House explodes with accusations of who they think the killer is.
Gesehen von 12 Usern
1x11 – Black Friday
The Red Devil has plans to disrupt Black Friday for the Chanels; Believing Dean Munsch is the killer, the Kappa sisters devise a plan to stop her; A shocking confession is made.
Gesehen von 12 Usern
1x12 – Geister der Vergangenheit
Grace learns shocking details about the remaining Red Devil; Chanel's angry email to her minions goes viral, so she tries to make amends by apologizing to Melanie.
Gesehen von 11 Usern
1x13 – Letzte(s) Mädchen
In the final aftermath of the Red Devil killings, the remaining killer isn't finished with the survivors and has something in store for them.
Gesehen von 11 Usern
1x14 – Episode #1.14
Gesehen von 10 Usern
1x15 – Episode #1.15
Gesehen von 10 Usern
Quelle:
themoviedb.org