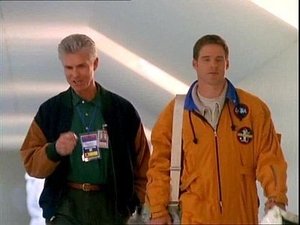 1x1 – Premiere
Astronaut John Crichton's "Farscape-1" space module is swallowed by a wormhole and spat out on the other side of the universe into the middle of a space battle. Taken on board "Moya", a huge bio-mechanoid living ship, desperately trying to escape Peacekeeper captivity. On board Moya is a group of alien fugitives trying to escape from the ruthless Peacekeepers, a local military regime. While managing to escape the immediate threat, John Crichton forms friendships with the prisoners and continues to look for a way home. But later a race of beings called, "The Ancients" ...
Gesehen von 4 Usern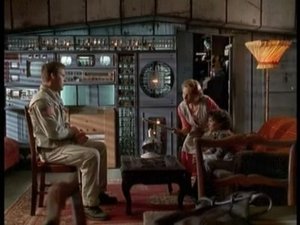 1x2 – Exodus from Genesis
Moya is invaded by some creatures. They increase the heat on Moya, and they're creating replicas of the crew. Peacekeeper cannot stand heat, Aeryn starts to suffer Heat Delirium. The crew must figure who is real and who is a replica, and shut down the heat. They must also contend with a Peacekeeper squad that's searching for Crichton.
Gesehen von 4 Usern
1x3 – Back and Back and Back to the Future
The crew rescues a scientist and his assistant from a disintegrating ship. Crichton starts seeing the future, which holds death for the crew and Moya. He tries to influence the course of events but cannot change the outcome until they all learn what their guests are truly hiding.
Gesehen von 4 Usern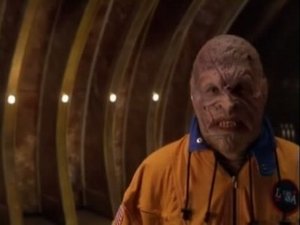 1x4 – Throne for a Loss
Rygel is captured and held for ransom by some bounty hunters. Rygel "borrowed" a crystal from Moya, without the crystal Moya cannot maintain her orbit and will crash into the planet if it isn't returned shortly.
Gesehen von 4 Usern
1x5 – PK Tech Girl
After finding the legendary Peacekeeper battleship, Zelbinion, dead in space and emptied of most of its useful technologies Crichton, Aeryn, and D'Argo find a Peacekeeper tech under Crais's command, Gilina, who survived a raid on the ship. Under threat of another scavenger attack, they work to get the shield generator on board the Zelbinion working. As they share the work, Gilina and Crichton grow much closer.
Gesehen von 4 Usern
1x6 – Thank God It's Friday, Again
D'Argo goes into a hyper rage and seeks out Crichton, thinking he left the ship for a nearby planet, he pursues his quarry. The crew then searches for D'Argo. When they find him, they find he has changed. He and the inhabitants work in the fields every day. But the crew soon discovers there's more to the harvested plant than they first thought. The crew has to figure a way to save themselves and the planet.
Gesehen von 4 Usern
1x7 – I, E.T.
The removal of Moya's control collar activates a homing signal. Pilot manages to mask it by landing Moya in a swamp, unsure if a Leviathan can land on a planet or take off again. They homing signal must be removed, but they need to find something to dull the pain it will cause Moya when the device is removed.
Gesehen von 4 Usern
1x8 – That Old Black Magic
Crichton's spirit is captured by Maldis. The sorcerer thrives on vengeance and hate, he brings Crais's spirit down. And the two spirits battle. Zhaan can fight Maldis, but if she fights Maldis, she must take a dark path.
Gesehen von 4 Usern
1x9 – DNA Mad Scientist
A scientist claims to have maps to large parts of the galaxy. And offers the crew a map to get to their respective homes. In exchange for the map, he wants some genetic material, he wants Pilot's arm. How far is the crew willing to go to get back home?
Gesehen von 4 Usern
1x10 – They've Got a Secret
D'Argo falls down a shaft and accidentally breaks something. He becomes disoriented, and sees the crew as someone from his past, his wife, their son, and her killer. The crew must get D'Argo back to the present to fix the damage he caused. The crew discover something about Moya.
Gesehen von 4 Usern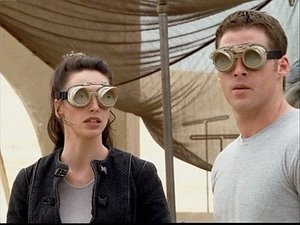 1x11 – Till the Blood Runs Clear
While flying Crichton's ship near a sun with high flare activity, John and Aeryn narrowly avoid getting sucked into an unstable wormhole. In an attempt to save his damaged ship, he sets down on the desert planet below to see a repairman. She informs him that the solar activity he needs to open another wormhole should be dying down before his ship can be repaired, but they reoccur regularly. If he cannot get his ship repaired and back up in orbit by the time the flares die down, Crichton will be unable to get home for another 5 years.
Gesehen von 4 Usern
1x12 – The Flax
Aeryn takes Crichton out in a transport pod for flying lessons, they get stuck in the Flax, a space trap. To make some critical repairs, they must depressurize the pod, but there is only one functional space suit. D'Argo gets a lead on some star maps to get home. He will have to choose between retrieving the maps, or saving his comrades.
Gesehen von 4 Usern
1x13 – Rhapsody in Blue
The crew finds a colony of Delvians. Z'han goes down to be with her own people for a while, but one of them wants something from Z'han and will do almost anything to take it from her.
Gesehen von 4 Usern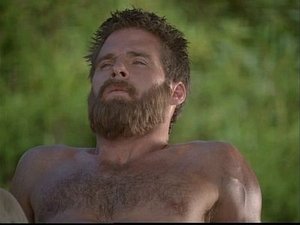 1x14 – Jeremiah Crichton
Crichton is getting frustrated in his new environment. He takes his ship out for a quick jaunt, but Moya's pregnancy is causing some changes in the Leviathan, she starbursts suddenly without little warning stranding Crichton. He finally settles on a planet, and adjusts to life amongst the natives. Moya's crew comes after him to explain the situation, but does he want to go back?
Gesehen von 4 Usern
1x15 – Durka Returns
Moya collides with a Nebari transport. A Nebari official was transporting 2 criminals. Chiana, a Nebari youth. And Durka, a Legendary Peacekeeper who once tortured Rygel. The official claims to have Durka under control, but Rygel still wants revenge.
Gesehen von 4 Usern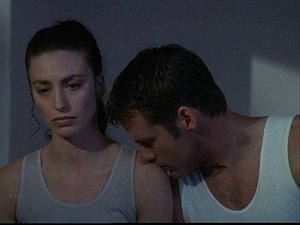 1x16 – A Human Reaction
A wormhole appears before Moya, the crew can see Earth on the other side. Crichton flies down the wormhole to the world he left behind. But when the rest of the crew comes looking for him, Crichton's loyalties are tested does he side with his new found friends, or Earth.
Gesehen von 4 Usern
1x17 – Through the Looking Glass
Since the Moya can no longer Starburst, the crew doesn't feel they are safe on the Leviathan. Fearing the crew will leave, Moya attempts a Starburst. The crew is now separated on 3 different versions of Moya, and there is an unknown creature apparently attacking them.
Gesehen von 4 Usern
1x18 – A Bug's Life
The crew encounters a group of Peacekeeper who have just captured a dangerous creature. An entity that can take control of someone with just a touch. The Peacekeepers want to take it to a secret Peacekeeper base to safeguard it. When the creature is released, the race is on to figure out who is being controlled by the creature.
Gesehen von 4 Usern
1x19 – Nerve
Aeryn has been critically wounded. She needs some tissue samples to heal. The only source is the Secret base the Peacekeeper mentioned. Crichton and Chiana go to the base, to get the samples. They encounter an old friend, and a new enemy.
Gesehen von 4 Usern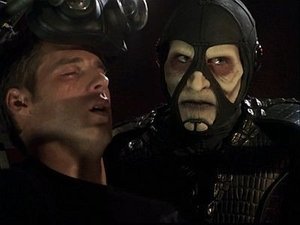 1x20 – The Hidden Memory
Aeryn is cured, but Crichton has been captured. Now the crew struggles to find a way to rescue him. Scorpius probes Crichton for wormhole knowledge, and discovers something left behind by the Ancients. Crais arrives he wants Crichton. Aeryn will arrive and confront her former Captain, the person who deemed her irreversibly contaminated.
Gesehen von 4 Usern
1x21 – Bone to Be Wild
The crew find a planetoid that's a botanical paradise. Occupied by a scientist and a peaceful girl. But one is a killer. And there's more to this paradise than they realized. One of them wants Z'han for their own agenda.
Gesehen von 4 Usern
1x22 – Family Ties
With death approaching in the form of Peacekeeper search parties, those aboard Moya say their final goodbyes, and share a last feast together, before enacting a plan to save Moya and her baby, named Talyn.
Gesehen von 4 Usern
Quelle:
themoviedb.com