1x1 – Pilot Episode
Cheryl can't leave Ruby alone on her first week at kindergarten. Jim says it's because she's a woman and decides to take her himself, but he also can't leave her behind. Jim not only can't leave Ruby alone he ends up changing schools for her which causes fighting between him and Cheryl.
Gesehen von 10 Usern
1x2 – No Nookie
Jim and Cheryl find their romantic getaway to the Bahamas set to work out perfectly, with Dana babysitting the kids. However, at the last minute, Dana is not able to babysit. In the meantime, Andy becomes a little too obsessed with making the perfect tree house for Grace and Ruby.
Gesehen von 10 Usern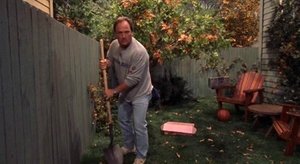 1x3 – The Cat Came Back
Cheryl's 15 year-old cat Mr. Feeney dies and she wants Jim to bury it on the backyard, but Jim wants to go to the Bears game with Dana and Andy. He sticks the cat in the garage freezer, planning on burying it after the game, but Cheryl finds out before he comes home. She is hurt that Jim doesn't listen to her nor care about a cat that has been longer with her than anything in her life. Jim makes it up to her by getting the family a dog and giving her cat a proper burial in the backyard.
Gesehen von 10 Usern
1x4 – Anniversary
On Jim and Cheryl's 10th Anniversary, Jim pays Dana to buy him an anniversary gift to give to Cheryl. Dana buys a beautiful and touching charm bracelet and Cheryl finds out that Dana bought the bracelet when Jim can't tell her the meaning of the charms that are on the bracelet. She also finds out that all her anniversary gifts over the past ten years were bought by Dana.
Gesehen von 10 Usern
1x5 – Unruly Spirits
On Halloween, Cheryl has forbidden Gracie to go trick-or-treating. However, not wanting his daughter to miss out on the fun of the halloween spirit, Jim sneaks her out anyway. Andy becomes convinced that he's being stalked by an ex-girlfriend.
Gesehen von 10 Usern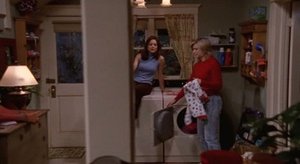 1x6 – Crush
Cheryl finds herself falling for a guy that Jim has setup for Dana.
Gesehen von 10 Usern
1x7 – Cheryl's Old Flame
Jim and Cheryl find themselves wondering if they've set too many rules for their household when they find themselves arguing over whether to put a TV in the girls' room, making Jim promise Cheryl not to ride his motorcycle, and Ruby then tells Jim that Cheryl has been smoking again.
Gesehen von 10 Usern
1x8 – The Turkey Bowl
Cheryl is left alone to cook Thanksgiving dinner while Jim and Andy go bowling for a charity event. Worse, Jim invited friends to Thanksgiving dinner without telling Cheryl and while Jim is still bowling.
Gesehen von 10 Usern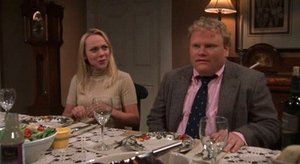 1x9 – Andy's Girlfriend
Andy starts dating Ruby's piano teacher. When the two couples get together for dinner, Jim finds out the piano teacher is a vegetarian, a feminist, and a Packards fan. These are three hot buttons for Jim.
Gesehen von 10 Usern
1x10 – An According to Jiminy Christmas
Cheryl's mother is coming to visit them for Christmas and wants to stay at their house. Jim and Cheryl, however, prefer that she stayed at a hotel but don't know how to bring it up without insulting Maggie. After Jim tells Maggie that Cheryl wants her in a hotel, Maggie gives her grandma's pearl necklace to Dana. Cheryl's upset and goes to the airport to ask her mother' forgiveness, where she learns Dana only got the necklace because she doesn't have anyone in her life like Cheryl has Jim. Meanwhile, the girls think Andy is Santa.
Gesehen von 10 Usern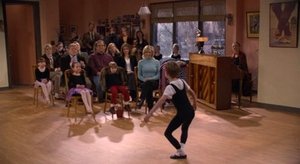 1x11 – Bad Word
Cheryl leaves Jim in charge of their kids and some other kids who were there to play with the girls during a Bears game. The next day, one of the kids mom calls Cheryl saying her daughter dame home repeating a swearing she heard from Jim. Cheryl apologizes for him and Jim is insulted that she always automatically takes the other person's side. Cheryl apologizes, and not too later Grace repeats the exact same word. Jim decides to teach her not to repeat it by making her say it non stop until she can't say it again. It works. 5 days later, at Ruby's ballet presentation,...
Gesehen von 10 Usern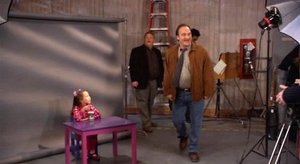 1x12 – Model Behavior
Jim and Cheryl agree to let Ruby model for a print ad as a one-time thing, but when the photographer calls her a natural, Jim gets Ruby an agent.
Gesehen von 10 Usern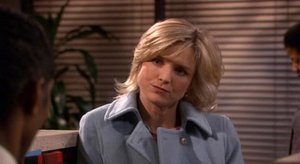 1x13 – The Money
Cheryl decides to go behind Jim's back and loan Andy $1,000 for a downpayment on a new condo but finds the money is missing.
Gesehen von 10 Usern
1x14 – Blow-Up
Cheryl does something uncharacteristic for her - she gives Jim a sexy portrait of herself for Valentine's Day. When she finds out Jim shares the picture with all his friends, she is mortified.
Gesehen von 10 Usern
1x15 – Racquetball
Cheryl returns home from the gym, and tells Jim she had a great time playing racquetball. She asks Jim to play racquetball with her but he declines. She tells him he is just afraid he will lose, and then the game becomes a challenge.
Gesehen von 10 Usern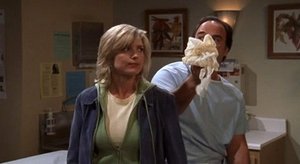 1x16 – Under Pressure
Jim gets hurt after jumping on a pogo stick and goes to the doctor. There, he finds out he has high blood pressure and has to start taking pills everyday. Cheryl tries to reduce the stress for Jim.
Gesehen von 10 Usern
1x17 – Date Night
Andy helps Dana with taxes. Dana watches Jim & Cheryl's children while they go on a date. Jim finds a parking place, but before he can park, someone else takes it. Jim is angry and keeps talking about the spot while they eat dinner.
Gesehen von 10 Usern
1x18 – Birthday Boys
Andy & Kyle share the same birthday. Dana gives Kyle a large custom painted mural for his bedroom, and plans to pay for everyone's dinner out. She comments she makes more money than Jim. Now Jim has to prove he can buy everything too.
Gesehen von 10 Usern
1x19 – The Receipt
Jim wants to exchange a broken DVD player within the warranty period but cannot find the receipt. He blames Cheryl for losing it, but she says it is not her responsibility to keep track of all his items.
Gesehen von 10 Usern
1x20 – Old Friends
Jim runs into Danny, a friend he has not seen in years. Danny is still single and accuses Jim of being a settled married man. Jim sets out to prove Danny wrong by both of them partying at bars all night like they used to do.
Gesehen von 10 Usern
1x21 – Cheryl's Day Off
Cheryl has a day of errands and time with her friends. Jim has to watch the children, but when he has a chance to have the kids go to friend's home, he readily drops the kids off. When Cheryl returns, he forgets where the kids are at.
Gesehen von 10 Usern
1x22 – No Surprises
Cheryl plans a surprise party for Jim but he'd rather go bowling.
Gesehen von 10 Usern
Quelle:
themoviedb.com