1x1 – Starry Sky/War
Two girls Chito and Yuuri are traveling in a ruined hierarchical city by their Kettenkrad. Girls had lost their way in a huge building for a while, but somehow go out and enjoy starry sky over there. / Girls talk about the cause of the war while they go around some abandoned tanks and airplanes to find food.
Gesehen von 1 User
1x2 – Bath/Journal/Laundry
Girls run into a disused factory through a blizzard. They use a hot water pipe, then enjoy bath time. / When Chito keeps her journal, Yuuri throws a Chito's precious book in the fire rashly. / A sunny day, girls find a point where the water of melted snow enter a watering place. They have a good opportunity to do the laundry.
Gesehen von 1 User
1x3 – Encounter/City/Streetlights
Yuuri and Chito meet another person after he almost accidentally kills them. Will they help him with his request?
Gesehen von 1 User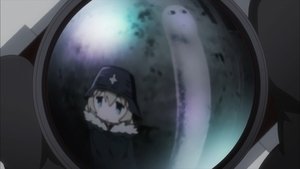 1x4 – Photograph/Temple
Chito and Yuuri are fixated on using their photograph machine, but they can't seem to get it to work. As they travel, they find a long forgotten temple.
Gesehen von 1 User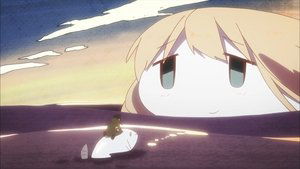 1x5 – House/Nap/The Sound of Rain
Girls arrived apartment and condominium complexes, they talk about their dream house while taking a rest in a room. / Girls have a nap during a journey, Chito has a nightmare. / Suddenly it rains, girls run into a nearby dilapidated house to shelter. Despite Yuuri has never listened to the music, she plays rhythms using some empty cans and the sound of rain.
Gesehen von 1 User
1x6 – Accident/Technology/Takeoff
Chito finds an accident to the kettenkrad. / Girls encounter a young woman Ishii who has a plan that she builds an airplane using old technology to escape from the city. Girls help her, and she helps Chito to repair the kettenkrad. / The day comes when her plane will takeoff.
Gesehen von 1 User
1x7 – Labyrinth/Cooking
Following a map that Ishii left behind, Girls head for a food factory. The inside of the building is like a labyrinth. / There are cooking facilities and ingredients for the rations in the food factory. So they start making rations based on their experience that they have made bread.
Gesehen von 1 User
1x8 – Memories/Spiral/Moonlight
The girls continue their journey as they venture into the unknown. With heartfelt conversations, they find out more than they bargained for.
Gesehen von 1 User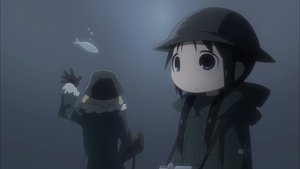 1x9 – Technology/Aquarium/Life
The girls end up in a new facility where they meet a maintenance robot. With a fish and a lonely robot, they find the meaning of what it means for something to be alive.
Gesehen von 1 User
1x10 – Train/Wavelength/Capture
Girls with their kettenkrad move by a huge train. / Yuuri hears a mysterious music from the radio, then she gets slightly sad that is rare for her. Chito thinks deeply why the wavelength of sounds and lights move them. / Girls capture a strange but cute animal. They name the animal Nuko.
Gesehen von 1 User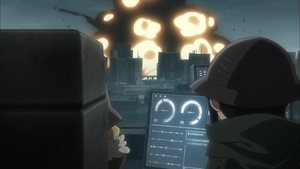 1x11 – Civilization/Destruction/The Past
Chito finds a book about war and human civilization written in English. / Girls with Nuko find a huge robot. Following Nuko, Girls get into a cockpit. And then, Yuuri causes great destruction on this floor. / They go through a wind power station. Chito imagines the forest of the past that she had read in books while watching many wind turbines.
Gesehen von 1 User
1x12 – Connection/Partner
Girls search for food in a submarine. When Chito launches the camara as usual, it makes a connection to the network and all of image datas are displayed around the girls. / Chito sees an animal like Nuko swallowing her partner Yuuri.
Gesehen von 1 User
Inhalt
Quelle:
themoviedb.com