1x1 – Episode 1
In an attempt to defend her best friend's honor, Utena challenges the kendo captain to a duel, and soon finds herself wrapped up in so much more than she'd anticipated.
Gesehen von 2 Usern
1x2 – Episode 2
By chance, Utena managed to defeat Saionji in their duel, and now he's determined to have a rematch. However, Utena already secretly intends to lose on purpose.
Gesehen von 2 Usern
1x3 – Episode 3
As Utena continues to adjust to life with her new roommate, she starts to realize how few friends Anthy actually has.
Gesehen von 2 Usern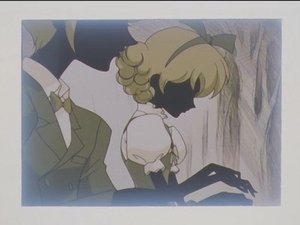 1x4 – Episode 4
Miki, a shy pianist and member of the Student Council, has an interest in Anthy. Miki swears he has no interest in the duels and offers to help tutor Utena and Anthy.
Gesehen von 2 Usern
1x5 – Episode 5
Miki's starting to realize the extent of Anthy's loyalty to her role as the Rose Bride. Will such an understanding be enough to move such a passive boy to duel for possession of her?
Gesehen von 2 Usern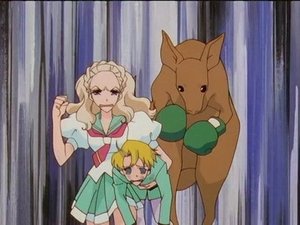 1x6 – Episode 6
A number of strange events have been occuring, placing Nanami in danger. The latest caused a dashing young boy to appear from out of nowhere to save her.
Gesehen von 2 Usern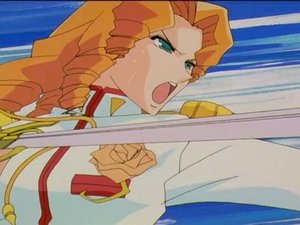 1x7 – Episode 7
Jury, the fencing team captain, has taken a special interest in Utena lately. She finds Utena's lack of regard for the dueling game to be sensible, but Jury still hopes to accomplish something by winning.
Gesehen von 2 Usern
1x8 – Episode 8
A mishap during home economics has caused Anthy and Utena to switch bodies. Nanami, accepting the blame for this mishap, sets out to find the cure for their predicament.
Gesehen von 2 Usern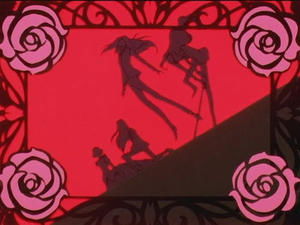 1x9 – Episode 9
Saionji and Touga have always been at odds since they were children.
Gesehen von 2 Usern
1x10 – Episode 10
Nanami's possessiveness of her brother has only grown after his injury at the hands of Saionji. Even the simplest gesure from Utena brings Nanami's jealousy and anger out...
Gesehen von 2 Usern
1x11 – Episode 11
Utena has gradually grown fonder of Touga over time. But even as she ponders as to whether or not Touga may be her prince, his plots continue to encircle her.
Gesehen von 2 Usern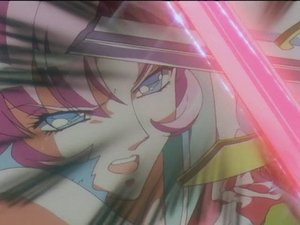 1x12 – Episode 12
After losing to Touga in their duel, Utena's spirit has been crushed.
Gesehen von 2 Usern
1x13 – Episode 13
A look back at all the prior duels and major events with some perspective. Also, a hint of what lies in store for Utena if she continues the path of the duelist.
Gesehen von 2 Usern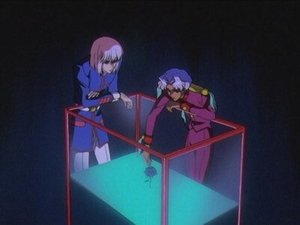 1x14 – Episode 14
Utena is introduced to Anthy's older brother, Akio, who also happens to be the acting chairman for the school. Meanwhile, trouble is brewing in the depths of Nemuro Memorial Hall.
Gesehen von 2 Usern
1x15 – Episode 15
Kozue, Miki's twin sister, is seen as somewhat of an oddity around school. In particular, her feelings for her brother remain most ambiguous... but the Black Rose Society knows all.
Gesehen von 2 Usern
1x16 – Episode 16
Nanami's just received a priceless piece of jewelry; a Sebastian Dior... cow bell. As she touts it around school, people start to wonder if she's truly lost her mind.
Gesehen von 2 Usern
1x17 – Episode 17
Shiori, Jury's childhood friend and the source of her heart's turmoil, has transferred to Ohtori Academy. As Jury tries her best to ignore Shiori, Mikage's seminar beckons to her.
Gesehen von 2 Usern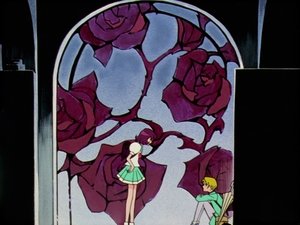 1x18 – Episode 18
Mitsuru is constantly being excluded and disregarded due to his age. He yearns to be more like an adult, but isn't even sure what that entails.
Gesehen von 2 Usern
1x19 – Episode 19
When Wakaba was a child, she had a prince she'd held close in her heart. Well now, her prince has arrived at Ohtori, but he's interested in Utena! Will Utena be able to set him straight?
Gesehen von 2 Usern
1x20 – Episode 20
The expelled student council vice president, Saionji, has been shacking up with Wakaba. As she spends time with him, she starts to feel a change within herself.
Gesehen von 2 Usern
1x21 – Episode 21
Keiko's always been content with being a member of Nanami's gang, but her desires for Touga still remain. When an opportunity opens for her, it results in a disaster that Mikage can exploit.
Gesehen von 2 Usern
1x22 – Episode 22
The truth behind Nemuro Memorial Hall's dark history lies shrouded in mystery. As Mikage is down to his last black rose, he stakes his last hopes on allying with Utena.
Gesehen von 2 Usern
1x23 – Episode 23
As the student council searches for answers as to who is behind the Black Rose Duelists, Utena is already poised to fight the mastermind of the plot.
Gesehen von 2 Usern
1x24 – Episode 24
After a mishap puts Mitsuru in the hospital, Utena, Anthy, and Nanami stumble upon a diary he's kept that details Nanami's every plot since the time he's known her.
Gesehen von 1 User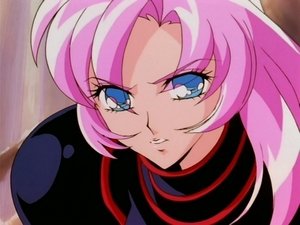 1x25 – Episode 25
Saionji, still sore from the events surrounding his expulsion, vows to quit the dueling game. However, Touga and Akio have other plans for him.
Gesehen von 1 User
1x26 – Episode 26
Miki, despite his friendship with Utena and Anthy, is once again pushed to duel. This time, his sister is the one doing the pushing.
Gesehen von 1 User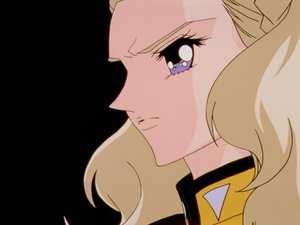 1x27 – Episode 27
Nanami is startled to find an egg in her bed one morning. Unsure as to whether or not it's possible that she's the mother, she assumes the role.
Gesehen von 1 User
1x28 – Episode 28
After a long absence from school, Rukia, the original fencing captain, returns. But as to whether he's back to enjoy life as a student or to push Jury's buttons remains to be determined.
Gesehen von 1 User
1x29 – Episode 29
Realizing the only way to defeat Utena and Anthy is with a partnership equally as strong, Rukia seeks to ally himself with Jury.
Gesehen von 1 User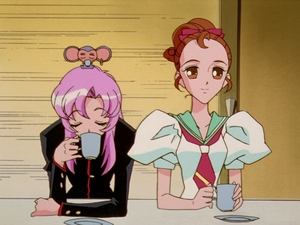 1x30 – Episode 30
As Utena has gotten to know Akio, she's started to realize that she has feelings for him. But what of the prince Utena holds within her heart? And what of Akio's fiance? Can love be wrong?
Gesehen von 1 User
1x31 – Episode 31
Nanami's growing irritation with the girls that flock to her brother is put into a strange context when she uncovers a horrifying revelation regarding their relationship.
Gesehen von 1 User
1x32 – Episode 32
Unable to face Touga after uncovering the nature of their relationship, Nanami does all she can to avoid him.
Gesehen von 1 User
1x33 – Episode 33
Anthy sends Utena on an errand to deliver roses, but little does she realize that Anthy's plan is also Akio's plot.
Gesehen von 1 User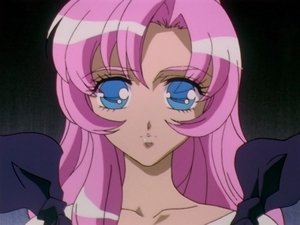 1x34 – Episode 34
Utena, Anthy, and Akio all go to see a play being put on by the school's drama club. The play, however, rings a little closer to truth than it does to fairy-tale.
Gesehen von 1 User
1x35 – Episode 35
Touga's carried out Akio's will without question, up until now.
Gesehen von 1 User
1x36 – Episode 36
Touga's resolved to duel with Utena one more time. Aware of his feelings for her, he concludes that the only way to save her is to defeat her before she meets her prince.
Gesehen von 1 User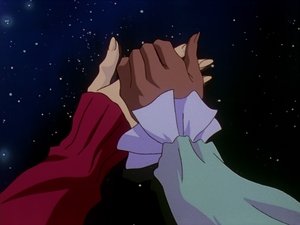 1x37 – Episode 37
Utena has uncovered the truth behind Anthy and Akio and her disgust for them both has brought her to forsake everything she's fought for up until now.
Gesehen von 1 User
1x38 – Episode 38
Utena has decided to follow the letter's instructions and proceeds to the dueling arena to meet her prince.
Gesehen von 1 User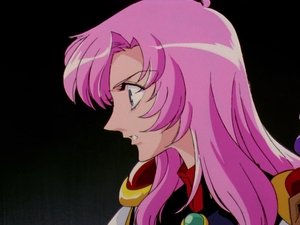 1x39 – Episode 39
Utena's once again betrayed by Anthy. With the prince's sword in hand, Akio attempts to open the doors of revolution while the fallen prince contemplates her and Anthy's fate.
Gesehen von 1 User
Quelle:
themoviedb.org