1x0 – Original Pilot
Sookie Stackhouse, a waitress with telepathic abilities, falls under the spell of a 173 year-old vampire; Sookie's brother finds himself in hot water.
Gesehen von 12 Usern
1x1 – Strange Love
In a society where humans and vampires co-exist, set in the small town of Bon Temps, Louisiana, Sookie Stackhouse is a young woman who may have found a perfect boyfriend. Sookie is clairvoyant and constantly hears people's thoughts so it makes dating a bit difficult since she tries to keep her ability a secret. When 173-year-old vampire Bill Compton walks into the Merlotte's Bar and Grill where she works as a waitress, she realizes that she can't "hear" what he's thinking, thus giving away his origins since she can't hear the thoughts of those whom are technically ...
Gesehen von 52 Usern
1x2 – Blut geleckt
Mack and Denise Rattray get their revenge on Sookie but Bill steps in to save her. Subsequently, Sookie's senses begin to undergo a transformation. She later learns that the Rattrays are dead and the police immediately suspect Bill. She also begins to wonder just how far vampires will go when a leading opponent of the Vampire Rights Act is killed in an accident. Bill agrees to visit Sookie and her grandmother and Tara and Jason invite themselves for the evening. Jason Stackhouse gets to see the video of his evening with Maudette Pickens. The police release him but his...
Gesehen von 51 Usern
1x3 – Sie gehört zu mir
Bill Compton's allure is diminished somewhat when Sookie visits him in his home and finds that several other rather nasty vampires has also dropped in for a visit. Bill protects her from his one-time friends but she sees a nasty side of vampire life. Dawn Green spends the night with Sookie's brother Jason but she kicks him out after an argument. She is found strangled later that day. Tara walks out on her alcoholic mother and spends the night with her employer, bar owner Sam Merlotte.
Gesehen von 50 Usern
1x4 – Flucht aus dem Drachenhaus
With the town's second murder in a week, Jason is again the number one suspect, but Tara provides him with an alibi. Knowing that both Maudette and Dawn had frequented the Fangtasia vampire club, Sookie asks Bill to take her there as she tries to find evidence that will clear her brother. Both of the dead girls were well known at the club and Sookie meets Eric, the vampire elder. Sam Merlotte seems to have a few eccentricities of his own. Jason buys vampire blood - an aphrodisiac - from Tara's cousin Lafayette and despite clear instructions to never take more than one...
Gesehen von 50 Usern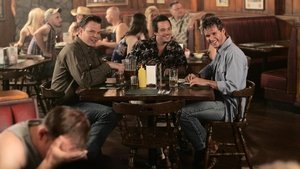 1x5 – Funkenflug
After their encounter with the racist policeman, Sookie tells Bill that she won't be seeing him anymore. The next day, Bill keeps his promise to Sookie's grandmother, Adele 'Gran' Stackhouse, to speak at the monthly meeting of the Descendents of the Glorious Dead. Bill becomes very popular when he reminiscences about the Civil War and the Mayor gives him an old photo he found in the archives. Bill also recalls the circumstances of how he became a vampire. Meanwhile, Sam asks Sookie out on a date, but things don't go as he planned for she tells him that she is not ...
Gesehen von 50 Usern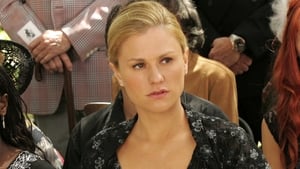 1x6 – Kalte Erde
With her grandmother as the latest victim of the mysterious serial killer, Sookie has to deal with her emotions. She can't block out the thoughts of others and she knows many of the townspeople blame her association with a vampire as the main reason her grandmother is now dead. She has a very clear message for them at the woman's funeral. Despite Sam and Bill's pleading, Sookie insists on staying in the house. She does however decide to spend the night with Bill to lose her virginity once and for all. Meanwhile, Jason wrestles with withdrawal symptoms from his 'V ...
Gesehen von 50 Usern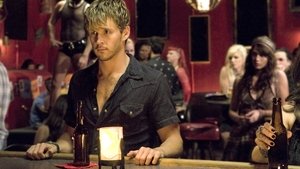 1x7 – Brennende Leidenschaft
After spending the night with Bill, Sookie is convinced that she has found the man of her dreams as the person who took her virginity. But Sookie's fellow workers and the customers at the bar don't quite agree as rumors spread of her relationship with a vampire. Sookie's painful childhood revelation about her Uncle Bartlett spurs Bill into action. Meanwhile, Tara's alcoholic mother, Lettie Mae, is convinced that she needs an exorcism and when Tara refuses to pay, she tries to get a loan from the bank. Jason is desperate to get more vampire blood and visits Fangtasia ...
Gesehen von 50 Usern
1x8 – Der vierte Mann im Feuer
Sookie is thrilled to learn that Bill wasn't in the fire that killed four people, which included his three vamp friends. Her enthusiasm doesn't sit well with either the customers or her co-workers at Merlotte's Bar. Meanwhile, Jason and his new girlfriend, Amy Burley, are desperate to get more vampire blood for the rush of it. They decide to follow Lafayette to his source, but Amy's actions reveal that she has clearly done this before. Following her exorcism, Lettie Mae is a new person - sober and hard working, she has also become an active member of her church. Tara ...
Gesehen von 50 Usern
1x9 – Plaisir D'Amour
After Sookie identifies the vampire bartender Longshadow responsible for stealing from Fangtasia, Bill steps in to protect her. In doing so however, he breaks a vampire taboo and must now face the consequences from Eric and his clan for killing one of their own. Knowing he will be away, he asks Sam Merlotte to keep an eye on Sookie. Meanwhile, Jason and Amy take their vampire captive, Eddie, to Jason's house and confine him to the basement. They draw his blood and Jason undergoes an odd transformation. With Amy now working at Merlotte's, Jason spends his spare time ...
Gesehen von 50 Usern
1x10 – Gefährliches Spiel
When Sookie finds Sam asleep without clothes at her bed, he reveals his own secret to her that he happens to be a shape shifter, plus his pet dog seen around the bar is really him in disguise. Sam also recalls important events in his life. Arlene and Rene have their engagement party at Sam's bar and Sookie, already freaked out by Sam's revelation, is attacked by an unseen person in the darkened kitchen. Meanwhile, Tara decides to undergo the exorcism, but later discovers something about the exorcist Miss Jeanette. Jason decides it's time to do something about the ...
Gesehen von 50 Usern
1x11 – Begräbnis aus Liebe
Jason and Amy have to clean up after Eddie's demise but it pushes Jason to the edge and he isn't sure if he wants to continue his relationship with her. Meanwhile, Sookie caught a glimpse of something during her encounter with the serial killer and she and Sam travel to a diner in an adjoining county to see if they can get more information. What they learn is that the killer may once have struck there as well. Elsewhere, Bill completes the tribune's sentence by turning Jessica into a vampire, but when he tells her what has happened, he doesn't quite get the reaction ...
Gesehen von 50 Usern
1x12 – Du wirst mein Tod sein
With Jason in jail for Amy's murder, he tries to prove his innocence, while Sookie thinks that the killer is someone that they are close with. Meanwhile, Maryann bails Tara out of jail and lets her stay at her posh mansion. Tara is wary about trusting Maryann, but enjoys living in her luxurious home. Tara likes it even more when she meets a temporary resident, Benedict Talley, who is nicknamed Eggs. But it is secretly revealed that Maryann and Sam Merlotte have a connection. The identity of the serial killer is finally revealed as Arlene's fiancé Rene, who now sets ...
Gesehen von 50 Usern
Quelle:
themoviedb.org