1x1 – Pilot
One year after the mysterious disappearance of Alison Dilaurentis, her friends believe their secrets are safe forever, but the truth may be only one text away.
Gesehen von 40 Usern
1x2 – The Jenna Thing
Flashbacks from Aria, Spencer, Hanna and Emily's past acure when blind girl, Jenna shows up in Rosewood. Aria tries to stay away from her English teacher, Ezra Fitz. Emily and Maya share a short kiss.
Gesehen von 40 Usern
1x3 – To Kill a Mocking Girl
Aria has an unsettling encounter with Meredith; Emily is forced to see Toby in a new light; Spencer is reeling in the wake of a vengeful Melissa.
Gesehen von 40 Usern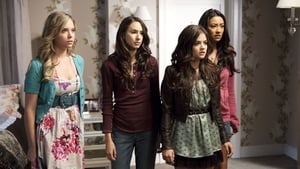 1x4 – Can You Hear Me Now?
The liars take matters into their own hands and try to put a stop to "A" by blocking all unknown users, but their problems are far from over.
Gesehen von 40 Usern
1x5 – Reality Bites Me
Trying to ignore "A" backfired for the liars and now they must pay the penalty as they deal with typical teenage drama - the boy kind.
Gesehen von 40 Usern
1x6 – There's No Place Like Homecoming
The homecoming dance is supposed to be a time for fun and making memories, but for the liars, disturbing secrets threaten to ruin their perfect night.
Gesehen von 39 Usern
1x7 – The Homecoming Hangover
After the homecoming dance, the liars try to sort out the devastation; "A" isn't the only one sending Aria texts as tensions rise in the Montgomery household..
Gesehen von 39 Usern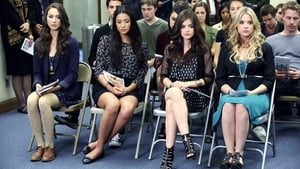 1x8 – Please, Do Talk About Me When I'm Gone
Last-minute preparations for Alison's memorial get derailed when her brother, Jason DiLaurentis arrives back in Rosewood, and saying goodbye is at the bottom of his list.
Gesehen von 39 Usern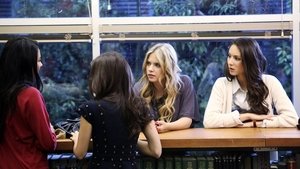 1x9 – The Perfect Storm
The liars are trapped at school as a bad storm brews, and tensions run high; Byron leans on Ashley for advice on parenting as his relationship with Ella takes a bad turn.
Gesehen von 38 Usern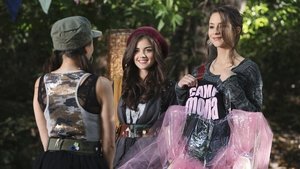 1x10 – Keep Your Friends Close
The liars go glamping for Mona's birthday as A's threats escalate and the FBI arrives in Rosewood. But not even a mani-pedi can lift the girls' spirits when the evening takes a dangerous turn.
Gesehen von 38 Usern
1x11 – Moments Later
Moments after Hanna is hit by a car, the girls' world is turned upside down. "A" is no longer content playing a game of cat and mouse; With Hanna in the hospital and armed with the information of who "A" is, the girls are backtracking to figure out how they got to this point.
Gesehen von 38 Usern
1x12 – Salt Meets Wound
Hanna's return home from the hospital and is stuck in a wheelchair and feels haunted by "A"; Spencer is still reeling from Melissa's surprise; Emily is hoping that an introduction to Maya during a tense family meal will smooth all apprehensions her parents may have; Aria and Fitz suspect a student is on to them.
Gesehen von 38 Usern
1x13 – Know Your Frenemies
As Noel steps up his pursuit of Ezra, him and Aria start to feel like there may be no way out; Pam's perceived tolerance of Maya comes to a screeching halt; Spencer must handle the return of happy newlyweds Melissa and Ian; "A" has Hanna jumping through old habit hoops with regard to the stolen money.
Gesehen von 38 Usern
1x14 – Careful What U Wish 4
As the school gets ready for the dance-a-thon, the girls have more on their minds; Hanna is having a hard time finding a job to help her family's financial situation, but when "A" has a job for her, will Hanna be able to refuse? Emily can only think of Maya and is desperate to speak to her; Spencer finds being in close quarters with Ian, more difficult than ever; Aria's former babysitter, Simone, comes back to town for a surprise visit, and soon sets her sights on Ezra.
Gesehen von 38 Usern
1x15 – If at First You Don't Succeed, Lie, Lie Again
Emily must deal with a jealous teammate who is threatened by Emily's return to the pool; Aria and Ezra plan their first date out in the open; Hanna is still stuck playing "A's" game; Spencer turns to Jason for information about the night they believe Alison died, only to have to face part of her unpleasant past with Ali.
Gesehen von 37 Usern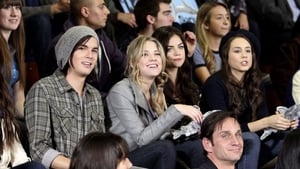 1x16 – Je Suis Une Amie
Emily and Paige go for round two, as they are pitted against each other to compete for the anchor leg of the big race; Caleb calls in his favor with a guilty Hanna as she tries to deter Aria from asking too many questions about Ella's ticket to the museum opening; Spencer takes on the task of tutoring a fellow student to try and get some answers.
Gesehen von 37 Usern
1x17 – The New Normal
It's parent-teacher conferences and one little liar's father sits face to face with the love of her life. Better believe that "A" has something to say about it.
Gesehen von 37 Usern
1x18 – The Badass Seed
As tensions rise, the girls ponder the true nature of evil; Aria views the school play as an opportunity to get closer to Ezra, but will her plan backfire?
Gesehen von 37 Usern
1x19 – A Person of Interest
After a shocking revelation from the police, it looks like the liars could be crying wolf. With everything pointing to Ian, could the girls be wrong?
Gesehen von 37 Usern
1x20 – Someone to Watch Over Me
As the heat is turned up on the suspicions surrounding Spencer, the girls must come to the reality that they aren't the only ones hiding secrets in Rosewood. Spencer remembers something that happened the night of the murder.
Gesehen von 37 Usern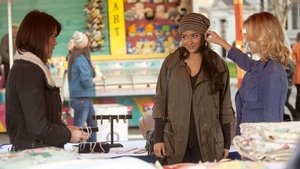 1x21 – Monsters in the End
Everyone has something to hide, but having to live with those secrets can become a big burden for the liars; Spencer and Toby aren't able to be seen together; Rosewood police officer Garrett keeps his promise to keep a close eye on the girls - much closer than they realize.
Gesehen von 37 Usern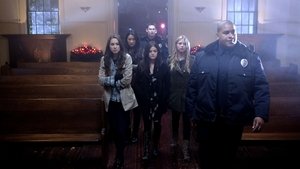 1x22 – For Whom the Bell Tolls
In the season one finale, the girls go to an unlikely source for help to put an end to "A" and the mystery surrounding their friend. Can they really stop "A" once and for all?
Gesehen von 37 Usern
Quelle:
themoviedb.com