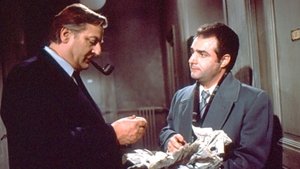 1x1 – Episode 1
Maigret learns from a shady acquaintance that a murder has occurred during a burglary at a dentist's home. Tho his wife has disappeared, neither the suspiciously uncooperative dentist nor his virago mother are talking, and there is no body.
1x2 – Episode 2
Maigret is sent at the Border with Belgium to investigate on a shady affair.
1x3 – Episode 3
Maigret observes a man dragging a corpse along the ground at night. The man is a judge; Maigret must discover the identity of the dead man.
1x4 – Episode 4
A stripper starts to report a murder that has not yet happened, but leaves before making the report official. She is found murdered that morning. Complicating matters is the relationship she had with one of Maigret's assistants.