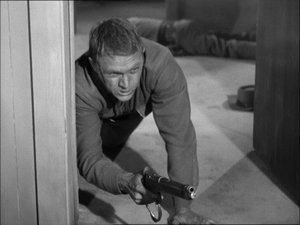 1x1 – The Martin Poster
While pursuing Carl Martin, Josh is falsely accused of aiding in a jailbreak and the marshal's murder.
Gesehen von 1 User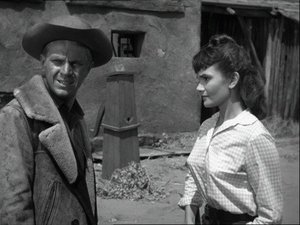 1x2 – Fatal Memory
When phony wanted posters put a price on the head of a retired Confederate officer, Colonel Sykes summons Josh Randall to help keep the bounty hunters at bay while also uncovering the person behind the bogus posters.
Gesehen von 1 User
1x3 – The Bounty
A reclusive old man with an Apache bodyguard is wanted for a crime committed long ago. Randall tags along with an overeager bounty hunter to ensure the man is brought back alive.
Gesehen von 1 User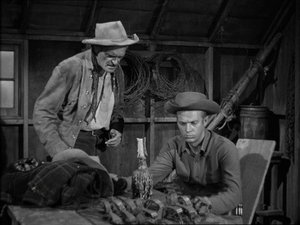 1x4 – Dead End
A rancher hires Randall to bring back a line rider charged with grand theft. The accused man's father accompanies Randall on the trek to the remote shack where the thief is thought to be hiding.
Gesehen von 1 User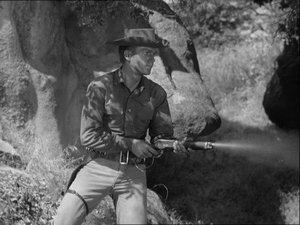 1x5 – Passing of Shawnee Bill
Randall is rooked into advancing half the bounty to a man who promises to lead him to the wanted criminal Shawnee Bill, but Bill is closer than Randall thinks and he's not even the only bounty hunter on his trail.
Gesehen von 1 User
1x6 – The Giveaway Gun
A banker with a consuming thirst for vengeance hires Randall to track down the man he believes responsible for his son's death. The man Randall seeks can be identified by his distinctive gun draw.
Gesehen von 1 User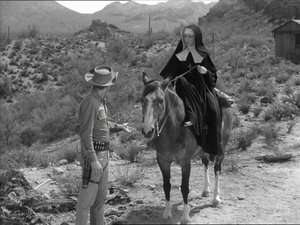 1x7 – Ransom for a Nun
Randall is deputized to transport a ruthless killer to Tucson, but exchanges him for the nun kidnapped by the killer's gang. The nettlesome nun then becomes a thorn in his side as he sets out to recapture his prisoner.
Gesehen von 1 User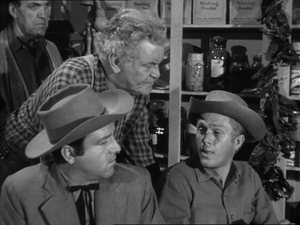 1x8 – Miracle at Pot Hole
Randall brings a suspected murderer to Pot Hole, but fears the man won't receive a fair trial when he finds the townspeople in the grip of a power-mad bully who serves as the hanging judge over a kangaroo court.
Gesehen von 1 User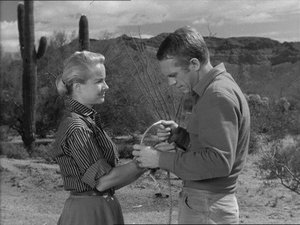 1x9 – The Fourth Headstone
When Josh escorts a beautiful woman to a trial that could see her hang for killing her husband, her lover, and a foreman, she uses all her seductive charm on him.
Gesehen von 1 User
1x10 – Til Death Do Us Part
A woman on the lam for murdering her abusive husband seeks the help of her friend Josh Randall, who is willing to investigate her belief that her husband is still alive and responsible for the wanted posters that have made her a lucrative target for bounty hunters.
Gesehen von 1 User
1x11 – The Favor
Owing a favor to a sheriff, Josh agrees against better judgment to go to the lawless town of Bent Horn to bring back a man wanted for bank robbery and murder.
Gesehen von 1 User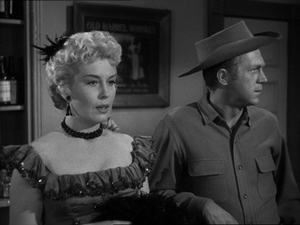 1x12 – Ricochet
Josh sets out to help a heartbroken wife locate her missing husband, but his mission of mercy meets with a resistant and tight-lipped townspeople. The mission becomes desperate when Josh discovers another man is also seeking the missing husband, but with murder in mind.
Gesehen von 1 User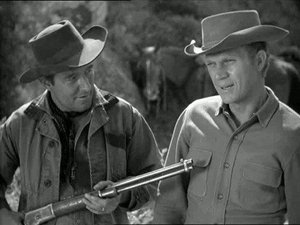 1x13 – Sheriff of Red Rock
Josh is bushwhacked by bounty hunters in cahoots with the local sheriff, who now must keep Josh from blowing the whistle on their illegal but lucrative "bounty game."
Gesehen von 1 User
1x14 – Die by the Gun
A sadistic pair of killers hijack the stagecoach Josh is riding with a young prisoner.
Gesehen von 1 User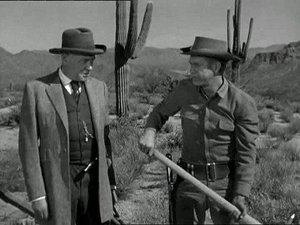 1x15 – Rawhide Breed
Following an Indian attack on their stagecoach, Randall and an eastern gentleman unaccustomed to the ways of the West must trek to safety across many long, hot miles of hostile Apache territory.
Gesehen von 1 User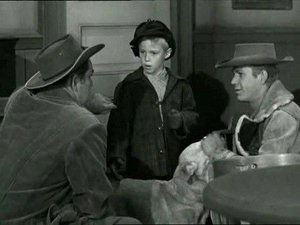 1x16 – Eight Cent Reward
On Christmas Eve Randall receives his most daunting assignment yet: bring in Santa Claus.
Gesehen von 1 User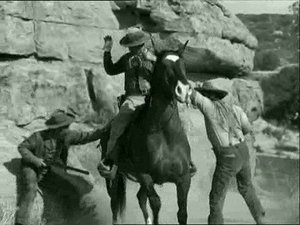 1x17 – Drop to Drink
Thieves are lying in wait to ambush mail carriers and eventually Josh is hired to help insure that the mail will get through. The thieves have news about a $20,000 Diamond Ring that is being delivered which they are waiting for. The trail is through desert country with no water for miles.
Gesehen von 1 User
1x18 – Rope Law
Josh and Brace Logan are met on the range by a group of men who want Logan, Josh's prisoner. When he refuses, he's hit from behind and loses Logan. When he gets to town to file a complaint he is surprised to find the sheriff was the leader of the men and his son was the one who hit him. Josh takes an interest in the case now and is determined to find the truth...especially since the sheriff's son wants to organize a lynching.
Gesehen von 1 User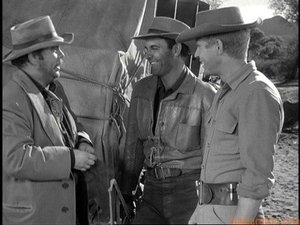 1x19 – Six-Up to Bannach
Josh needs a ride to Brannach fast in order to stop an unjust hanging. The only mode of transportation available is a coach carrying a load of dynamite with a surly driver who doesn't take well to Josh. He reluctantly agrees to allow Josh and his prisoner to travel with them. There are a number of obstacles on the way to slow them down...a river to pass, a washed out bridge and a prisoner who doesn't want to cooperate.
Gesehen von 1 User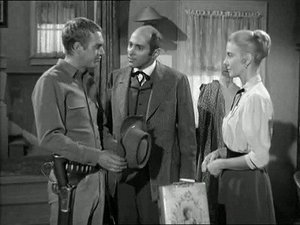 1x20 – The Spurs
A man and a woman shoot an already dead man in a back alley making it look as if she shot him in self defense. Josh Randall arrives in Lordsville looking for Vic Warsaw, a killer he has been trailing. The sheriff informs Randall that Warsaw was shot and killed and has just been buried. Josh discovers that the man was shot by Lucy Fremont the town seamstress. After investigating Warsaw's personal effects Josh begins to suspect that Vic Warsaw may still be alive. He begins to question Lucy Fremont in order to get at the truth.
Gesehen von 1 User
1x21 – Reunion for a Revenge
Several men escape from Yuma Prison with a thirst for revenge against a man named Aben Starr. He works at the Saddle Creek Way Station and Randall shows up there expecting the men to arrive also. Soon two of the escapees do arrive and take Josh and Starr captive while waiting for their partners to show. Before they do a stage rides in carrying a Quaker and his deaf-mute sister. They all wait for the other two men to show up so they can carry out their revenge against Starr.
Gesehen von 1 User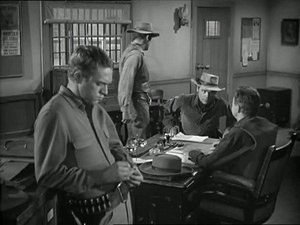 1x22 – Competition
Josh is in town for a bit of vacation when two bounty hunters, Ralph Meadows and Al Jarrett, arrive with a dead man. Their unethical methods offend Josh and he wants nothing to do with them. Josh tries to mind his own business but they think he's waiting for a big score and want in on it. Their constant surveillance soon wears on Josh and he devises a scheme to pit the two against each other.
Gesehen von 1 User
1x23 – Call Your Shot
A grieving father hires Josh Randall to find his murdered son's body, but Josh's search for clues runs up against a cowardly conspiracy of silence.
Gesehen von 1 User
1x24 – Secret Ballot
Randall comes to assist a war buddy in his bid for the town's mayoralty, quickly running afoul of the established political machine and its corrupt mayor and sheriff.
Gesehen von 1 User
1x25 – The Corner
A bounty hunter is not a hero in his own hometown, as Josh learns when he honors a dying friend's request to return his body to Cameron and the townspeople rush to judgment, believing Josh killed him for the reward money.
Gesehen von 1 User
1x26 – Eager Man
Josh is approached by the wife of a wanted man eager to turn himself in peacefully, provided Josh split the bounty with his wife. To ensure the deal goes as planned, Josh enlists the aid of an old friend: Sheriff Pat Garrett.
Gesehen von 1 User
1x27 – The Legend
A man with unwavering faith in a legend about lost treasure hires Josh to lead his family on an expedition into the desert to locate the cache of Spanish gold.
Gesehen von 1 User
1x28 – Railroaded
When a young runaway is framed for killing a Pinkerton agent, Randall turns detective to uncover the real killer.
Gesehen von 1 User
1x29 – Double Fee
Josh uncovers an unconventional kidnapping plot when he signs on to rescue the ransomed sister of a famous singer.
Gesehen von 1 User
1x30 – The Kovack Affair
Josh comes to the aid of his old friend Jesse, who is being strong-armed into selling the Outrider Hotel by self-proclaimed mayor and town bully Peter Kovack.
Gesehen von 1 User
1x31 – Bounty for a Bride
A decidedly different and dangerous assignment awaits Josh when he agrees to go into the Apache camp and compete in their contests to win the hand of a white woman the Indians kidnapped as a child and have raised as their own.
Gesehen von 1 User
1x32 – Crossroads
Pursuing killer Joe Collins into the Superstition Mountains, Josh is shadowed by a man who believes Collins could be his long lost son.
Gesehen von 1 User
1x33 – Angels of Vengeance
A violent religious cult cast lots and it falls upon a young woman to act as its angel of vengeance. Her mission is to murder Josh Randall in retaliation for his killing their cult leader's son in a shootout.
Gesehen von 1 User
1x34 – Littlest Client
Josh is hired by a young orphan girl to find the parents she insists are still alive and with whom she yearns to be reunited.
Gesehen von 1 User
1x35 – The Conquerors
A concerned father hires Josh to retrieve his son, a passionate young ideologue whose gift for rousing rhetoric is being used by plunderers to recruit freedom fighters to serve in their phony liberation of Baja California.
Gesehen von 1 User
1x36 – Amos Carter
Josh's big talk lands him in big trouble when his browbeating the locals about ending the decades-long Carter-Blake feud gets him drafted to go reconcile the hate-fueled hillbillies.
Gesehen von 1 User
Inhalt
Quelle:
themoviedb.org