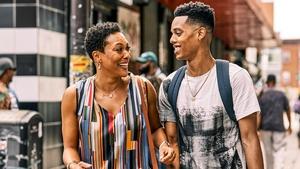 1x1 – Episode 1
Will Smith, a talented West Philadelphia teenager, is sent to live with family in Bel Air. Upon arriving, he discovers how different things are and that this is his chance at a new beginning.
1x2 – Episode 2
Will finds he doesn't fit in at his new school in Bel-Air and realizes he'll need to rethink how he navigates this new world. The Banks family starts to adjust to life with Will.
1x3 – Episode 3
Attending Uncle Phil's Black fraternity event helps Will find his groove with his family and peers, and it becomes clear that his stay in Bel-Air will be more permanent.
1x4 – Episode 4
The Banks family rallies around Uncle Phil to ramp up his campaign; Will's past starts to catch up to him, and he finds help in an unexpected place.
1x5 – Episode 5
When Will's friend Tray visits, his loyalty to Philly is put to the test. The Banks family supports Hilary by hosting an influencer event.
1x6 – Episode 6
The Banks family supports Lisa when they host an event in memory of her mother at the mansion. Will puts his feelings of mistrust aside and steps up to the plate for the Banks' and Lisa.
1x7 – Episode 7
Will and Carlton throw a house party at the Banks mansion. When Phil unexpectedly shows up at Viv's art event, their relationship is shaken by a lack of trust. Hilary stands up to Kylo after he posts a video of her without her consent.
1x8 – Episode 8
As the Banks family celebrates Will's birthday, his mom comes to visit, causing unexpected tension; the adults consider whether it's time to tell Will about his father.
1x9 – Episode 9
The Banks family goes to church; Will considers taking the opportunity to find his father, unknowingly driving a wedge between Phil and Geoffrey.
1x10 – Episode 10
Will's father makes a surprise appearance when he shows up unexpectedly and exposes a long-buried secret after telling the truth about where he's been.
Quelle:
themoviedb.org