1x1 – Einfarbig - Bunt
A former piano prodigy is about to discover that a seemingly small event can drastically alter the direction of a person's life.
Gesehen von 5 Usern
1x2 – Freund A
Kousei gets tricked into going to a performance by his close childhood friend and in that performance he starts to regain a shred of his passion.
Gesehen von 4 Usern
1x3 – Mitten im Frühling
Kousei's friends work together to try to convince him to accompany Kaori at her next recital.
Gesehen von 4 Usern
1x4 – Die Reise beginnt
Kousai being Kaori's accompanist appears to be a bad idea.
Gesehen von 4 Usern
1x5 – Trüber Himmel
Kaori is hospitalized after the competition. Kousei thinks deeply that playing the piano is the only way he can live. Tsubaki gets asked out by her senior she had admired before.
Gesehen von 4 Usern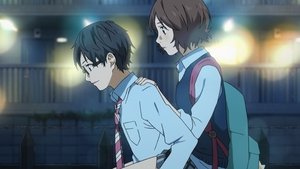 1x6 – Heimweg
Kaori wants Kousei to continue playing the piano, then she enters him for a competition. Kousei starts to practice hard with Kaori. Tsubaki realizes that she is jealous of her.
Gesehen von 4 Usern
1x7 – Die flüsternden Schatten
Kousei isn't sure that he could master a set piece of music, it makes him feel sick. Kaori gives him courage. On the competition day, he meets his childhood rivals again.
Gesehen von 4 Usern
1x8 – Erklinge!
Takeshi Aiza and Emi Igawa. These two have a strong rivalry with Kousei. But what drives them to play piano?
Gesehen von 4 Usern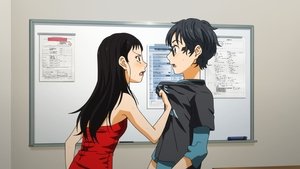 1x9 – Resonanz
It's Kousei's turn to take the stage, and everyone is waiting to see whether or not he will be able to play. How will he be able to perform with the memories of his mother still floating in his mind?
Gesehen von 4 Usern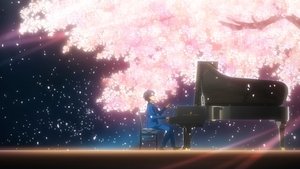 1x10 – Die Szenerie mit dir
Kousei's performance begins. He starts off on a roll, but then midway through, his playing begins to fall apart. Hearing this uneven performance, the audience starts to buzz. Are the rumors that Kousei can no longer hear the sound of his own playing true? In their hearts, Kaori, Tsubaki, and Watari cheer Kousei on from the audience, while Emi and Takeshi, who've just finished performing, look on with concern. Onstage and alone, Kousei confronts his own trauma regarding his mother.
Gesehen von 4 Usern
1x11 – Das Licht des Lebens
The qualifiers are up, but Kousei is sure he already knows where he placed. Takeshi and Emi however are desperate to see how their greatest rival was marked.
Gesehen von 4 Usern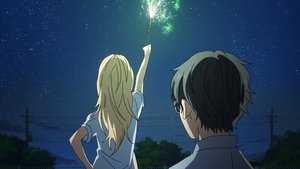 1x12 – Twinkle, Little Star
School broke up for the summer vacation, Kousei and Kaori practice for gala concert. Sometimes, they enjoy to play with fireworks including Tsubaki, Ryota, and Nao.
Gesehen von 4 Usern
1x13 – Liebesleid
It's the day of the gala concert, and it's time for them to go on, but as Kaori is a no-show, Kousei takes the stage alone. The venue is abuzz over the strange situation of the accompanist, Kousei, showing up onstage by himself. And so Kousei starts playing the song his late mother loved, Kreisler's Love's Sorrow.
Gesehen von 4 Usern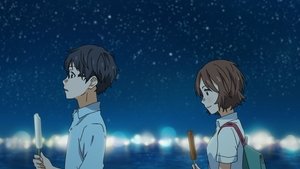 1x14 – Fußabdrücke
Kaori has been hospitalized since the day before gala concert. Kousei went to see Kaori in the hospital with Tsubaki and Ryota. He gets a bad feeling because she reminds him of his mother. Meanwhile, Tsubaki has to face her mind honestly.
Gesehen von 4 Usern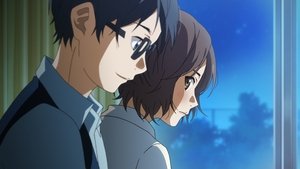 1x15 – Lügner
Kousei decided that he'll leave home to study music in school when spring arrives. Tsubaki broke up with her boyfriend because he has already realized she loves Kousei. Meanwhile, Kousei hesitates to see Kaori again. Then, he gets to know a girl, Nagi, she has enmity against him.
Gesehen von 4 Usern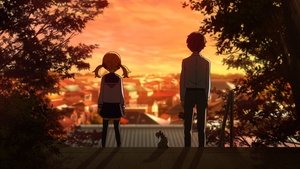 1x16 – Menschen, die sich ähneln
Hiroko decided to let Kousei teach the piano to Nagi. Nagi can't fully dislike him, because he's very nice to her except for the lesson time. And Kaori and Kousei goes shopping with doctor's permission.
Gesehen von 4 Usern
1x17 – Twilight
Kaori told Kousei what kind of situation she is now by quoting the lines of the novel that they have read, so he hesitates to see Kaori again. Ryota and Nagi give him a good advice. Then, Kousei thinks of a good idea to encourage her.
Gesehen von 4 Usern
1x18 – Zwei Herzen werden eins
Kousei asks Nagi to let him perform at the Kurumigaoka Junior High culture festival. He wants to reach Kaori through his music. With that in mind, he and Nagi take the stage, and their performance begins. But unlike during practice, Kousei, the supporting player, in a complete switch of gears, begins playing at an incredible pace, filling the music with an aching atmosphere, pressuring Nagi. And Nagi, unwilling to give in to Kousei, tries to hold her own.
Gesehen von 4 Usern
1x19 – Lebe wohl, mein Held
Kaori decided strongly that she undergoes surgery to play music with Kousei again. Kousei practices intensively for a competition, because his future success depends on being achieved a high ranking in it. Tsubaki studies very hard to go to high school near music school where Kousei aims for.
Gesehen von 2 Usern
1x20 – Hand auf Hand
Tsubaki told Kousei that he loves Kaori, and along with that, she confessed her love. Kousei became conscious who he loves. When Kousei visits the hospital with Ryota, they watch an unexpected scene.
Gesehen von 2 Usern
1x21 – Schnee
The shock of seeing Kaori's condition suddenly take a turn for the worse causes Kousei to once again turn away from the piano. "Music takes away everyone I care about..." His past trauma flashing through his mind, Kousei finds himself all alone again.
Gesehen von 2 Usern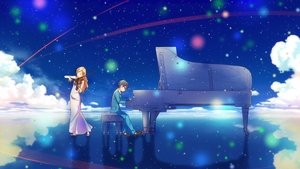 1x22 – Frühlingswind
Knowing her time is limited, Kaori undergoes a risky operation, hoping to have the chance to play with Kousei on stage one more time.
Gesehen von 2 Usern
1x23 – Moments (OVA 1)
The OVA will focus on Kousei, Emi, and Takeshi when they were younger, showing their troubles during their competitions and the beginning of their rivalry.
Gesehen von 2 Usern
Quelle:
themoviedb.org