1x1 – Das magische Zepter
Bloom becomes involved in a fight between a magical fairy Stella, and a gang of trolls headed by Knut the Ogre. Stella introduces Bloom to the world of Magix, where the College of Alfea for aspiring fairies is located.
1x2 – Die drei Hexen
Bloom and Stella arrive at Alfea and meet Flora, Musa and Tecna. They form a club named "Winx" and have their first encounter with the witches of Cloud Tower.
1x3 – Die goldenen Eier
It's the beginning of the school year and Alfea and Red Fountain will be having a school dance, and all the girls are excited. Stella, Musa, Flora, and Tecna all have dresses to wear, but Bloom is desperate when Icy, Darcy, and Stormy come in to sabotage the Dance! What will Bloom do with her Winx?
1x4 – Jagd nach dem Troll
The aspiring fairies experience their first outdoor exercise at the Black-Mud swamp.
1x5 – In der Falle
Stella receives what she thinks is an invitation for a date from Prince Sky, but it's actually the witches up to their old tricks.
1x6 – In heimlicher Mission
The Winx sneak into eerie Cloud Tower to get the ring back, but they find the dangerous Crypt of the Magic Archive.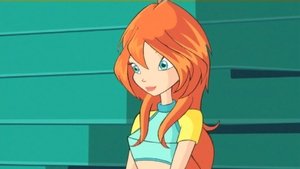 1x7 – Freunde in der Not
The Winx girls and the Red Fountain guys have a cleaning party as a "punishment" for going to Cloud Tower. When the witches conjure up a minotaur to take them down, the party ends up being crashed.
1x8 – Der Rosentag
The witches cause Riven to have an accident and make it look like Bloom is the culprit.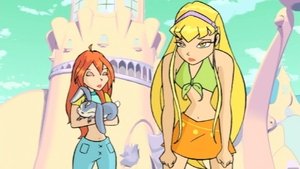 1x9 – Rivens Verrat
The mysterious voice that saved Bloom at Cloud Tower continues to torment her in her dreams. Finally, the voice discloses its face - Daphne, one of the nine legendary nymphs of Magix.
1x10 – Planet Domino
During Bloom's midterm exam at Alfea, Darcy sets the Simulation Chamber to the highest level of difficulty to analyze her power.
1x11 – Die Riesenschildkröte
For the potion exam, Flora must find a rare flower that inhabits the Black-Mud swamp.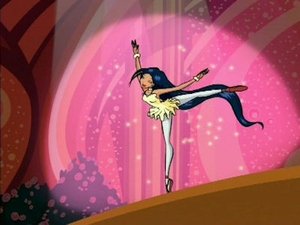 1x12 – Miss Magix
Instead of preparing for her midterm exams, Stella plans to compete in the Miss Magix beauty pageant.
1x13 – Die Entdeckung
Bloom goes back to Gardenia for a school break, when terrible things start happening there to her parents.
1x14 – Blooms dunkles Geheimnis
Bloom, Tecna, Timmy and Brandon attempt to enter the Crypt of the Magic Archive to find out more about Bloom's magic.
1x15 – Die Versuchung
Bloom runs into Professor Wizgiz, Who drops a sealed envelope containing the answers to a test.
1x16 – Der Fluch des Monsters
The Trix send a Nightmare monster to distract the Winx as Icy and the Trix try to steal the Dragon's Fire from Bloom.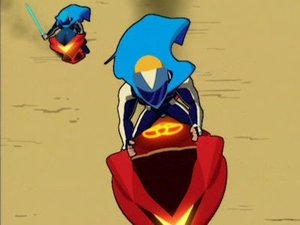 1x17 – Die Prinzessin
Bloom accidentally discovers that Brandon is not a simple squire to Prince Sky, but that he is the real prince.
1x18 – Die Hüterin der Flamme
The three witches attack Bloom again, and she loses all her powers.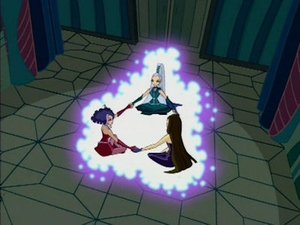 1x19 – Die Armee der Finsternis
With the Dragon Fire power the three witches take possession of Cloud Tower and imprison Professor Griffin.
1x20 – Das Eis-Monster
Bloom and the Winx to go planet Domino, hoping to recover Bloom's power.
1x21 – Die Krone der Träume
While searching for Bloom, the Winx discover the castle. Bloom learns about her past.
1x22 – Rückkehr aus Domino
Bloom, Stella, Sky and Brandon try to enter Cloud Tower in order to find Bloom's powers. Riven regrets his behavior and rejoins the fairies' group to help save Magix.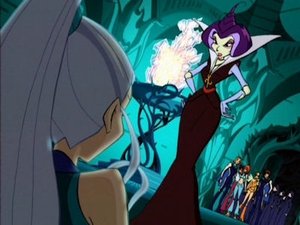 1x23 – Machtspiele
Bloom and friends release the imprisoned "good" witches at Cloud Tower, who join forces with the fairies to fight Icy, Darcy and Stormy.
1x24 – Mit vereinten Kräften
The witches destroy Alfea and are close to controlling Magix. Bloom is guided by Daphne's voice.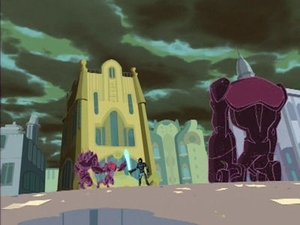 1x25 – Die letzte Schlacht
The Trix are all set for a final battle against Alfea as they rally their greatest army yet. Bloom has a heart to heart talk with Daphne. Will it help get her powers back?
1x26 – Der große Sieg
Fairies, witches and specialists of the Magical Dimension join their powers one last time against the Trix in the final battle.
Quelle:
themoviedb.org