1x1 – Episode 1
Jack Lithgow is a British government minister who travels to Pakistan to discuss a new aid agreement aimed at reducing opium production in the country which farmers cultivate it and local organized crime figures harness it for heroin production for worldwide distribution. Jack also encounters Fazal, a local poppy farmer in the North-West Frontier provinces who grows opium poppies since the local drug traffickers give him huge amounts of cash for the sale of the crop. But when the Pakistani Army arrives to destroy the fields, Fazal finds himself out of work. Meanwhile ...
1x2 – Episode 2
After returning to England from his visit to Pakistan, Jack becomes distracted from his work to stop the drug flow from the Middle East by a family crisis involving his 17-year-old daughter, Caroline, who becomes addicted to heroin after carousing with her outgoing school mates all of whom are addicts to the same drugs that come from the country Jack is trying to prevent it from coming from. Meanwhile in Hamburg, Helen struggles to stabilizes her family's finances and safeguard her two young daughters as her financial situation worsens and Karl is officially charged ...
1x3 – Episode 3
Helen's desperation grows as she wades deeper into her imprisoned husband's world of drug trafficking despite constant police surveillance of her house and realizes that she, out of blind loyalty to her husband, will not only have to take over his drug smuggling business to support her expensive and lavish lifestyle, but also use his contacts to try to get him released. In London, Jack's continuing trouble with Caroline causes his marriage to disintegrate as his daughter refuses to go into rehab which leads to her running away from home, and his wife emotionally ...
1x4 – Episode 4
In England, Jack confronts the mounting conflict between his political and personal lives as Caroline's drug problem becomes more out of control and his advisers tell him that the war against drug trafficking is unwindable. In Pakistan, Tariq brings Fazal to one of his remote heroin making laboratories where he tests Fazal's loyalty. In Germany, Helen launches her own counter-offensive against the police to destroy their case against her husband as Karl's trial for drug trafficking begins.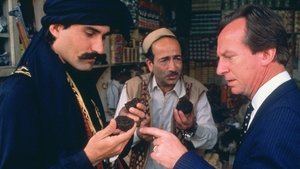 1x5 – Episode 5
Jack returns to Pakistan to press the arrests in exchange for the British aide agreement which sets off a chain of events with devastating consequences for Fazal. Meanwhile, Helen also travels to Pakistan to do business with Tariq for another shipment of raw opium to Germany. But Tariq asks her to prove her loyalty to him first by trying to smuggle heroin with her back to Germany, while Ulli, still reeling from the murder of his partner, becomes determined to nail Helen who proves to be just as slippery and dangerous as her imprisoned husband.
1x6 – Episode 6
Jack returns to England utterly changed by his downbeat experience in Pakistan, with his career and family life in ruins as he is forced to resign his post, as well as struggle to help Caroline and get her into a rehab program before it is too late for her. Back in Pakistan, Fazal's wife, Roomana, goes to work for Tariq to secure her husband's release from prison in which Fazal decides to resort to drastic steps to get out of the drug making business for good. In Germany, Ulli prepares to intercept Helen's first shipment of heroin from Pakistan just as she works ...
Quelle:
themoviedb.org