1x1 – Die Aufnahmeprüfung (1)
One of the prospective students at the Witches Academy loses her eyeglasses and accidentally bumps into Mildred. She needs Mildred's help to get to the academy. Mildred also takes the exam, fails, but helps everybody survive the day.
Gesehen von 1 User
1x2 – Die Aufnahmeprüfung (2)
Know what this is about? Be the first one to add a plot.
Gesehen von 1 User
1x3 – Besenflug mit Katze
Flying becomes difficult for Mildred when she is paired with a cat who is afraid of heights.
Gesehen von 1 User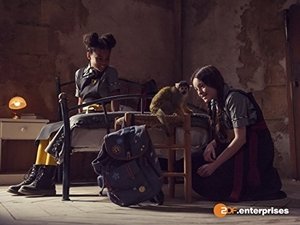 1x4 – Freundschaft in Gefahr
Maud gets jealous when the daughter of magical celebrities transfers to the school, and starts hanging out with Mildred.
Gesehen von 1 User
1x5 – Die Froschhexe
Mildred is asked in her test to turn a mouse into a frog, but in the middle of her spell she coughs and turns Ethel Hallow into a pig.
Gesehen von 1 User
1x6 – Der große Magier
The students are exited when they hear that the school is to get a visit from The Great Wizard, unfortunately Miss Cackle's troublesome twin sister entraps her and takes her place in an effort to discredit her so that she can take over.
Gesehen von 1 User
1x7 – Der verflixte Weisheitszauber
Mildred uses a wisdom spell to get through a test, but it doesn't work as planned.
Gesehen von 1 User
1x8 – Maudes größter Fehler
Parents are due to visit to see how well their children are doing, Maud anxious that her parents don't learn about all her mistakes uses forgetting powder to make people forget about all the mistakes she's made, a big mistake.
Gesehen von 1 User
1x9 – Gemeinsam sind wir stark
After Mildred has an accident with a heated hairbrush Ethel cuts it out with scissors breaking the witches code. Mildred makes a hair growing potion to make her hair grow again but as usual things go drastically wrong.
Gesehen von 1 User
1x10 – Der Zauber-Wettstreit
It's the annual spelling bee final (as in spells) between Cackle's and Pentangle's, the contest ends in a dead heat so a tie breaker has to be played and the only one eligible to do it is Mildred, can she perform a weather spell?
Gesehen von 1 User
1x11 – Der Nebel der Zeit
Against orders Mildred and Ethel sneak out into the mists of time and are transported back to when Miss Cackle and her sister were children. But can they get back?
Gesehen von 1 User
1x12 – Zwillingszauber (1)
Agatha Cackle tricks Mildred into helping her by pretending to be her sister Ada so that she can get into the academy to take over as head.
Gesehen von 1 User
1x13 – Zwillingszauber (2)
Miss Cackle's evil sister has taken over as head. Reluctantly Ethel sends a message to Mildred who has been sent home asking for her help.
Gesehen von 1 User
Quelle:
themoviedb.org