Trailer
1x1 – In Love with the King
In 1463, the lust between a Lancastrian commoner and Yorkist King turns into a secret wedding and a new Queen of England. But two women not so smitten with the arrangement vow to take her down.
Gesehen von 5 Usern
1x2 – The Price of Power
The pregnant Elizabeth is crowned queen and welcomed by Edward's brothers Richard and George though Warwick and his daughters do not disguise their disapproval and Cecily refuses to attend the coronation. Warwick is especially aggrieved that the king is neglecting a peace treaty with France and entertaining the Duke of Burgundy,a relation of Elizabeth and enemy to the French king. As it becomes clear that Warwick intends to make himself powerful Edward gives key posts at court to Baron Rivers and his sons,which also enrages Margaret Beaufort,whose young son Henry ...
Gesehen von 5 Usern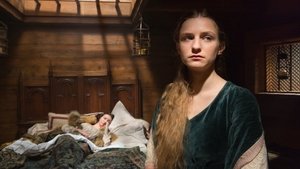 1x3 – The Storm
Margaret Beaufort is pleased to learn that Warwick,whose daughter Isabel is George's reluctant bride,is holding a parliament in York to have George declared the rightful monarch. However the parliament opposes Warwick's idea and Edward,Elizabeth and Jacquetta are all released. Edward,to his wife's annoyance,suggests alliances with Warwick to prevent further factions and even Elizabeth's surviving brother Anthony appears to acquiesce. However Edward has another revolt on his hands,supposedly led by Henry's wife Margaret of Anjou but in reality staged by Warwick and ...
Gesehen von 5 Usern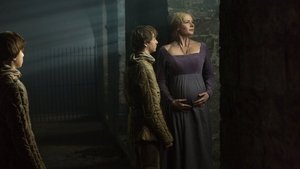 1x4 – The Bad Queen
Now exiled in France with his family Warwick plans to make his other daughter Anne a prospective queen of England by marrying her to Edward,teen-age son of Henry VI and Margaret of Anjou in return for Margaret backing another war against Edward IV. Margaret however refuses immediate military help and both Isabel and George are unimpressed by the deal,George sending his brother a message to say he will have no part in any rising. Nonetheless Warwick goes ahead,routing Edward and forcing Elizabeth and her children to seek sanctuary in Westminster abbey.Jacquetta is put ...
Gesehen von 5 Usern
1x5 – War at First Hand
1470:- George returns to fight with his brothers, to the chagrin of Warwick, who moves the decrepit Henry VI into the tower of London for his protection whilst Jasper Tudor escorts his nephew Henry to Wales for safety. The possessed Lady Beaufort is angry that her husband Stafford chooses to fight for Edward, seeing him as the lesser of two evils, but both Stafford and Warwick are slain at the battle of Barnet. Edward rides to meet Margaret of Anjou, who has the nervous Anne Neville in her company, and he defeats Margaret and Jasper at the battle of Tewkesbury. ...
Gesehen von 5 Usern
1x6 – Love and Death
Having witnessed the murder of Henry VI the pregnant Elizabeth is again shocked when she discovers her husband having sex with courtier Jane Shore. Her isolation is increased as Jacquetta falls dangerously ill and, aware of George's dislike of her, she appoints Anthony as her sons' guardian. Also wary of George is Anne Neville, pardoned by Edward for her part in the revolt and reunited with Isabel at court. However Anne is upset that she is not allowed to contact her mother in exile and feels that George and Isabel are controlling her every move. She has one ally in ...
Gesehen von 5 Usern
1x7 – Poison and Malmsey Wine
Edward plans a war with the French but, sensing that too much blood has already been shed, makes peace with king Louis, angering George, who will now not assume the title Regent of France. He becomes convinced that Elizabeth, like her late mother, is a sorceress who caused Isabel to miscarry and who has bewitched her husband. Her two sons also stand in his way to the throne. When Isabel dies he accuses Elizabeth of poisoning her but his public outcries and dealings with Louis lead to his being accused of treason and he is arrested. Despite pleas for mercy from his ...
Gesehen von 4 Usern
1x8 – The King Is Dead
1483:- Elizabeth is concerned when Edward allows Henry Tudor home from exile but he reasons that he prefers to keep his enemies close to him. Soon afterwards Edward suddenly dies of pneumonia, appointing Richard as the regent for his young son Edward. Anne, however, encourages her husband to crown himself king as the country's enemies may take advantage of a boy king. Richard takes the boy and places him in the Tower of London, causing Elizabeth, now powerless, to again go into sanctuary with her children. Richard has Anthony Rivers and Elizabeth's son Richard Grey ...
Gesehen von 4 Usern
1x9 – The Princes in the Tower
Aware of his antagonists Richard rewards those whom he believes can serve him, including Stanley, the duke of Buckingham and Thomas Brackenbury. Anne visits Brackenbury behind her husband's back, expressing her fear that his throne will not be safe as long as the princes in the tower are alive. Elizabeth, fearing for the boys' safety, accepts an offer of help to rescue them by Margaret, whose son Henry is now betrothed to Elizabeth's daughter Lizzie. However the attempt fails and, learning that the boys are dead, Elizabeth believes that she was double-crossed by ...
Gesehen von 4 Usern
1x10 – The Final Battle
Queen Anne's health is deteriorating and the death of her sickly son Edward and the knowledge that her husband loves Lizzie do not help her situation. She ends her feud with Elizabeth ,assuring her that she was not responsible for the deaths of the two boys and soon afterwards, following an eclipse, she dies. Elizabeth and her daughters are released from sanctuary and return to the court where Lizzie reciprocates Richard's feelings for her. However she is betrothed to marry the dour Henry Tudor, not a match she relishes. Henry effects his rebellion - with Stanley now ...
Gesehen von 4 Usern
Quelle:
themoviedb.org