1x0 – Unaired Pilot
Know what this is about? Be the first one to add a plot.
Gesehen von 3 Usern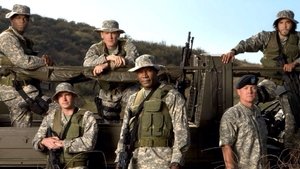 1x1 – Im toten Winkel
Bob Brown enters the Unit on a training mission in Idaho. An incident in Afghanistan had made it certain that more knowledge about mules was needed. His wife, Kim Brown, simultaneously moves into the Unit's compound where she gets a long row of shocking surprises. Amongst them, the hijacking of a grounded plane with 125 passengers close to her husband's location.
Gesehen von 4 Usern
1x2 – Stress
The team, minus Bob, goes to Africa to retrieve a satellite. Meanwhile, Bob is tasked with a job he finds humiliating and is interrogated by the FBI. Kim puts aside frustration to help another wife.
Gesehen von 4 Usern
1x3 – Streifschuss
Jonas is sent to Indonesia to rescue a group of American missionaries in hiding. Back at home, Bob gets caught out in a training exercise performed in front of a senator.
Gesehen von 4 Usern
1x4 – Jagdausflug
While protecting the Mexican Drug Minister, the team shifts into high gear to rescue his family after they are kidnapped. Tiffy is upset when Mack is ordered some alone time, and Molly takes steps to protect the unit from an outside threat.
Gesehen von 4 Usern
1x5 – Präriefeuer
When an assassination is called off too late, the unit must separate and find their own ways home. Back at home, the Blane's daughter returns from college unexpectedly.
Gesehen von 4 Usern
1x6 – Die Affäre
The team goes under cover at the Iranian embassy in Lebanon seeking evidence of the sale of nuclear materials by Russia to Iran. Tiffy is observed meeting someone at a hotel.
Gesehen von 4 Usern
1x7 – Harte Landung
While on the way to a mission, another team's helicopter is forced to make a crash landing, and Blane must decide whether to follow orders and abandon them. Back at home, Molly discovers some disturbing things about Ron Cheals.
Gesehen von 4 Usern
1x8 – Drei Tage
The unit takes on a grueling exercise of torture and humiliation.
Gesehen von 4 Usern
1x9 – Das Leben der Kinder
Jonas and his team must track down and destroy a shipment of surface-to-air missiles after negotiations for their purchase break down.
Gesehen von 4 Usern
1x10 – Unauffindbar
Bob advises Jonas to cancel a dignitary's planned visit after someone blows Bob's cover while he's training soldiers in Africa.
Gesehen von 4 Usern
1x11 – Die schöne Witwe
The Day of the Dead offers the son of one of the fallen access to the team for his exposé on the unit, and one of the widows the opportunity to put Bob in a very compromising position.
Gesehen von 4 Usern
1x12 – Die Bombe
The team investigates a bomb at an Atlanta bank. Bob takes Kim on a vacation.
Gesehen von 4 Usern
1x13 – Der Kriegsverbrecher
The team works with the French U.N. forces to serve a warrant on a Bosnian war criminal. Jonas discovers Molly's secret. Tiffy and Mack make decisions. Colonel Ryan makes a sudden announcement.
Gesehen von 4 Usern
Quelle:
themoviedb.org