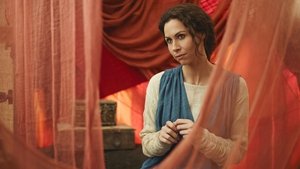 1x1 – Part 1
Dinah tells how her father Jacob acquired four brides: Leah, Rachel, Bilhah, and Zilpah. Years later, Dinah's beauty attracts the attention of a prince.
Gesehen von 1 User
1x2 – Part 2
In the bloody aftermath of her brothers Simon and Levi's vengeance, Dinah leaves her family and travels to Egypt.
Gesehen von 1 User
1x3 – Episode #1.3
Following his sons' slaughter of Dinah's husband and father-in-law a horrified Jacob insists the family moves away quickly but the pregnant Dinah, blaming Jacob's arrogance for the murders, remains and is taken to Thebes in Egypt by queen Re-Nefer, where her brother is Pharaoh. Here Dinah gives birth to a son Re-Mose but the queen demands she never tells him she is his mother, acting only as his nursemaid. Meanwhile, their fortunes failing, Joseph's jealous elder brothers make money by selling Joseph to Egyptian slavers, news of which reaches Dinah. As the years pass ...
Gesehen von 1 User
1x4 – Episode #1.4
Now married to the gentle Beria Dinah has gained a reputation as an excellent midwife and is summoned by Re-Mose to attend on the wife of his master, the vizier. After a mother and son reconciliation Dinah is both surprised and overjoyed to discover the vizier is Joseph, with whom there is another happy reunion. Believing Joseph was one of the brothers who murdered his father Re-Mose tries to kill Joseph, who orders his execution but this is commuted to exile on Dinah's intervention. As he leaves the court Re-Mose reverts to the name Dinah gave him. Bar-Shalem. Though...
Gesehen von 1 User