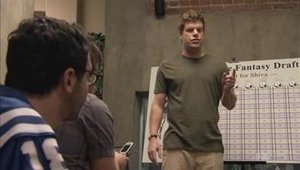 1x1 – Folge 1
The guys go to Kevin's house during Ellie's fifth birthday to determine the draft order, and later, Andre throws a party during the draft itself, at which Pete announces he is splitting from his wife.
Gesehen von 1 User
1x2 – Folge 2
Ruxin is driven crazy by Sofia's refusal to have sex with him after the birth of their child, while Jenny is horrified to learn that her pronouncement that she is confident in her vagina has become the talk of the League's message board.
Gesehen von 1 User
1x3 – Folge 3
The guys spend Sunday afternoon at Ruxin's, hoping to watch football but being roped into an extravagant lunch made by Sofia, instead, while Ellie goes through a stage called "fun with feces."
Gesehen von 1 User
1x4 – Folge 4
Pete takes Andre to a spa for the weekend, but Andre is disappointed when all the other guys show up, too. Meanwhile, Kevin asks Taco to dress up as Ellie's favorite toy in an attempt to scare her into not playing with it anymore.
Gesehen von 1 User
1x5 – Folge 5
Taco and Ruxin go to Chinatown to look for Three Penis Wine, while Pete and Kevin make a bet that the loser of their playoff game must strip in public, but it's Jenny who may ultimately have to pay up.
Gesehen von 1 User
1x6 – Folge 6
The Fantasy Football is nearing an end, and the league has reached The Shiva Bowl. The contest now stands between three-time champion Pete and Andre. As it turns out, Andre has a trick up his sleeve.
Gesehen von 1 User
Quelle:
themoviedb.org