1x0 – Who's Afraid of Mr. Wolf, Part 1
'Mr. Wolf' heads a group which executes a well-planned bloodless bank robbery in Pittsburgh. Alas, an FBI agent which happened to be there but kept quiet during shoots at them when they're outside, and an armored car which retrograded to pick up a lost cellphone blocks their way, so they must retreat inside and take hostages as the police lays a siege. PPD officer Horst Cali's cautious attitude is overruled by deputy chief Abrami, leading to a SWAT team casualty. Sergeant 'Wolf' steps outside, strips to his boxers to show his Iraq war wounds and convinces the TV ...
Gesehen von 3 Usern
1x1 – Who's Afraid of Mr. Wolf? Part 2
Pittssburgh real estate tycoon leans heavily, via political cronies, to make his brat-daughter's release top-priority, but Horst Cali refuses to 'appreciate' being owed a favor. So deputy chief Abrami plans to have Cali replaced, or at least suspended, by an FBI negotiator after the first apparent failure. Wolf actually agrees to release hostages on humanitarian grounds for favors, but refuses to include the youngest, computer whiz kid Robby Sabian, and threatens to execute someone unless electrical power, which Horst ordered cut as pressure, is restored within the ...
Gesehen von 3 Usern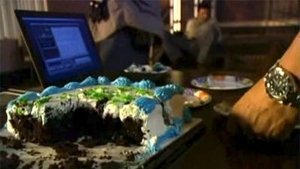 1x3 – No Meringue
Cali has to hand over the rein to a female FBI negotiator, arranged by politicians to accommodate the tycoon's wish to make his daughter top priority. She assures him she respects his reputation, but completely ignores his advise by confronting the kidnappers. Mr. Wolf doesn't budge, simply refuses to talk to her at all and ends up successfully demanding to speak to Cali again and gives him the eldest hostage. Meanwhile accomplices outdoors take sniping positions. Cali's team works outs Robby Sabian's dad was released as part of a plot depending on the fat knave's ...
Gesehen von 3 Usern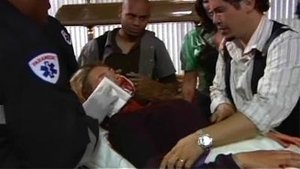 1x4 – Pro Patria
A female hostage is shot accidentally when depressed kidnapper Mikey looses his calm. Tycoon Beck hires more professional guns, including SWAT member Augie. Cali's team realizes there was a rogue sharpshooter at work. Cali now doubts Wolf's honor code and successfully leans on Teddy Sabian to learn the truth and counter-act just in time.
Gesehen von 3 Usern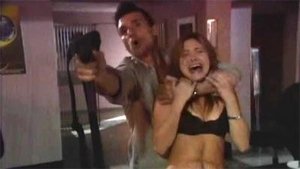 1x5 – Visiting Hours
As Horst is talking to a one armed man that claims to be a former team member of Wolf's, the hostages are setting up a plan to overpower the hostage takers.
Gesehen von 3 Usern
1x6 – The Great Ape Escape
Suddenly, anti war protesters are in front of the bank. The hostages execute their plan to escape. However, Wolf has his own plan for escape.
Gesehen von 3 Usern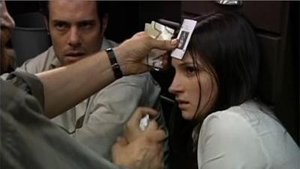 1x7 – Rabbit at Unrest
Mr. Wolf retreats into the board room, apparently just mourning his badly wounded mate who ran out and dared the SWAT until he was fatally shot. Again to Cali's horror, the corporal who assumes command proves bloodthirsty and irrational, platoon buddies can barely stop him executing prisoners even before the one hour ultimatum for a helicopter expires. Cali tortures Leon, thus accidentally discovering a bug, and manages to hold off a bloody attack so he can go in, finding Wolf in control again, who actually gave the go-ahead for his most daring move.
Gesehen von 3 Usern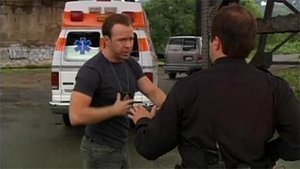 1x8 – The Devil's Zoo
Captain Cali entered the bank for final negotiations, but calls the SWAT to move in. When they do, the hostages are found unhurt, the only corps is that of the Henry brother whom Wolf had to kill in a duel for leadership. Cali and the platoon have escaped in an ambulance and meet the unit's other team, but their leader, Deke, refuses to release Horst's wife as Wolf still feels honor-bound. Tonray discovers a bug, actually in Cali's shoe, so the police can surround them by surprise. A gun-fight ensues, from which only the smartest Henry brother escapes, who later ...
Gesehen von 3 Usern
Quelle:
themoviedb.com