1x1 – Pilot
Edward Stratton III is the epitome of the overgrown child. His lawyer Leonard Rollins has just informed him that his business manager Lou says he is broke and Edward is more interested in playing a game of PacMan. The Stratton mansion looks more like an arcade with video games lining the walls and a scale model train in the middle of the room that actually goes all over the property. Edward is totally taken by surprise when a blonde 12 year old boy arrives and introduces himself as Edward's son Ricky. Edward had been married to Ricky's mother Evelyn for seven days and until that moment he had no clue that he was a father. We meet Edward's assistant Kate Summers during a thoughtful moment of her mentioning that perhaps Edward should hold off on a charity donation until his finances were back in shape. After discovering and proving that Lou had really embezzled Edward's money, Ricky tries to convince his father to let him move in with him instead of making him return to military school.
Gesehen von 1 User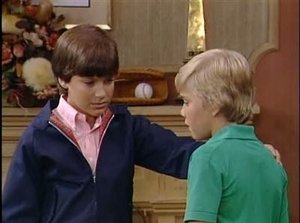 1x2 – Boys Will Be Boys
Rickys friend Derrick moves into the neighborhood and convinces him that the only reason Edward dosent punish him is because he dosent love him.
Gesehen von 1 User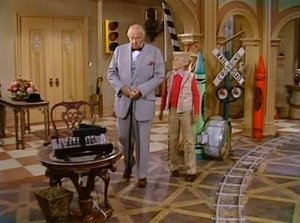 1x3 – Folge 3
Ricky wants to meet his grandfather, but finds that Edward has no interest in seeing his father - an attitude that is definitely mutual. Knowing how important it was for him to know his father, Ricky devises a plan to reconcile the two.
Gesehen von 1 User
1x4 – Me & Mr. T
When Ricky is bullied at school, Edward hires a bodyguard to make sure the problem never happens again.
Gesehen von 1 User
1x5 – Takin' a Chance on Love
Ricky gets his first taste of puppy love when a new girl named Sally Frumble transfers to his school.
Gesehen von 1 User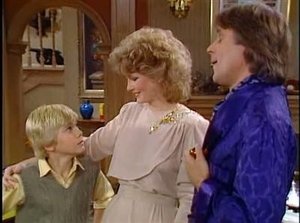 1x6 – Folge 6
Evelyn, Edward's ex-wife and Ricky's mother, shows up and wants to take Ricky back to live with her in London. Leonard tells Edward he could fight for custody, but warns him that a legal battle could get to Ricky.
Gesehen von 1 User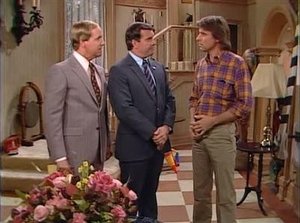 1x7 – Folge 7
Ricky tries to impress a student reporter by hacking into a secret military computer site, but the FBI closes in after the material ends up in the school newspaper. The boys decide their only way out is to hitch a ride on a tramp steamer.
Gesehen von 1 User
1x8 – I'm Just Wild About Harry
Ricky and Derek find a lost orangutan and Ricky wants to keep him.
Gesehen von 1 User
1x9 – Honor Thy Father
Ricky forces Edward to attend a banquet honoring Edward II.
Gesehen von 1 User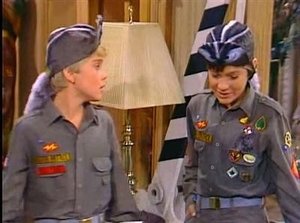 1x10 – Father Nature
Ricky convinces Edward to take him camping so he can earn his badger paws.
Gesehen von 1 User
1x11 – A Little Magic
Convinced that Kate is in love with him, Ricky decides to set her up with Edward.
Gesehen von 1 User
1x12 – Folge 12
Despite the previous night's kiss, Edward and Kate start to feel defensive about their romance. When they both arrange grudge dates to make each other jealous, Ricky schemes to have his father crash Kate's date at Carnegie Hall.
Gesehen von 1 User
1x13 – Folge 13
Edward and Ricky spend their first Christmas together, and after meeting a young boy from a family in a difficult situation, they decide to play Santa.
Gesehen von 1 User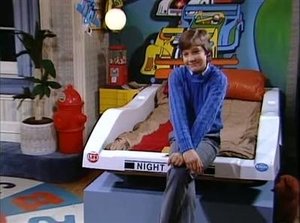 1x14 – The Most Beautiful Girl in the World
After Derek saves his life Ricky is forced to pose as his date at a co-ed party.
Gesehen von 1 User
1x15 – Folge 15
After Ricky gets in a fight with Ox, he and Edward are sued for a false whiplash claim. Leonard and Ricky convince the judge that the case be presented to a jury of peers - other kids.
Gesehen von 1 User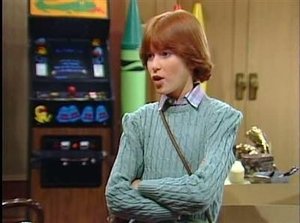 1x16 – The Toy Wonder
Ricky pretends to like an obnoxious girl so Edward can hire her as a toy consultant.
Gesehen von 1 User
1x17 – Popcorn
Ricky volunteers Edward to buy 1000 bags of popcorn to send the band to Washington.
Gesehen von 1 User
1x18 – Folge 18
For a school business club assignment, Edward lets Ricky manage an ice cream parlor for a week, but Ricky discovers that running a business is harder than he expected.
Gesehen von 1 User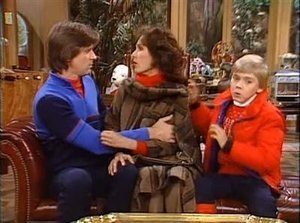 1x19 – Folge 19
Ricky is miffed when Kate joins his ski trip with Edward, and starts to worry that he'll increasingly be ignored as their relationship develops.
Gesehen von 1 User
1x20 – Folge 20
Grandfather Stratton offers Kate an executive position in California, hoping that Edward will marry an heiress to expand the family fortune. When Kate finds out, Edward's relationships with both her and his father seem to be over.
Gesehen von 1 User
1x21 – Folge 21
An old suitor of Kate's accidentally crashes his small plane on the grounds of the Strattons' estate, after flying low over the house in an effort to impress her, and Edward reluctantly invites him to stay due to his injured leg.
Gesehen von 1 User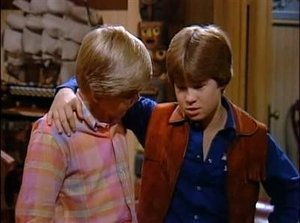 1x22 – Folge 22
Kate catches Ricky and his friends watching an X-rated film during a sleepover, and she insists that he tell his father what happened.
Gesehen von 1 User