1x1 – License to Steele
Female PI Laura Holt concocts a mastermind male detective so her failing agency can finally attract sexist clients. One assignment that results is the transport of the world's rarest gems, to hype the debut of a new car. Stalking Laura & the shipment is a mysterious charmer who claims he's a South African government agent. The auto's inventor demands that the fictional agency head, Remington Steele, personally supervise the jewels' arrival, putting Laura on the spot.
Gesehen von 4 Usern
1x2 – Tempered Steele
An electronics company hires the agency to discover who is stealing their research. After Mr. Steele blows all Ms. Holt's hard work on the case, he has the arrogant new owner install a fifty thousand dollar security system.
Gesehen von 4 Usern
1x3 – Steele Waters Run Deep
Laura and Remington are hired by three video game creators to find their missing partner, who has apparently disappeared with a large portion of the company's assets and their newest video game.
Gesehen von 4 Usern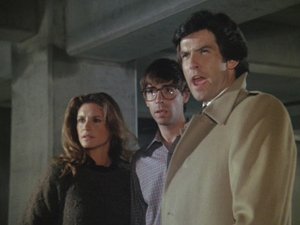 1x4 – Signed, Steeled and Delivered
A mild mannered information retrieval agent who is about to be married, asks the help of the Remington Steele Agency when it appears that the CIA is attempting to kill him.
Gesehen von 4 Usern
1x5 – Thou Shalt Not Steele
Ms. Holt and Mr. Steele disagree on whither to provide security for a cursed painting. Ms. Holt's interfering mother comes for an annoying visit.
Gesehen von 4 Usern
1x6 – Steele Belted
Mr. Steele is suspicious of an attorney who he thinks is paying more attention to Ms. Holt than to the client who is implicated in the theft of valuable coins and murder.
Gesehen von 4 Usern
1x7 – Etched in Steele
Mr. Steele's desire to write a book, over Ms. Holt objection, leads them them to the husband of a sleazy romance novelist who fears that a murder is planned for him.
Gesehen von 4 Usern
1x8 – Your Steele the One for Me
A traffic accident in the Asian community may be a Yakuza murder.
Gesehen von 4 Usern
1x9 – In the Steele of the Night
Laura and Murphy sneak away to a reunion of former colleagues. After Steele discovers that the invitation was also for him, he shows up at the reunion as well. Soon, the reunion's host turns up dead. With old grievances beginning to surface, the guests turn to Steele to solve the crime. Knowing nothing about how to perform an investigation, Steele secretly seeks guidance from Laura during the investigation.
Gesehen von 4 Usern
1x10 – Steele Trap
Steele and Laura attend an island party thrown by a wealthy magazine publisher in order to learn why a client recently committed suicide. Soon, the party guests, as well as the host, begin being murdered one by one, until only the leads and the killer remain. At one point, when the situation gets dire, Steele tries to tell Laura more about himself, but Laura dissuades him, telling him that she would prefer not knowing about any crimes he might have committed before assuming the decidedly upstanding role of Remington Steele. The episode ends with Laura, Murphy, and "Ms...
Gesehen von 4 Usern
1x11 – Steeling the Show
Steele and Laura are hired to track down Veronica Kirk, a former B movie actress from the 1940s. When the actress is located, she informs them that someone is trying to kill her. Initially, all of Kirk's claims are discredited, and it appears that the aging actress is as crazy as Kirk's daughter claims, but as additional clues surface, Steele and Laura realize that someone really is out to get her.
Gesehen von 4 Usern
1x12 – Steele Flying High
After Laura presses him into serving as an honorary chairman of a conversation committee devoted to saving the habitat of the bald eagle, Steele stumbles upon the death of the environmental researcher whose report on land area being considered for purchase by Steele's committee is overdue. Believing the death is no accident, Steele, doing his best Bogart impression, and Laura investigate.
Gesehen von 4 Usern
1x13 – A Good Night's Steele
Lab security is compromised, records destroyed, morphine is being stolen and a staff physician is missing. Ms. Holt and Mr. Steele infiltrate a hospital sleep clinic as physician and insomniac to solve the mysteries.
Gesehen von 4 Usern
1x14 – Hearts of Steele
Ms. Holt and Mr. Steele masquerade as battling (and slightly alcoholic) spouses to discover who is attempting to kill their divorce lawyer client.
Gesehen von 4 Usern
1x15 – To Stop a Steele
Ms. Holt is hired (as long as Steele is not involved) by jeweler, Albert Harrod, to locate an stolen flawless 60 carat diamond that had been "hidden" among much less expensive items. Mr. Steele is hired (as long the agency is not involved) by jewel thief, Morrie Singer. He was commissioned to burgle the Harrod gem vault, but found it empty. Who has the hot rocks and are the two different cases involving the same jeweler connected?
Gesehen von 4 Usern
1x16 – Steele Crazy After All These Years
A woman from Mr. Michaels college days seeks help solving the mystery disappearance of a mutual friend. It appears an poltergeist is murdering former members of her 1960's anti-war group.
Gesehen von 4 Usern
1x17 – Steele Among the Living
Remington and Laura set out to find an artist who recently disappeared. During the investigation, they are hounded by second-rate private investigator Leo Blitzman, who plants electronic eavesdropping devices in order to track their every move.
Gesehen von 4 Usern
1x18 – Steele in the News
Steele and Laura investigate the murder of two news team personnel at a local television station.
Gesehen von 4 Usern
1x19 – Vintage Steele
Laura is reunited with a former lover when he seeks the help of Remington Steele investigations after finding a corpse in vat of wine. The investigation eventually leads to a nearby monastery, where Steele and Laura learn the identity of the corpse as well as the identity of the killer.
Gesehen von 4 Usern
1x20 – Steele's Gold
While protecting artifacts of olde California, a murder committed during the exhibits costume party sends Ms. Holt, Mr. Michaels and Mr. Steele on a golden trail to recover the journal of prospector Arnold Dobbs.
Gesehen von 4 Usern
1x21 – Sting of Steele
A murderous casino owner hires the agency to locate a con artist (a man from Mr. Steele's past) who swindled his operation. Ms. Holt's annoying mother is back.
Gesehen von 4 Usern
1x22 – Steele in Circulation
Alfred Hollis thinks that he is helping his new friend, Angelica, by "borrowing" $2.3 million slated to be shredded by the Federal Reserve Bank where he works. The money is stolen from him. Mr. Steele stops Alfred from suicide and works with Ms. Holt to recover the money before the bank notices that it is missing.
Gesehen von 4 Usern
Quelle:
themoviedb.org