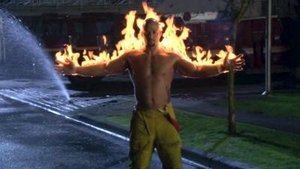 1x1 – Pilot
A young man learns on his 21st birthday that his parents have sold his soul to the devil.
Gesehen von 16 Usern
1x2 – Charged
After Sam wakes up one morning, he finds that everything he touches gives him an electric shock. Sam then consults Satan, who tells him that this is related to his next target: an escaped soul from Hell who sucks energy from power lines in order to loose it as lightning against his next victim. In order to capture the escapee Sam must use his new vessel, a remote control monster truck, given to him by Satan himself.
Gesehen von 16 Usern
1x3 – All Mine
Sam, Ben, and Sock must hunt an escaped soul, in the form of a seductive woman, who uses insects to kill the people living at an apartment complex. Meanwhile, Sam is crushed when Andi meets a new guy who encourages her to go back to college full-time and quit her job at the Work Bench.
Gesehen von 16 Usern
1x4 – Magic
Sam requests some time off to go to a concert with Andi. But the Devil refuses, and points out that vacation periods are not part of his contract. Therefore, Sam is given a white dove as his next vessel and is sent to capture an escaped magician who kills anyone who does not appreciate his act.
Gesehen von 16 Usern
1x5 – What About Blob
Sam and his crew must deal with a 'toxic revenger' when the slime-covered escaped soul of a chemical company's CEO starts taking human lives. Meanwhile, the Devil delivers a copy of Sam's contract as promised... but it's a few hundred pages longer then Sam expected. The Devil also refuses a request by Mr. Oliver to a meeting, while Sam continues to drift apart from Andi after Satan sets him up to look like a bad guy in front of Andi.
Gesehen von 16 Usern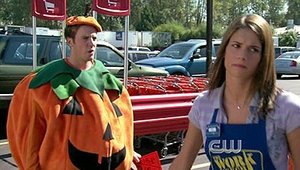 1x6 – Leon
Sam discovers that demons don't work on Halloween. Unfortunately, the depressed Devil decides to make Sam's assignment even harder to cheer himself up. Sam and Sock capture one soul, that of Leon Czolgosz, an escapee who assassinated President William McKinley back in 1901. But before Sam can return him, Leon tries to convince them that he's changed. The Devil then sends Sam to recapture a second soul, a serial killer who plans on starting a new murder spree.
Gesehen von 16 Usern
1x7 – Love, Bullets and Blacktop
Sam, Sock, and Ben go after a thrill-seeking pair of escaped souls, named Kit and Holly, who engineer car wrecks to keep their lustful relationship fresh. Meanwhile, the Devil tries to set Sam up with a new girl, named Taylor, whom Sam meets during a night on the town with his crew which spurns a little jealousy in Andi.
Gesehen von 16 Usern
1x8 – The Cop
Sock becomes obsessed with Gladys after she comes into The Work Bench and makes some questionable purchases. He and Ben follow her home and suspect she may be hiding bodies in her house. Meanwhile, the Devil gives Sam an expensive watch as a gesture of gratitude for all his hard work. Unfortunately, Sam discovers the Devil was setting him up to take the rap for a murder the latest escaped soul committed.
Gesehen von 16 Usern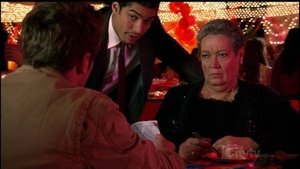 1x9 – Ashes to Ashes
Ben's mother and grandmother stop by the Work Bench for some supplies for their family reunion. However, things go sour when his grandmother accuses Sam of being evil and calls him Diablo, the Spanish word for devil. Meanwhile, Sam meets a mysterious woman named Mimi, who claims to have been the Devil's girlfriend for over 20 years, and he wonders whether her daughter is the Devil's daughter or not.
Gesehen von 16 Usern
1x10 – Cash Out
Sam begins dating Cady (guest star Jessica Stroup), even though he fears she may be the devil's daughter. The latest escaped soul is a former bank robber who has come back to collect the cash he hid after his last heist. Sam, Sock and Ben capture the soul then find the stolen money, leading to an argument about what to do with it.
Gesehen von 16 Usern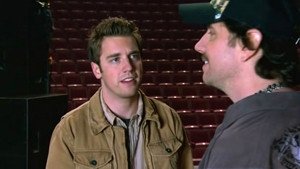 1x11 – Hungry for Fame
While hunting down the latest Hell escapee, Sam tries to prevent a deadbeat and untalented musician from selling his soul to the Devil. Meanwhile, Sock is depressed when his overbearing and obnoxiously crazy mother returns from a month-long vacation to Las Vegas... with yet another new husband which leads Sock to move in with Sam, who continues to keep his secret life a secret from Andi whom they are both in full blown love.
Gesehen von 16 Usern
1x12 – Unseen
Sam, Sock, and Ben move into a condo together. While Sam is assigned to track down an elusive and unseen soul of a serial killer, they guys meet their new neighbors, Steve and Tony, who ask them over for a home-cooked meal. Meanwhile, Sam has doubts whenever he's around Katie thinking that she may be a demon as well, while Andi also confides in Josie about her own worries about Katie, thinking she may be homicidal.
Gesehen von 16 Usern
1x13 – Acid Queen
Sam tells Sock and Ben they can't be friends with Steve (guest star Michael Ian Black) and Tony (guest star Ken Marino) anymore, which leaves Sock depressed because he has become so used to having Steve and Tony take care of him. The escaped soul is a woman (guest star Erica Cerra, "Eureka") who is threatened by beautiful girls and has come back to kill all the women she feels are more beautiful than she is. Sam panics when he finds out the soul's next victim is Andi and races to save her.
Gesehen von 16 Usern
1x14 – Rebellion
A pair of demons attempt to make a deal with Sam to lure The Devil into a trap, and Sock becomes jealous when someone else asks Josie out on a date.
Gesehen von 16 Usern
1x15 – Coming to Grips
Andi discovers who Sam's other boss is.
Gesehen von 16 Usern
1x16 – Greg, Schmeg
Andi's ex-boyfriend returns, and asks her out. To Sam's surprise, she says yes. Meanwhile, Ben's fake marriage to Sarah becomes increasingly taxing, with Sarah making a big announcement.
Gesehen von 16 Usern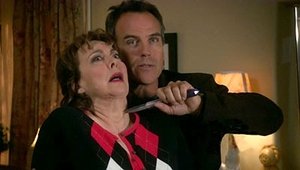 1x17 – The Leak
The Devil tells Sam that there is a leak in hell because the escaped soul (Mike) that Sam sent to him keeps returning to Earth. Sam and the guys discover that Gladys is helping the soul escape back to Earth and they don't know what to do because she is a friend. So they have to decide whether to turn in their friend to an angry Devil or keep there mouths shut.
Gesehen von 16 Usern
1x18 – Cancun
Sam targeted by Tony and the rest of the rebellion demons because they feel he is a greater threat to them than the Devil when they suspect that Sam is in fact the unnatural offspring of Satan himself. They set a trap for him which will bring surprise allies to Sam's side and lead to shocking revelations that could have implications for Sam's future. Meanwhile, the Devil sends Sam out to capture an escaped fortune teller, while Sam begins to grow suspicious that his parent know more about his origins then they claim to. Also, Sock falls in love with a demon who uses ...
Gesehen von 16 Usern
Quelle:
themoviedb.com