1x1 – Episode #1.1
In 1908 civil servant Christopher Tietjens marries the pregnant Sylvia Satterthwaite though the father is probably her married lover Gerald Drake,as Christopher's brother Mark points out. Four years on Sylvia is an unloving mother,disdainful of her husband's liberal views and unfaithful with new admirer Potty Perowne. However Christopher forgives her and has her back for their son's sake though her mother expresses her misgivings. Whilst playing golf with a reactionary M.P. he rescues suffragette Valentine Wannop,who is being pursued by the police. Along with his ...
Gesehen von 3 Usern
1x2 – Episode #1.2
Sylvia returns to Christopher,largely for the financial security and attends his mother's funeral,where her showy appearance shocks the mourners. Realising she is reviled she goes to a retreat but is soon back in society with another admirer. Christopher develops a friendship with the Wannops,giving Mrs Wannop information about the Balkan situation for her writing,and sending Valentine a Christmas card. Vincent starts to make his name as a writer too and,as her husband gets stranger,Edith leaves him to live with Vincent. She is pregnant and has an abortion after ...
Gesehen von 2 Usern
1x3 – Episode #1.3
Despite receiving a white feather for cowardice Vincent becomes a very influential author and marries Edith after Duchemin kills himself. They are the subject of gossip and scandal which also, erroneously, involves Christopher, who is wounded and shell-shocked in a French hospital. Sylvia entertains yet another admirer, her husband's banker Brownlie but defends Christopher against his malicious gossip. Christopher returns home but Sylvia's erstwhile German sympathies and past indiscretions, plus the effect of Brownlie's invidious actions as he refuses to accept ...
Gesehen von 2 Usern
1x4 – Episode #1.4
Christopher is in Rouen with his godfather General Campion and the unbalanced McKechnie,his job being to kit out fresh troops for the front. His desire to see that the men are humanely treated brings him into conflict with unfeeling superiors such as General O'Hara. Sylvia arrives in Rouen,swearing to Christopher that she has been faithful to him and asking his permission to move,with their son Michael, into the Tietjens family home,Groby. As ever he cannot refuse her. The feud with O'Hara is intensified when Christopher fights with him after O'Hara has accused Sylvia...
Gesehen von 2 Usern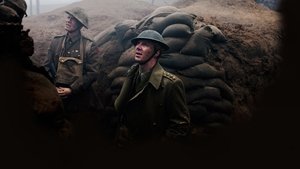 1x5 – Episode #1.5
1917;- Christopher,McKechnie and Perowne have all been sent to fight in the trenches,surrounded by carnage and madness. When Bill,the commanding officer,suffers a breakdown from stress Christopher replaces him. Back home Valentine,whilst advocating that her fellow teachers read Marie Stopes' 'Married Love',shocks her mother by admitting that she would gladly be Christopher's mistress. Meanwhile Sylvia meets Gerald Drake again,home on leave,and once more has sex with him. As the war ends Christopher returns to Groby but Sylvia's selfish attitude sends him down to ...
Gesehen von 2 Usern
Quelle:
themoviedb.org