1x0 – The Lost Episode
Original version of the premiere episode.
Gesehen von 4 Usern
1x1 – Die Rückkehr der Hexe
Rita wird versehentlich aus ihrem Gefängnis befreit, Zordon wählt daraufhin fünf Menschenkinder aus, die den Planeten verteidigen sollen. Es gelingt ihnen Goldar zurückzudrängen und den Planeten zu retten.
Gesehen von 4 Usern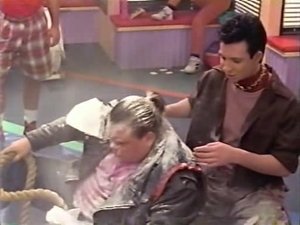 1x2 – Höhenangst
Rita entsendet den Knochenmann, um die Rangers in einer Zeitfalle gefangen zu halten. Trini muss ihre Höhenangst überwinden um Billy zu helfen.
Gesehen von 4 Usern
1x3 – Gemeinsamkeit macht stark
Kimberly und Trini werben an der Schule für die Schließung der Mülldeponie. Rita hat jedoch ihre eigene Pläne und will die Erde nun noch mehr verschmutzen.
Gesehen von 4 Usern
1x4 – Das Geheimnis der Kristalle
Rita versucht Jason als Anführer von den anderen zu trennen.
Gesehen von 4 Usern
1x5 – Die Entführung
Finster erschafft in Ritas Auftrag den Gnarly Gnom um die Kinder von Angel Grove zu hypnotisieren und die Rangers so in die Falle zu locken.
Gesehen von 4 Usern
1x6 – Eine teuflische Idee
Rita lässt von Finster ein Schweinemonster erschaffen, welches alles Essen der Welt wegessen soll. Die Power Rangers haben nur 48 Stunden um das Monster aufzuhalten.
Gesehen von 4 Usern
1x7 – Zordon schlägt Alarm
Rita nutz das unschuldige Mädchen Maria um eine Truhe zu öffnen, in der magische Eier versteckt
Gesehen von 4 Usern
1x8 – Ein gefährliches Spielzeug
Billy erfindet eine Maschine, mit der es möglich sein soll, Gedanken eines anderen zu lesen.
Gesehen von 4 Usern
1x9 – Der schwarze Ritter
Billys Schützling Willy hat ein Spiel erfunden, bei dem man Brillen anziehen muss und dadurch eine virtuelle Achterbahnfahrt macht.
Gesehen von 4 Usern
1x10 – Der Tag des Clowns
Zack worries that his friends have forgotten today is his birthday while Rita sends him an unwelcome present.
Gesehen von 4 Usern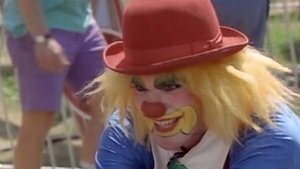 1x11 – Die Riesenkröte
The gang fights Rita's minions at a carnival in order to save Trini's cousin Sylvia.
Gesehen von 4 Usern
1x12 – Der Zweikampf
With the Ranger teens distracted, Baboo sneaks to Earth and drugs their lemonade with a magical potion. Billy & Kimberly are the only two to take a sip, but the effects on them are quite odd. They both start acting like punks, picking on kids at the high school, and even scaring Bulk & Skull. The other 3 Rangers have more important issues to deal with, namely Rita's Terror Toad monster. Zordon traps the two out of control teens in the Command Center, and sends Alpha off on a dangerous mission alone to seek the Singing Squash, with which to restore Billy & Kim to ...
Gesehen von 4 Usern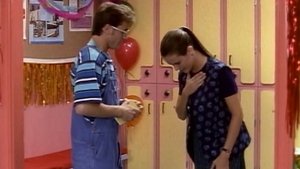 1x13 – Angst über den Wolken
Billy draws on the powers of his friends to rescue the girl of his dreams.
Gesehen von 4 Usern
1x14 – Schwarz wie die Nacht
Kimberly is in trouble when her uncle Steve succumbs to a sleeping potion in the middle of flying an airplane with her on board.
Gesehen von 4 Usern
1x15 – Der böse Blick
Billy is inspired by Trini's uncle Howard - a brilliant scientist and expert in martial arts.
Gesehen von 4 Usern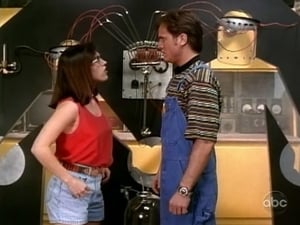 1x16 – Die magische Lampe
Billy shows Kimberly a new machine he made that is supposed to transport people from one spot to another. Curious to see how well it works, they both get inside and end up switching bodies instead! Bulk and Skull show up and get inside later that day, unbeknown st to Billy or Kimberly and they switch bodies too and accidentally break the machine! Now Billy(in Kimberly's body) must fix the machine so that they can be restored.
Gesehen von 4 Usern
1x17 – Der Grüne Ranger
Tommy, a new kid in town with martial arts skills that rival even Jason's, catches Kimberly's eye. Not just her, but Rita Repulsa also sees potential in him. She has her Putties kidnap him, and bring him to the moon. There, Rita places a spell over Tommy, turning him into the evil Green Power Ranger! Using his Dragon Power Coin, Tommy infiltrates the Command Center, gives Alpha 5 a virus, and trashes most of the control consoles. Zordon attempts reasoning with him, but fails, and gets cut off from our dimension. The Green Ranger then fights the other Power Rangers in ...
Gesehen von 4 Usern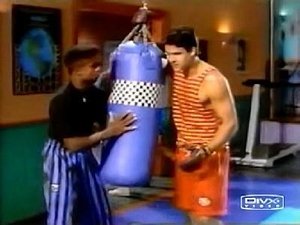 1x18 – Das Schwert der Finsternis
With the Command Center still incapacitated from the Green Ranger's attack, Billy & Trini attempt to repair it and Alpha 5. Tommy returns to Earth, and acts cold & rude to Kimberly. Soon, after a successfully training run on the beach, Rita gives Tommy the Sword Of Darkness, which acts as a catalyst for keeping him under her evil spell permanently. Our heroes remain at a loss for a plan, but devote as much time into it as they can. Because of that, Jason informs Tommy at school that he'll be unable to work out with him later. Unbeknownst to Jason, the possessed Tommy ...
Gesehen von 4 Usern
1x19 – Der Hinterhalt
Jason continues battling Goldar in the Dark Dimension, and eventually, the Green Ranger as well. Luckily, in the nick of time, the Rangers & Alpha are able to lock on to his Communicator and teleport him out of there. But with Zordon still lost and the Command Center still in shambles, the victory is bittersweet, at best. To make things worse, Rita summons Scorpina, a female warrior long buried in a cave, with the ability to transform into a monstrous scorpion when in giant mode.
Gesehen von 4 Usern
1x20 – Alles läuft schief
Goldar grows and attacks Angel Grove, and nearly eats Bulk & Skull. Meanwhile, the search for Zordon heats up, but while the Rangers are out, Green Ranger sneaks back into the Command Center, and attempts to sabotage it again. Alpha's prepared, capturing him in a stasis shield briefly. Rita frees him, and uses her Magic Wand to make him grow! He joins Goldar & Scorpina in fighting the Megazord, as Rita casts a spell to eclipse the sun and cut off its solar power reserves. Though the Power Sword helps add a boost of energy, the Megazord falls to the trio of evil. The ...
Gesehen von 4 Usern
1x21 – Ritas böser Zauber
Kim confronts the evil Tommy in the Youth Center, but he simply informs her that she and the other Rangers will soon be destroyed. Utilizing his Dragon Dagger's flute mode, the Green Ranger summons forth the ancient Green Dragonzord from Angel Grove bay. It begins to rampage through the city, crushing & blowing up buildings. Zordon's transmission is finally reestablished with this dimension. The Megazord is recovered, and victoriously faces the Dragonzord. The Green Ranger's Sword Of Darkness is destroyed, freeing Tommy from the evil spell. He's disoriented, but ...
Gesehen von 4 Usern
1x22 – Ärger mit Schellshock
Squatt and Baboo create their own Shellshock monster to impress Rita.
Gesehen von 4 Usern
1x23 – Zachy und die Spinnen
Zack must overcome his fear of spiders to face Rita's newest monster.
Gesehen von 4 Usern
1x24 – Ritas Geheimwaffe
Rita and her evil Spit Flower monster set out to ruin Kimberly's design for a float in the world peace parade.
Gesehen von 4 Usern
1x25 – Die Partyüberraschung
Jason and Tommy have entered a team competition but can't work together despite Billy and Zach's best efforts. The duo are even more troubled upon discovering that they have to go up against a couple of ninjas that appear to be professionals. Meanwhile, Finster creates Super-Putties that are nearly invincible. Tommy and Jason are charged with working together to find a weapon that will defeat the putties while the rest of the rangers must fend them off. The duo nearly succeed when they are faced with the guardian of what they seek.
Gesehen von 4 Usern
1x26 – Ein gutes Team
Rita's Frankenstein monster crashes the Power Rangers' costume party.
Gesehen von 4 Usern
1x27 – Insel der Illusionen Teil 1
Rita turns Kimberly's grandmother's spinning wheel into her dangerous new weapon.
Gesehen von 4 Usern
1x28 – Insel der Illusionen Teil 2
Rita traps the Power Rangers on a mysterious island where not all is as it appears.
Gesehen von 4 Usern
1x29 – Das verhexte Spinnrad
The Rangers must overcome their own fears to escape Rita's Island of Illusion.
Gesehen von 4 Usern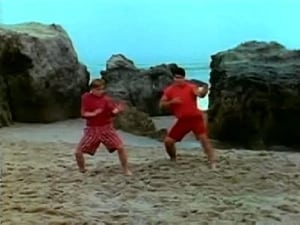 1x30 – Der Spiegel des Schreckens
Jason and his cousin Jeremy find a map that leads to a powerful ancient mirror.
Gesehen von 4 Usern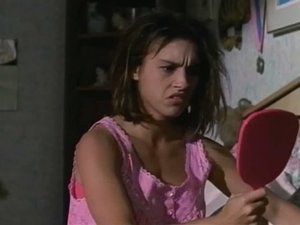 1x31 – Glück im Unglück
Poor Kimberly is having possibly the worst day of her life as she encounters misfortune after misfortune. Tommy tries to make her feel better and things are looking up, until Rita makes Kimberly's day go from bad to worse and Tommy is injured while trying to save her. The four remaining rangers race against time to rescue Kimberly before she is gone for good.
Gesehen von 4 Usern
1x32 – Tommy kommt groß raus
Tommy eagerly auditions for a karate commercial especially when he sees that he's up against a clueless Bulk. Meanwhile, the rest of the rangers are enjoying a day at the beach.....until Scorpina crashes the party and traps them in a cocoon from which they can't seem to escape. To make matters worse, no one can contact Tommy since he took off his communicator!
Gesehen von 4 Usern
1x33 – Ein Geschenk für Rita
Rita tries to convince a monster to do her bidding after Squatt and Baboo eat the monster's eggs.
Gesehen von 4 Usern
1x34 – Die geheimnisvolle Kerze Teil 1
Rita is fed up with way too many battles from the Power Rangers with the aide of the Green Ranger, she devises a plan to take down Tommy for turning against her.
Gesehen von 4 Usern
1x35 – Die geheimnisvolle Kerze Teil 2
The rangers are not sure what to do when they realize that time's running out. Jason volunteers to go to the other dimension to get the candle before it burns out, and Billy manages to find a way. Jason runs into Goldar who stands in his way literally preventing him from getting it. As Jason and Goldar battle for the green candle, a monster attacks the city and the other rangers need Jason's help. Zach goes in after Jason and retrieves him. Jason follows reluctantly and helps the rangers in battle. With time not exactly on their side, things are beginning to look dim ...
Gesehen von 4 Usern
1x36 – Der Panzersaurus
Zack teaches a young child to believe in himself while the Rangers battle the vicious Hatchasaurus and Cardiatron.
Gesehen von 4 Usern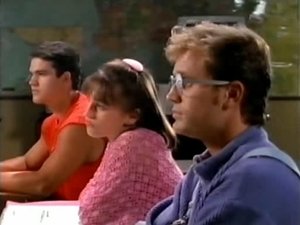 1x37 – Schrecken ohne Ende
Trini and her friends pitch in to clean up Angel Grove while Rita attempts to cover the world in pollution.
Gesehen von 4 Usern
1x38 – Doppelgänger
Rita creates a team of evil duplicates of the Power Rangers to frame them.
Gesehen von 4 Usern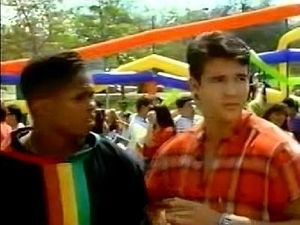 1x39 – Der Unbesiegbare Teil 1
Rita unveils her own evil Zord as she brings her entire palace from the Moon to Angel Grove.
Gesehen von 4 Usern
1x40 – Der Unbesiegbare Teil 2
The Power Rangers fight to rescue the citizens of Angel Grove from Rita, Lokar and Cyclopsis.
Gesehen von 4 Usern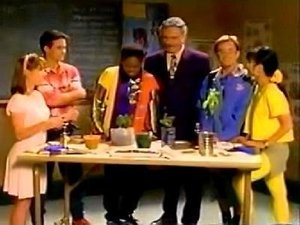 1x41 – Ein gemeiner Trick
While the Rangers plant trees in the park, Squatt plants an evil seed that grows into the Octoplant.
Gesehen von 4 Usern
1x42 – Abenteuer unter Wasser
Rita casts a spell on a helpless pig turning him into the Pudgy Pig monster.
Gesehen von 4 Usern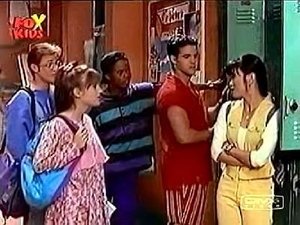 1x43 – Sturm über Angel Grove
Billy must overcome his fear of fish to save his friends from Rita's fishy new monster.
Gesehen von 4 Usern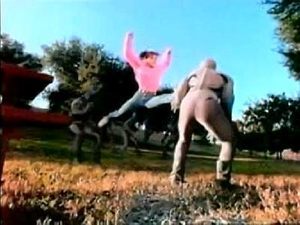 1x44 – Die Schlingpflanze
Zack finally gets a date with the girl of his dreams at the same time as Rita turns the Noble Lion Trophy into her latest monster.
Gesehen von 4 Usern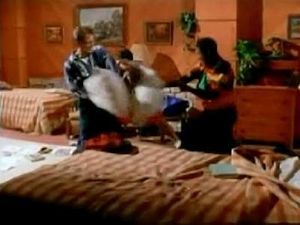 1x45 – Der herrenlose Hund
The rangers have a huge test to prepare for so they go to some cabins in the mountains that Billy's uncle owns to study with no distractions. Bulk and Skull go along without the rangers knowing so that they can cheat off of them. Goldar uses the Crystal of Nightmares on the rangers and Bulk and Skull that make them lose their confidence in themselves. The now frightened rangers refuse to fight ever again and are further disheartened when Zordon tells them that the only way to free themselves of the spell is to destroy the crystal.
Gesehen von 4 Usern
1x46 – Die Zeitkapsel
Jason tries to find the owner of a stray dog while the Rangers try to save Ernie's Gym & Juice Bar from going out of business.
Gesehen von 4 Usern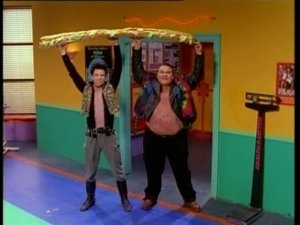 1x47 – Der Zauberkristall
Rita determined to prevent future generations from remembering the Power Rangers tries to stop them from burying a time capsule.
Gesehen von 4 Usern
1x48 – Trini in Not
Trini struggles to learn praying mantis style kung fu to defeat Rita's latest monster.
Gesehen von 4 Usern
1x49 – Der Kampf um die Powermünzen Teil 1
Rita demands the Power Rangers hand over their Power Coins if they ever want to see their parents again.
Gesehen von 4 Usern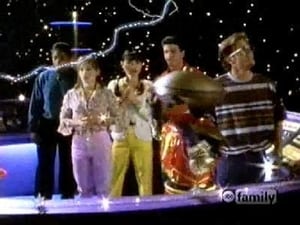 1x50 – Der Kampf um die Powermünzen Teil 2
With their Power Coins in the hands of the enemy the Rangers have no choice but to turn to Tommy once more for help.
Gesehen von 4 Usern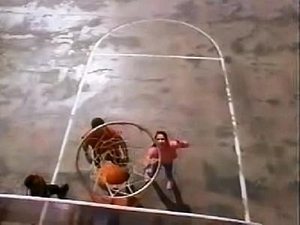 1x51 – Mit Gift und Stachel
Billy gets his first 'B' on a science test giving Rita the idea to send her Grumble Bee to Earth.
Gesehen von 4 Usern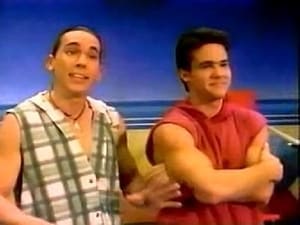 1x52 – Das Monster mit den zwei Köpfen
Jason and Tommy are teaching self-defense lessons to mothers in Angel Grove. Rita sees that they work great as a team when they put their heads together so Finster makes a two-headed parrot monster. The rangers are disappointed when they find out that this creature is nearly invincible. Billy reveals that since parrots like fruit that they could use that against it. All but Tommy distracts the monster while he seeks a specific kind of fruit. Furious, Rita sends Putties to steal all the fruit in the area. A desperate Tommy must think quickly to find a solution before ...
Gesehen von 4 Usern
1x53 – Kalt erwischt
Zack juggles watching over a group of children with battling the Peckster.
Gesehen von 4 Usern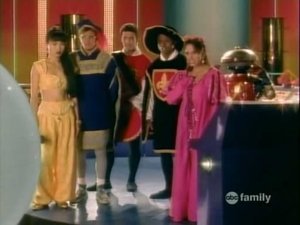 1x54 – Wie gewonnen so zerronnen
Kimberly is a contestant on the popular game show "Trick or Treat", and Rita sends down another monster to destroy the power rangers.
Gesehen von 4 Usern
1x55 – Die zweite Chance
Jason and Zach help Roger practice for the city soccer team and are finding it difficult to teach the discouraged boy. In an effort to "help" Roger, Rita sends the Soccadillo monster to attack them in the park. Meanwhile, Tommy's communicator is taken from him, making it impossible to reach him.
Gesehen von 4 Usern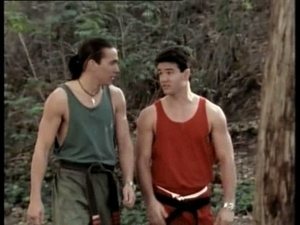 1x56 – Freund oder Feind?
The Slippery Shark monster casts a spell over Jason and Tommy causing them to fight amongst each other and they must fight the spell by working as a team.
Gesehen von 4 Usern
1x57 – Der Eidechsenmann
Kimberly helps her younger cousin try out for the Angel Grove Junior High cheerleading team while Rita sends the mighty Lizzinator to Earth.
Gesehen von 4 Usern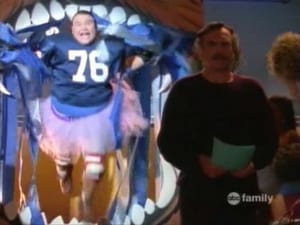 1x58 – Punktgewinn für Tommy
Tommy wants to try out for the football team but knows nothing of it. Ernie teaches Tommy how to play and helps him train for tryouts, but Tommy can't seem to get the hang of it. Rita decides to help him in the form of a monster and some putties that imprison all the rangers but him. Knowing that his powers won't last much longer, he challenges the monster, but to no avail. Zordon tells him what he must to to release the rangers but it's easier said than done.
Gesehen von 4 Usern
1x59 – Die Zwillinge des Bösen
Goldar trains select Putties to fight like the Rangers and gives them badges of darkness to look like and have the same powers as well. However, none are good enough to be the Red Ranger so Commander Crayfish becomes the leader. How can the rangers possibly defeat enemies against which they are perfectly matched?
Gesehen von 4 Usern
1x60 – Das Geburtstagsgeschenk
Zach is so madly infatuated with Angela that he wants to impress her with a pair of pearl earrings but can't find any that are affordable. Just when he gives up, an unexpected opportunity presents him with exactly what he was looking for. Little does he know that Rita has plans for his date with Angela, especially when the earrings cast a spell on all but Tommy and Zach. Both must face the Oysterizer who shoots acidic goo from his stomach.
Gesehen von 4 Usern
Quelle:
themoviedb.com