1x1 – The Dragon's Call
Young Merlin, sent by his mother from their village to start a better life, arrives in Camelot where he is to be apprenticed to Gaius, physician to the repressive King Uther. Uther, believing all magic evil, has made it punishable by death, so when Gaius finds that Merlin has magical, telekinetic powers, he agrees to keep the boy's secret. The mother of a sorcerer Uther recently executed comes to Camelot for revenge in the guise of a pretty girl, charming the court to sleep with her singing. Only Merlin sees what is happening and, staying awake, saves the situation ...
Gesehen von 14 Usern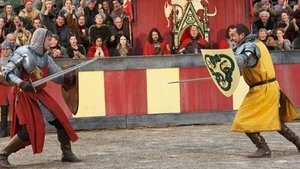 1x2 – Valiant
King Uther Pendragon holds an annual tournament where Prince Arthur Pendragon is to defend his title against other knights of the realm. Sir Valiant comes with a magic secret weapon - a shield from which the painted poisonous serpents can come to life and attack (which Sir Valiant also used to murder its creator). By nursing snake-poisoned knight Ewan, Merlin finds out how this vile knight has been defeating adversaries as easily as Arthur. He informs the prince, but a servant's word is worthless against a knight's, and by the time the prince challenges Valiant, the ...
Gesehen von 14 Usern
1x3 – The Mark of Nimueh
The dark sorceress Nimueh casts a spell on a dragon egg she throws into the castle's water. The next day a plague causes people to die, their skin turning white with dark blue veins. When King Uther orders Prince Arthur to search all Camelot for the sorcerer he believes to have caused the epidemic, only a magic trick saves Merlin from having his book found. When Gwen's father exhibits symptoms, Merlin waves Gaius's warning by curing him. Arthur reports the recovery, and Uther orders her execution at the stake. Merlin tells Gwen's caring mistress, Morgana, only Arthur ...
Gesehen von 14 Usern
1x4 – The Poisoned Chalice
In poisoning a cup, Nimueh's latest scheme jeopardizes a peace accord between two kingdoms, turns father against son, lays a foe low, and sends Arthur on a perilous quest alone.
Gesehen von 13 Usern
1x5 – Lancelot
Merlin would have been killed by a giant griffin (half eagle, half lion) if not for valiant Lancelot, who bravely attacked it and got them safely away. Learning Lancelot's life dream is to become a knight, grateful Merlin brings him to court, but when told only noblemen may apply, magically forges proof of nobility. Lancelot passes hazing and close combat tests against Prince Arthur but is found out as commoner and jailed. When the griffin attacks Camelot - even inside the royal castle - the knights' arms prove unable to penetrate it . Arthur frees Lancelot, who in ...
Gesehen von 13 Usern
1x6 – A Remedy to Cure All Ills
Receiving tainted lilies collected by unsuspecting Gwen, royal ward Morgana falls ill with an unidentified brain disease Gaius can't cure. Mysterious healer Edwin's "remedy to cure all ills" seemingly works (by actually removing the cursed black beetle he hid in the lilies). As Edwin maneuvers grateful King Uther to instate him as new court physician, Gaius gets court archivist Geoffrey to allow him illegal access to the sealed records of Uther's purge of magic, revealing Edwin's parents as executed black sorcerers. After consulting the dragon (who says he must choose...
Gesehen von 13 Usern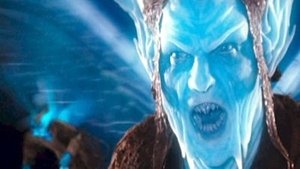 1x7 – The Gates of Avalon
Arthur rescues the elderly Aulfric and his pretty daughter Sophia from being robbed and welcomes them at Camelot. Indeed Arthur falls in love with Sophia and they plan to elope. Morgana is very worried as she has had a recurring dream in which Sophia drowns Arthur. She confides in Gaius and Merlin, who realize that she is a potential sorceress with the power of prophecy. Merlin follows Aulfric to a lake, where he discovers that the father and daughter are Sidhes, former immortals who, having lost their immortality, must kill Arthur to regain their powers. When Sophia ...
Gesehen von 13 Usern
1x8 – The Beginning of the End
When a druid boy's father is caught by the king's guards, the boy sends out a telepathic call for help, to which Merlin responds and offers sanctuary; but, under penalty of death to anyone harboring the boy, will Merlin be willing to put himself and his friends in mortal danger? And when Uther's dungeon dragon hints of dark prophecies linked to the boy, will Merlin then turn a blind eye?
Gesehen von 13 Usern
1x9 – Excalibur
A black knight crashes Arthur's coming-of-age ceremony, throwing down the gauntlet to any knight who will fight him, killing all who do, one day at a time. Gaius discovers he is Uther's dead brother-in-law, now a wraith summoned from the grave by the witch Nimueh, seeking revenge for the death of his sister who died giving birth to Arthur. His intent: to eventually fight and kill Uther. Merlin learns that only a special sword burnished with a dragon's fiery breath can kill the knight. To that end, he asks Gwen for the best sword her father ever forged (the sword later...
Gesehen von 13 Usern
1x10 – The Moment of Truth
Hearing that his village is being threatened by a warlord and his gang, Merlin travels home with Gwen, Morgana and Arthur, the latter doing his best to drill the peaceful villagers into a fighting force. Merlin's friend William is dismissive of Arthur's efforts, feeling they constitute egoism, though he ultimately saves the young prince's life. Nonetheless the villagers are inexperienced in martial ways and Merlin must use magic and conjure up a wind-storm to help see off the bandits.
Gesehen von 13 Usern
1x11 – The Labyrinth of Gedref
While hunting, Arthur and Merlin see a unicorn. Despite Merlin's protests, Arthur kills the beautiful creature to bring the crass Uther its horn as an ornament. The foolish father and son ignore Gaius's warning that it is bad luck to kill a unicorn, but soon the crops wither and the well water turns to sand. The mystic Anhora, guardian of the unicorns, arrives in Camelot to tell Arthur that his stupidity has cursed the land and he alone can lift that curse. This involves his learning much-needed humility before riding to the Labyrinth of Gedref, where he will be ...
Gesehen von 13 Usern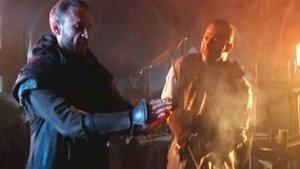 1x12 – To Kill the King
Gwen's blacksmith father Tom is approached by Tauren, who possesses the alchemist's stone and wants Tom's help in turning base metal into gold - gold he intends using to overthrow the king. The palace guards raid the smithy; Tauren escapes but Tom is caught, sentenced to death for assisting sorcery and (unsuccessfully helped to escape by Morgana ) killed. Appalled by Uther's callousness, she tells Tauren she will help him in his plot, unaware that Merlin is listening. On the pretext of visiting the grave of her father, for whose death she blames Uther, she rides out ...
Gesehen von 13 Usern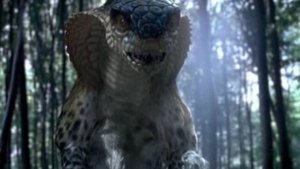 1x13 – Le mort d'Arthur
The Questing Beast is on the loose near Camelot, and Arthur, ignoring a warning from Morgana who has dreamed that it will kill him, is bitten by the creature before Merlin slays it. Arthur sinks into a coma and the Great Dragon tells Merlin he can only save him by traveling to the Isle of the Blessed. On arrival there Merlin meets the witch Nimueh, who gives him the antidote, water from the Cup of Life, but warns him that, to save Arthur's life, another must be sacrificed. Arthur drinks the water and recovers but Merlin discovers the witch was not lying - his mother ...
Gesehen von 13 Usern
Quelle:
themoviedb.com