2x1 – Die Urlaubermörder - Teil 1
The Bundys take a vacation to near-beautiful Dumpwater, Florida and stay in a cut-rate motel where an ax murderer that hates tourists, shows up every five years since 1967, and redneck locals begin to make bets on who the psycho will strike next.
Gesehen von 45 Usern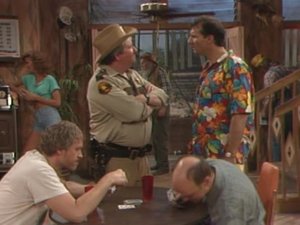 2x2 – Die Urlaubermörder - Teil 2
After a hair-raising encounter with the maniac, Al decides to get the family out of town. But they realize that they are trapped at the motel by a storm and the locals are unwilling to help them. Then things take a turn when Peggy is taken hostage by the ax murderer in a room and Al must rescue her.
Gesehen von 45 Usern
2x3 – Millionäre bevorzugt
Steve takes Al to the vault at the bank where Steve works for a secret after-hours card game, and the next day, one million dollars is reported missing. Al is then treated like a king by Peggy and the kids as well as hostility from Steve all of whom mistakenly think Al stole the money.
Gesehen von 45 Usern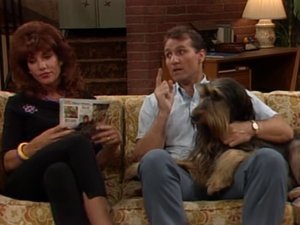 2x4 – Die Kastration
Al is loath to have Buck the dog neutered despite being threatened with lawsuits from numerous neighbors regarding Buck's "nocturnal carnal activities" resulting in "stupid, ugly puppies" from their dogs. Reacting to pressure from Peggy and a bizarre dream he has involving Buck becoming upright and articulate, Al makes a decision.
Gesehen von 45 Usern
2x5 – Frauen wollen auch mal Spaß – Teil 1
While Al and Steve are occupied by a female employee who fixes the Bundy's refrigerator, Peggy invites Marcy to a strip club with the girls.
Gesehen von 45 Usern
2x6 – Frauen wollen auch mal Spaß – Teil 2
Marcy loses her composure and her wedding ring when it slips into a dancer's briefs when she slips him a tip. Desperate to keep the news from Steve, Marcy sets out distracting him every chance she gets. However, Zorro the Stripper suddenly shows up at Al's house and returns Marcy's wedding ring to him, who gives it to Steve and tells him about where Marcy was the other night.
Gesehen von 45 Usern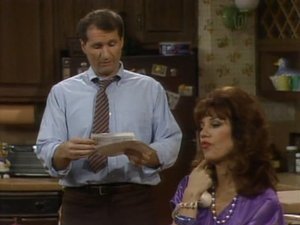 2x7 – Kein Anschluss unter dieser Nummer
Al gets heated up over the large phone bill and refuses to pay it, which results in the disconnection of the Bundy phone line, making him the target of hostility from Peggy, the kids and the Rhoades who now take the Bundys phone calls on their phone, especially the ones from Peggy's mother. To make matters worse, there's a streetlight that is also bothering Al which is keeping him awake every night.
Gesehen von 45 Usern
2x8 – Wer nimmt mich mit?
Al flunks his written drivers test the same day that Kelly passes hers, leading him confined to the house and unable to get to the racetrack to bet on an important horse race.
Gesehen von 45 Usern
2x9 – Bundy gegen den Rest der Welt
Victory seems assured when Steve agrees to join the Bundys for a family team bowling match against Peggy's arch rival from high school, Mimi, and her obnoxious family. But Bud reveals that he doesn't know how to bowl because he has squandered his bowling lesson money, prompting Steve to coach Bud on the pointers of bowling.
Gesehen von 45 Usern
2x10 – Bart oder nicht Bart?
Steve returns home having grown a beard from a week-long rafting trip. He and Marcy get into a huge argument over his reluctance to shave it off, leading him to move in with the Bundys.
Gesehen von 45 Usern
2x11 – Die Tätowierung
Al, Peggy, and Bud are part of a shopping mall softball team playing other mall teams. After losing a few too many games, Al demands that Peggy improve her softball skills or she is off his team. Meanwhile, Kelly's new boyfriend, Brian, asks her to prove her love to him by getting a tattoo.
Gesehen von 45 Usern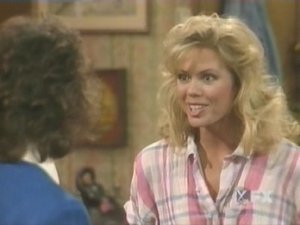 2x12 – Frühstück mit Tiffany
There's a new light in the neighborhood when Bud brings home an attractive, free spirited, 21-year-old artist named Tiffany on her way to art school in New York and everyone likes her, except Marcy for Tiffany steals the attentions of Steve as well.
Gesehen von 45 Usern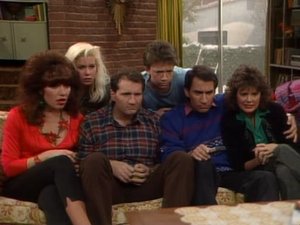 2x13 – Vom Himmel hoch
The Bundys' Christmas is rudely interrupted when a parachuting mall Santa crash-lands into their backyard, attracting the neighborhood kids.
Gesehen von 45 Usern
2x14 – Alte Zeiten
When starting a baseball card collection, Al and Steve sell Marcy's old Barbie doll. They must get it back, but they learn the shop they sold it to was robbed, so they would have to search downtown Chicago and ask every bum on the street.
Gesehen von 45 Usern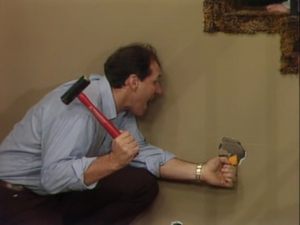 2x15 – Die Mausefalle
Al's attempts to get rid of a rodent in the Bundy house end badly.
Gesehen von 45 Usern
2x16 – Mein Hund hat Kredit
Al, under the impression that you don't have to pay for anything you didn't order, takes Peggy and Bud on a wild spending spree, and goes with Peggy to a fancy hotel for a weekend getaway when the mailman accidentally leaves a new credit card addressed to Buck the dog.
Gesehen von 45 Usern
2x17 – Sag's endlich!
On Valentines Day, Kelly hauls in a load of Valentines, while Steve plans to give Marcy a trip to Hawaii. When Marcy finds out from Peggy, she plans to give Steve his Valentine present by jumping out of a life-size cake. Meanwhile, Bud holds a vigil by the mailbox waiting for his first Valentine, while Peggy ponders over the decision on whether or not she'll get the gift she wants from Al for him to say "I Love You."
Gesehen von 45 Usern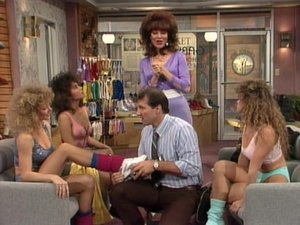 2x18 – Wer schnarcht hier?
The Bundy's stay at the shoe store after their house is tented for termites. A grounded Kelly plots to escape and go to a rock concert.
Gesehen von 45 Usern
2x19 – Finger weg von meinem Auto!
Marcy regrets denting Steve's new car when he claims that she's made him impotent.
Gesehen von 45 Usern
2x20 – Studioluft
While secretly going through Steve and Marcy's mail, Al and Peggy fill out an application to a TV game show called "How Do I Love Thee" where the objective is a Bundy natural: surviving physical torture from one's spouse. Al and Peggy appear on the show pretending to be Steve and Marcy and they easily win many prizes. But when Steve and Marcy find out, they appear at the end of the show pretending to be Al and Peggy, and the husband that survives the most torture in an electric chair wins a new car.
Gesehen von 45 Usern
2x21 – Bringt mir das Geld von Al Bundy
After going with Steve to the racetrack, Al is reluctant to reveal that he won $1,200, because he knows that Peggy and the kids will take the money for themselves. While Al tries to throw off Peggy's suspicions with sex, Steve asks for increasingly exuberant bribes of Al's racetrack winnings so he will keep his mouth shut about the money.
Gesehen von 45 Usern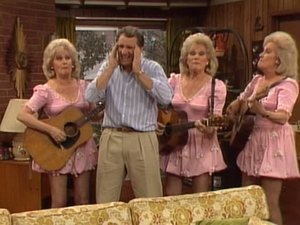 2x22 – Die fürchterlichen Verwandten
Al's quiet three-day weekend plans to watch his favorite John Wayne movie "Hondo" are ruined when Peggy's eccentric relatives come to visit the Bundy household. They include her unseen, obese mother, two feuding uncles; the hulking Irwin and the effeminate Otto, as well as a singing and dancing triplet of aunts whose showbiz career is threatened by Al's bad advice to them. Al then interrupts and ruins a romantic evening between Steve and Marcy to confide with his problems.
Gesehen von 45 Usern
Quelle:
themoviedb.com