1x1 – Feuerwerk
When Ben Parr and Kate Swanson accidentally meet at the top of the Empire State Building, they make a date for later that evening and each bring along their best friends, Larry and Connie, who instantly despise each other.
Gesehen von 2 Usern
1x2 – Date mit Hindernissen
Ben and Kate's first official date is fraught with romantic obstacles, most notably Larry and Connie.
Gesehen von 2 Usern
1x3 – Das Feierbiest
As Ben tries to find the perfect birthday present for Kate, his advice to her may ruin her friendship with Connie, who is busy planning a lavish birthday affair.
Gesehen von 2 Usern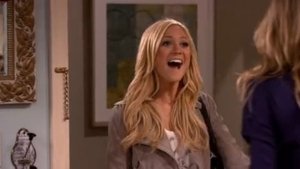 1x4 – Kleine Schwester, große Stadt
When Kate's younger sister, Julia, makes her first visit to New York, an overprotective Kate seems to forget that Julia is no longer a little kid. Meanwhile, Larry and Connie decide to be each other's wingmen at the bar.
Gesehen von 2 Usern
1x5 – Wie man richtig Schluss macht
Ben is determined to win Connie over by helping her at her nanny job, while Kate tries to change Larry's ways after she learns that he breaks up with women by avoiding them until they leave him.
Gesehen von 2 Usern
1x6 – Der Spion, der mich liebte
Kate uses the building's security cameras to spy on Ben when he's forced to work late nights with his ex-girlfriend, and Larry tags along in hopes of using the cameras to track the movements of a mysterious woman.
Gesehen von 2 Usern
1x7 – Liebe sich wer kann
When the gang goes on a road trip to sell Ben's car, Kate accidentally crashes it when Ben says "I love you" for the first time, forcing everyone to share a room for the night.
Gesehen von 2 Usern
1x8 – Irgendjemand eifersüchtig?
Connie gets a visit form Officer Dennis Barrett.
Gesehen von 2 Usern
1x9 – Pub Quiz
Ben (Jason Biggs) and Larry (Tyler Labine) are excited to defend their pub quiz championship title, until a prospective client (guest star Eric Artell) threatens to keep them from getting there on time. Meanwhile, a handsome masseuse who lifts Connie's (Judy Greer) sagging spirits with compliments about her skin makes Kate (Sarah Chalke) feel old after finding a grey hair on her chin
Gesehen von 2 Usern
1x10 – Jung und rücksichtslos
After Ben (Jason Biggs) convinces her to ditch work for Coney Island, Kate (Sarah Chalke) drags him away to ride the Staten Island Ferry. As their adventure turns sour and threatens to derail Ben's important speaking engagement, Connie (Judy Greer) struggles to impress an editor with her new children's book while Larry (Tyler Labine) is smitten with Connie's boss, Tiffany (Sarah Wright).
Gesehen von 2 Usern
1x11 – Das geheime Leben des Larry Munsch
When Larry (Tyler Labine) accidentally loses Connie's (Judy Greer) camera and all the pictures she was hoping to use for her book, the search forces him to reveal a secret he's been harboring. Meanwhile, after Ben (Jason Biggs) innocently reveals an embarrassing story about Kate's habits in the shower, Kate's (Sarah Chalke) attempt at getting even causes him to feel self-conscious in court.
Gesehen von 2 Usern
1x12 – Freunde
When Tiffany decides to leave New York because of her divorce, it means Connie must find a new job and Larry finally has a chance with his dream girl; however, they soon each get more than they bargained for.
Gesehen von 2 Usern
1x13 – Timing ist alles
Kate's ex-boyfriend reveals some shocking information that could put her relationship with Ben in jeopardy, and Connie and Larry's fake date takes a very real turn.
Gesehen von 2 Usern
Quelle:
themoviedb.org