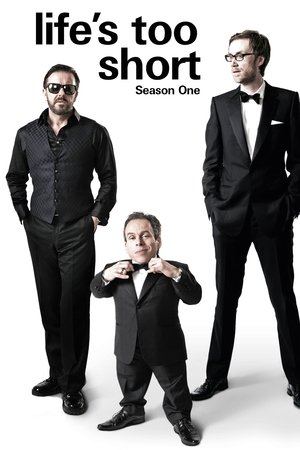 1x1 – Episode #1.1
Faced with a huge tax bill and split from his wife, 3'6" actor - and agent for other dwarves - Warwick Davis agrees to appear in a documentary about himself. After getting a stroppy passer-by to ring the high up buzzer for him he visits his agents,Merchant and Gervais,who have no work for him,refuses to accept dire singing dwarves Ebony and Ivory on his books and engages dim Cheryl to replace his wife as his secretary. On a further visit to the agents he watches Liam Neeson unsuccessfully try to pitch a comedy sketch about AIDS to them before moving out of the marital...
Gesehen von 1 User
1x2 – Episode #1.2
Signing autographs at a Star Wars convention Warwick falls out with the mother of an allegedly sick child and a dim TV reporter but is asked to be guest of honour at an upcoming Star Wars themed wedding. However on arrival he is refused admittance as he failed to come as an Ewok. Johnny Depp summons him to give advice on playing a dwarf in his next picture but Warwick loses the job after taking Johnny to see his agents and looking on as the star blasts Ricky Gervais for his remarks at the last Golden Globes awards. Finally he sees Shaun Williamson get the contract to ...
Gesehen von 1 User
1x3 – Episode #1.3
Warwick creates his own website but gets few hits beyond one from a physically handicapped schoolboy in love with him and he is equally annoyed when the BBC interview his non-celebrity deputy and not him to publicise the Society for Persons of Short Stature.At least he gets a Little Lord Fauntleroy-type role opposite Helena Bonham Carter but she is not a sympathetic co-star and he ends up literally in the bin.
Gesehen von 1 User
1x4 – Episode #1.4
Warwick moves into a new flat - despite locking himself in the bathroom during the viewing - and attends a divorce settlement discussion,though he is alarmed to find his ex-wife and her lawyer have rather more than a professional relationship. There is more disappointment when he fails to oust the chairman of the Society of People of Short Stature despite a guest appearance from pop band Right Said Fred but can derive some satisfaction from seeing Gervais lose money as a deal with Steve Carell via Skype goes awry.
1x5 – Episode #1.5
Warwick visits Bryan Medici,his camp and rather suspect spiritual advisor, who predicts that he will soon meet somebody. After failing to pull in a club where he pretends to be a racist he meets an adoring fan in a shop but offends her by buying condoms. Finally,through the agency that introduced him to his ex-wife,he meets Amy,who is the same size as him but jeopardises the date by ogling a much taller lady. His attempts to find the perfect religion are equally unfortunate.
1x6 – Episode #1.6
After accidentally dumping his new washing machine Warwick throws a flat-warming party,inviting Amy,with whom he is now going out,and ex-wife Sue,hoping to dazzle her boyfriend (and solicitor) Ian with his celebrity guests. Unfortunately none of the A-listers he rings can make it so he pays an agency to hire presenter Cat Deeley but gets rather too carried away in his efforts to impress by telling everybody that Cat is his girl-friend. Consequently neither Amy nor Cat are very pleased.
1x7 – Episode #1.7
Following another financial demand from Sue,Warwick gets his agents to wangle him an invite to singer Sting's charity auction. Having lost the invitation he is eventually admitted and approached by Sting,who erroneously believes he is wealthy and badgers him into pledging three grand that he does not have. Unable to pay,he loses his flat and ends up in Cheryl's spare room though he does get an encouraging phone call from Amy.
1x8 – Easter Special
Having admitted that he exploited his dwarf clients in the past Warwick finally comes good for them before receiving a visit from 'Willow' co-star Val Kilmer,anxious to make a sequel. However he tells Warwick that he must provide some of the funding so Warwick persuades Les Dennis,Keith Chegwin and Shaun Williamson to do series of pub gigs to get the finance. They are a huge hit and at the investors' meeting Warwick secures his capital. Agents Gervais and Merchant are wary and ask Warwick to consider why a potential blockbuster needs private money whilst factions ...
Quelle:
themoviedb.org