1x0 – Der Mordfall Marcus-Nelson
A homicide detective begins to suspect that the black teenager accused of murdering two white girls is being framed by his fellow detectives.
Gesehen von 2 Usern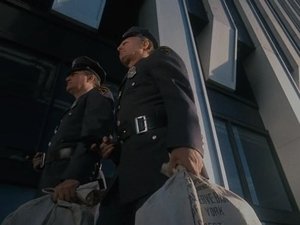 1x1 – Belagerung
A robbery of armored car guards morphs into a deadly hostage standoff, with bulldog Lt. Theo Kojak as the negotiator. Half the Talaba Brothers gang escapes with the cash, but when the other half is cornered, they invade a surplus store, crammed with guns and ammo. The robbers also have bargaining chips: the 5 people in the building, plus a badly wounded patrolman, who dove in the store to warn of the incoming robbers. While young Detective Bobby Crocker pursues the thieves who got away, his boss at Manhattan South, the dapper, bald Kojak smooth-talks Jerry Talaba to ...
Gesehen von 2 Usern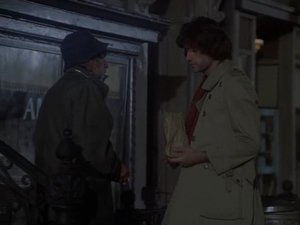 1x2 – Das Netz des Todes
A police detective kills a Manhattan lawyer, after setting up an elaborate alibi for himself. First, Nick Ferro lets Pinky, who he just busted on the street, inject some horse the junkie bought. Ferro then phones in the collar. While Pinky is nodding off in Ferro's car, the policeman digs a gun with a silencer out of a sidewalk hiding place, and cabs to the male attorney's hotel love nest. Ferro switched the rest of the street heroin for another packet, and turns in a baggy of soap powder at the precinct, along with the addict, after the shooting. Why did one of Lt. ...
Gesehen von 2 Usern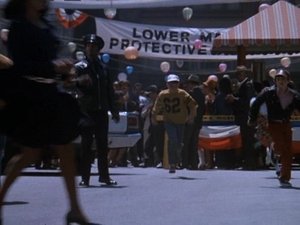 1x3 – Der Mann im Hintergrund
When mobster Michael X. Tomasso is shot during a speech all clues lead to a Harlem based rival. But Kojak suspects something fishy is going on and decides to dig deeper.
Gesehen von 2 Usern
1x4 – Ein entscheidender Fehler
A newbie from Baltimore is gunned down at a Manhattan bus stop by a thug she knows, who wants only her huge, expensive ring, but can't pry it off before he has to flee. Lt. Kojak discovers the ring was swiped from a safety deposit box, in a recent, unsolved bank knock-over. Few fences will handle such a mammoth heist of insured valuables. Tony Curcheo, a Vegas mobster is in town, and ducks Kojak, who consequently suspects Tony's in NYC to cash out those hot goods.
Gesehen von 2 Usern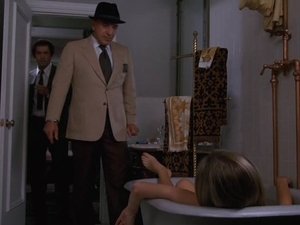 1x5 – Das Mädchen im Fluss
The elusive 'Excalibur' killer has returned to New York after an absence of two years and Kojak is determined to catch him this time. All of the victims are single women strangled with a stocking with a quarter in it, then left in water with the mark of Excalibur on their forehead and a purple cord around their neck. Clues soon lead Crocker to a bar called The Body Boutique where a regular group of artists, models and gurus hang out.
Gesehen von 2 Usern
1x6 – Requiem für einen Polizisten
The entire precinct is shocked when one of their most trusted officers, Tom Donnoly is shot dead carrying $10.000 in his pocket. Kojak has just 48 hours to clear Donnoly's name and make sure he gets buried with honors.
Gesehen von 2 Usern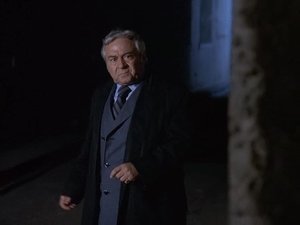 1x7 – Eine wertvolle Dame
Manhattan is awash with re-cut stolen gems after a legit jeweler is killed, but Kojak ties the honest gem-smith's silent partner to Lawrence, a shady power broker. The partner was "The Prettiest Girl in New York," then fell on hard times, but was taken into the gem business by the honest Max Krouse. Now Celia Lamb is back living high under Lawrence's oily thumb. Kojak perceives the guilt Celia holds about her savior Max, and hopes to use it to bring down Lawrence and the gem chop shops.
Gesehen von 2 Usern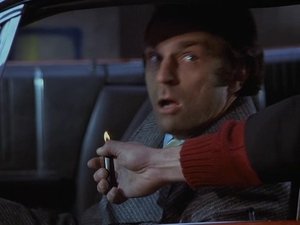 1x8 – Schwarzer Sonntag
Kojak begins sucking lollipops, after a wheel-man brags he's in on a caper which will make the NYPD more laughable than the Keystone Kops. Soon, a fellow gang member ices Artie the driver and dumps the corpse in a park. The gang member who jerked the trigger was only supposed to stash Artie out of town, so the gang leader's antsy that when Artie's body and belongings are discovered, the police will be on alert. Lt. Kojak keeps the murder out of the obits, but has no clue what the gang's target is. Loud-mouthed Artie owes a lot of people bread, and some tell Kojak's ...
Gesehen von 2 Usern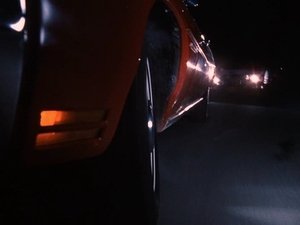 1x9 – Ein mörderisches Projekt
Kojak's operative, an undercover lawyer, is killed investigating endless opportunities for graft provided by an elaborate makeover for an inner city neighborhood. The hoods make the murder appear to be an auto accident, delighting those who'll benefit from the bottomless pork barrel. The developer has a spotless rep, plus a mistress working for the planning commission, forcing Kojak to use unconventional tactics to confront the cabal.
Gesehen von 2 Usern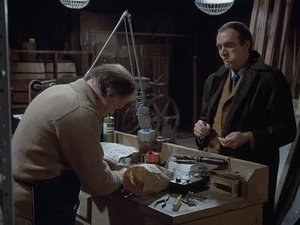 1x10 – Theo in der Klemme
Kojak receives threats against his life just as his niece is about to get married.
Gesehen von 2 Usern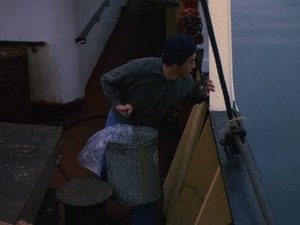 1x11 – Schuldschein für einen Toten
Lt. Kojak fails to bring down a wily heroin kingpin, so he ups the ante by putting himself up for sale, pretending he's got no shot at Captain's bars, so he's going for dirty money instead. Theo Kojak's top undercover operative Gil sets up an elaborate scam with the dealers, where the heroin Gil seized from Janis will be traded back to the smugglers, and bags of sugar will be put in their place in the Manhattan South property locker. But Janis connives to switch the deal around, so he has his own personal Theo on the inside, on the take.
Gesehen von 2 Usern
1x12 – Requiem für einen Dieb
Kojak and his men are after a gang of a jewel thieves. The bag-man was shot and identified but is still on the run. So Kojak figures his accomplices will try to get to the man before the cops find him.
Gesehen von 2 Usern
1x13 – Folge 13
Kojak is a guest instructor at a police science class. One of his students is committing burglaries with his brother-in-law and likes to leave false clues at the crime scene. These include a pen with Kojak's name on it and even Kojak's hat.
Gesehen von 2 Usern
1x14 – Todeskarussell
The deaths of a junkie and a television commentator put Kojak onto the trail of a drug/prostitution ring.
Gesehen von 2 Usern
1x15 – Der große Fischzug
Kenny Soames, a friendly young delivery man for a local pharmacy, sets up a residence for a big heist and uses his delivery van for the getaway. He then plans to leave the country with his girlfriend and $100,000 from his confederates.
Gesehen von 2 Usern
1x16 – 18 Stunden Angst
A young girl smuggles a stolen Canadian blank plate to New York in a leg cast. Her accomplice, an artist, is killed by a mob hit man but the girl manages to slip away from him at a hotel thanks to a friendly traveling salesman. Kojak investigates the murder of the artist and the killers trail leads him straight to the innocent salesman from Encino.
Gesehen von 2 Usern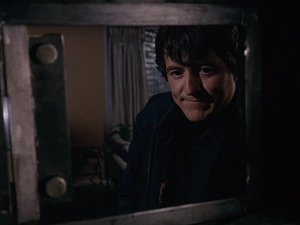 1x17 – Im Kreis des Verbrechens
Cat burglar David plunges to his death when a banker cuts his cord for burgling $1 million in bonds the financier embezzled. David's partner Le Jeune gets away with the bonds, but must use a Wall Street fence who's another crooked banker - and works with the murderer. Kojak's belief that Le Jeune wouldn't kill his longtime partner so obviously is confirmed when the murderer's much younger wife fingers her husband to clear herself from accessory to embezzlement.
Gesehen von 2 Usern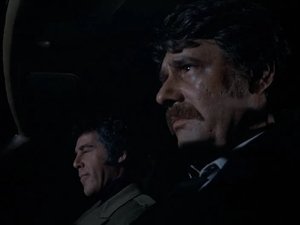 1x18 – Drei Kugeln im Asphalt
On the trail of a ring counterfeiting lottery tickets, a detective's partner is killed. Det. Fiore feels guilty for giving in to his partner's quest for front page heroism, plus being felled by stomach pains when he had a chance to shoot his friend's killer. When Fiore's diagnosed with terminal cancer, he realizes he's sacrificed having his own life for devotion to Det. Ryan and Ryan's wife. Kojak worries that Fiore's quest for salvation will result in murder, blowing their long-pursued case against the counterfeiters.
Gesehen von 2 Usern
1x19 – Folge 19
Ex-con Lou is determined to settle old scores with his ex-wife and her mobster boyfriend who set him up to serve hard time. Lou's fiancée, a wide-eyed prison sociologist, enlists Kojak's help to keep Lou from killing and/or being killed.
Gesehen von 2 Usern
1x20 – Ein zweifelhaftes Geschäft
Kojak investigates the theft of powdered morphine from a pharmaceutical company.
Gesehen von 2 Usern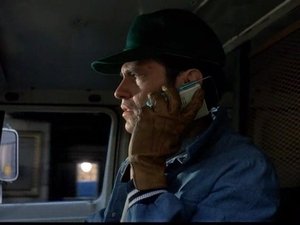 1x21 – Der Bombenleger
A nebbish helps his therapy group by bombing the nemeses they whine about. Kojak can't find a pattern in the serial murders, especially after an innocent secretary who just moved to Manhattan is blown up, but he knows there is one because she was killed in a parking space with her name on it. NYPD holds back that the bombs all come in brown paper bags, to fend off serial confessors. Danny Zucco can't wait for his next group to see the joy he's brought to his adopted family.
Gesehen von 2 Usern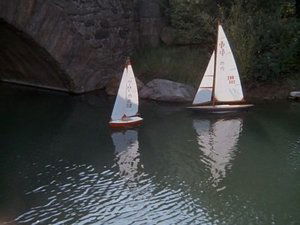 1x22 – Weg ohne Wiederkehr
A boy asks Kojak to find his father who's gone missing. What they don't know is that he is being held captive.
Gesehen von 2 Usern