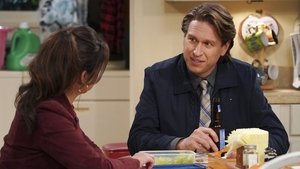 1x1 – Episode 1
Tom begins his new career with the loving okay from his wife, Jen.
1x2 – Episode 2
Tom must choose between loyalty to his mentor, Archie, and money when his first TV interview leads to a new sponsorship deal, but he can only feature one logo on his bowling shirt; Jen's boss stifles her creativity at the salon.
1x3 – Episode 3
Looking for ways to make extra cash, Tom considers selling his prized baseball card collection so he can treat Jen, who's been working extra hours at the salon.
1x4 – Episode 4
When Tom travels out of town for his first bowling tournament, he has the rough realization that his bowling idols are now his rivals; Helen comes to help Jen at home and work while Tom's away.
1x5 – Episode 5
Tom worries about his mom's safety after she gets stuck in a laundry basket.
1x6 – Episode 6
When Pete's mother, Helen, agrees to a date with Archie -- 10 years after he initially asked her out -- Pete and his wife, Jen, reluctantly attend a very awkward double date with them to help ease Helen's nerves.
1x7 – Episode 7
Tom asks Archie to listen to a podcast about the power of positivity in the hope that he'll adopt a more constructive, less critical coaching style.
1x8 – Episode 8
Helen unexpectedly ghosts Archie; Tom discovers that Archie's been keeping a huge secret.
1x9 – Episode 9
When Tom's bowling idol falls on hard times, Tom invites him to stay at his home until he's back on his feet; Tom and his family quickly learn that Rick is the worst houseguest to have around.
1x10 – Episode 10
Know what this is about? Be the first one to add a plot.
1x11 – Episode 11
When Tom's mentor and coach, Archie, suffers a heart attack just days before the competition, Tom struggles with the decision to leave him in the hospital and compete in the biggest tournament of his career.
Quelle:
themoviedb.org