1x1 – Folge 1
A centennial festival is upturned when a barbarian storms into town claiming that dangerous cultists are pursuing her.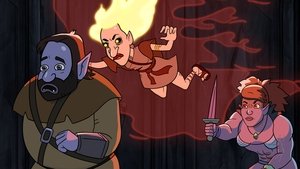 1x2 – Folge 2
The party makes its way through a dwarven mine, accompanied by a suspicious monk.
1x3 – Folge 3
Fondue, Beur, and Boneweevil reach the town of Freshport in search of Dunnan, the protector of the second Rune Stone; They meet a talented young bard who helps Fondue acknowledge a hidden side of himself.
1x4 – Folge 4
As forced stowaways aboard a ship at sea, the party find themselves in the midst of master smuggler Captain Ribs Sanchez, and enlist his help in hiding Beur's amulet - the third and final Rune Stone - from Vortheon.
1x5 – Folge 5
Fondue, Beur, and Boneweevil are defeated and sent to Manoa Prison by Vortheon. They are put in a cell with Hawaiian Coffee, a crafty and chaotic alchemist who might be their only ticket out - if she doesn't blow them up first.
1x6 – Folge 6
Escaping Manoa, our heroes set out across Sandman Desert in search of the Doorest of Fores, where the cult's hideout is rumored to lay. As hunger and thirst mount, they spot a caravan on the horizon being attacked by wraiths.
1x7 – Folge 7
The party reach the Doorest of Fores, where they meet a small resident named Dildo Bogpelt. Befriending them, Dildo leads them through the Doorest to enlist the help of its guardian spirit.
1x8 – Folge 8
Fondue, Beor, and Boneweevil arrive at the Dragon's Temple deep in the Doorest of Fores and find it empty, save for a lone kobold janitor, Eddie Lizzard, whose creative boredom becomes a test for all - especially Fondue.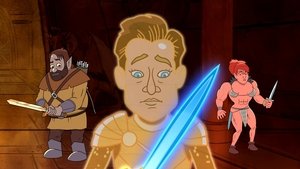 1x9 – Folge 9
As the group ventures closer to the cult's inner sanctum beneath the Dragon's Temple, Fondue's sword suddenly begins to talk.
1x10 – Folge 10
In a frantic race against time, the party use the three reacquired Rune Stones to transport themselves to Earthscar Village ahead of the unleashed Manticore. But upon returning, they find not everything is as they left it.
Quelle:
themoviedb.com