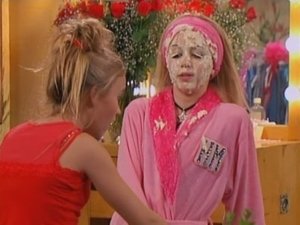 1x1 – Folge 1
Miley must tell Lilly that she is Hannah Montana after sneaking into her dressing room.
Gesehen von 12 Usern
1x2 – Folge 2
Miley and Lilly hatch up a plan to make Oliver fall out of love with Hannah Montana in fear that if Oliver finds out Miley is Hannah he will love her too.
Gesehen von 12 Usern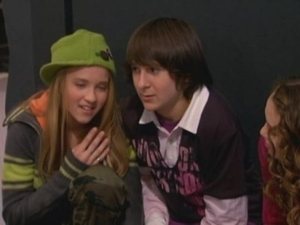 1x3 – Folge 3
Miley and Jackson catch Robby on a date with a mystery woman, and the kids decide to act sneaky in order to learn more about their father's new acquaintance.
Gesehen von 12 Usern
1x4 – Folge 4
Miley toys with her public image after discovering that a boy she likes isn't a Hannah fan; Jackson considers asking out his best friend's sister, who has returned home from boarding school.
Gesehen von 12 Usern
1x5 – Folge 5
Lilly is embarrassing Miley. So Miley lies to Lilly about going to Kelly Clarkson's birthday party. Meanwhile a photographer catches "Hannah" leaving early and is published on the front page.
Gesehen von 12 Usern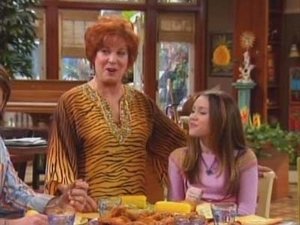 1x6 – Folge 6
Miley receives visits from both British royalty and her paternal grandmother, who ends up hurting Miley by giving all of her attention to Jackson, who's playing in an volleyball tournament important that's very important to him.
Gesehen von 12 Usern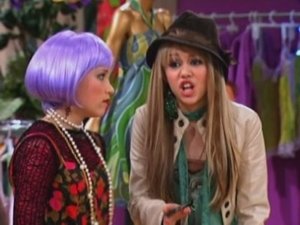 1x7 – Folge 7
It's Miley's birthday again. Every year Miley's dad goes out to buy a baby present for her. Miley sends Lily to help Robbie pick out a good present. Meanwhile, Jackson has trouble with getting a cake to Miley's birthday.
Gesehen von 12 Usern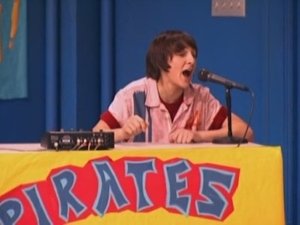 1x8 – Folge 8
Miley and Lily are trying out for cheerleading, but only Lily makes it, while Miley is the Mascot. Meanwhile, Jackson is having trouble fixing the sink.
Gesehen von 12 Usern
1x9 – Folge 9
Miley and Lilly plan to get back at Amber and Ashley after they took credit for Miley's hard work on the tent for class camping trip.
Gesehen von 12 Usern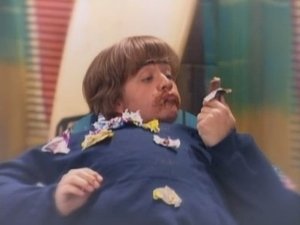 1x10 – Folge 10
Miley gets so nervous about teaching Oliver Shakespeare, that she forgets the Star Spangled Banner.
Gesehen von 12 Usern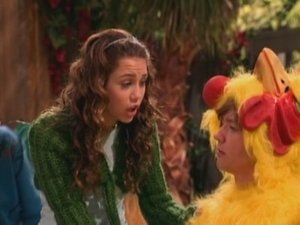 1x11 – Folge 11
Miley gets E-mail's about a girl named Becca, and she writes about her feelings toward Oliver and everything gets confused, meanwhile Jackson is being taken advantage of by Rico.
Gesehen von 12 Usern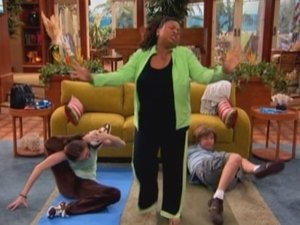 1x12 – Folge 12
Miley thinks she is holding her Dad back from his dream of singing.
Gesehen von 12 Usern
1x13 – Folge 13
Hannah Montana becomes the "poster child" for Magic Glo skin care. But when she catches a glimpse of the billboard, there's a tomato sized zit on her forehead. Lilly's dog eats her contacts, so she has to wear glasses.
Gesehen von 12 Usern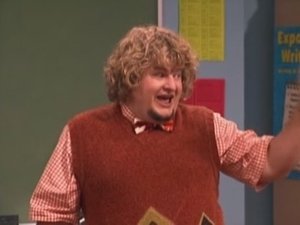 1x14 – Folge 14
A new kid in school makes Miley jealous so she confesses her secret (of being Hannah) to this week in Hollywood Bree Samuels at school. Now she must try to cover it up, and make it seem like she was only joking.
Gesehen von 12 Usern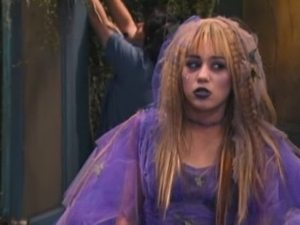 1x15 – Folge 15
Miley gets asked to the dance by Jake Ryan and Hannah Montana makes a guest appearance on Zombie High as Zerronda the zombie princess also Robbie ray and Jackson try to out prank each other.
Gesehen von 12 Usern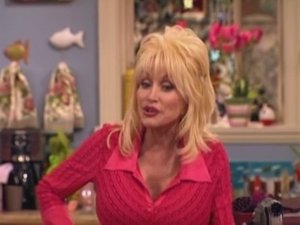 1x16 – Folge 16
Dolly Parton guest-stars as Miley's godmother, and she Miley, and Lilly, must retrieve a videotape telling of Miley's feelings for Jake After Oliver grabs the wrong camcorder
Gesehen von 12 Usern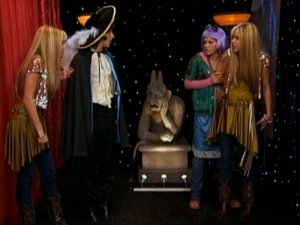 1x17 – Folge 17
Miley's twin cousin from Tennessee named Luanne, spends Halloween in Malibu with Miley. Then, Luanne goes to the Hollywood Halloween party as Hannah to expose Miley's secret identity.
Gesehen von 12 Usern
1x18 – Folge 18
Miley finds out Jake dumped his school girl friend, but is upset when she sees him with a new girl friend who's an actress. So to make him jealous, she accepts a date from a guy named Willis. What she doesn't know is that Jake is trying to make her jealous.
Gesehen von 12 Usern
1x19 – Folge 19
Miley's school raises money for the United People Releif Fund. Miley uses her Hannah Montana celebrity status to help out her,Lily, and Oliver when they hear that Amber and Ashley were giving big checks from their dads. Lily and Miley then give the Hannah money to Sarah cause she seems to be doing charity for the right reasons.Amber and Ashley brought in the most money cause Oliver bragged how Sarah was going to bring in more money then them. Then Miley helps Sarah Change Amber and Ashley plans for the day by telling the reporter that Amber and Ashley were going to ...
Gesehen von 12 Usern
1x20 – Folge 20
Miley and Jackson get credit cards for emergencies only. Miley maxes out her card and has to sell used Hannah Montana items in order to pay for it.
Gesehen von 12 Usern
1x21 – Folge 21
When Paulie The Papparrazzo gets a shot of Hannah and Jackson together, the world thinks Jackson is "Hannah's" new boyfriend.
Gesehen von 12 Usern
1x22 – Folge 22
Miley gets Jackson fired while trying to get him a raise ,then Inadvertently hires him as her assistant then fires him after he ruins her performance at teen pop awards then gets his old job back that oliver took by entering a tango contest with Rico
Gesehen von 12 Usern
1x23 – Folge 23
Miley gets picked on by the new girl who's nickname is The Cracker. Jackson and Robbie Stewart have their fishing trip snowed out and have to stay in a bug infested hotel. Roxy goes undercover as a new bully to try and put The Crackers terror to an end. Jackson and Robbie get stuck with the hotel manager and his ventriloquist dummy. Roxy gives Miley a new wardrobe so she can protect her at all times. Miley gets made into a salad before Lily can get the Principal. We find out why The Cracker is so mean because her real name is Henrietta Laverne. Jackson steals Miley's ...
Gesehen von 12 Usern
1x24 – Folge 24
There is a show called Singing With the Stars, and whoever wins, will sing with Hannah Montana. At school, Amber says that she could win. She then goes into the bathroom and Miley says that she would make sure that Amber didn't win. But then she hears a terrible voice coming from the bathroom and Miley said she WOULD make sure she got in because she wanted Amber to be humiliated on t.v. At lunch, Miley then calls Amber and says that she would be in Singing With the Stars and singing with Hannah Montana. Then Amber says it aloud that she is going to be singing with ...
Gesehen von 12 Usern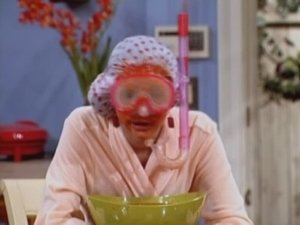 1x25 – Folge 25
Hannah gets a perfume line but hates it. She hates it because it's made of raspberries and she feels sick when she smells raspberries. But she either has to decide to not sell the product and not lie to her fans saying that she hates it, or to sell the product and lie to her fans saying that "she loves it". She goes on a t.v. show after she decides she is gonna sell the product, but then gets caught and says she hates it. She then finally decides not to sell it.
Gesehen von 12 Usern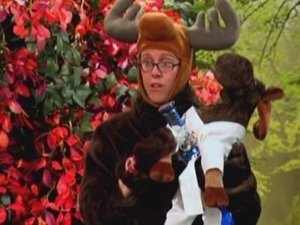 1x26 – Folge 26
Jackson is tired of having a little sister that always needs him to drive her around. So, for the day, Jackson and Miley make a bet that Miley can't handle the niece next door for a whole day.
Gesehen von 12 Usern
Quelle:
themoviedb.org