1x1 – Episode 1
Detective Halloran's first day as a detective brings him face-to-face with a cop killer and his accomplice who're holding hostages at the New York Coliseum..
1x2 – Episode 2
The detectives visit the aging captain of the Staten Island Ferry at the same time that armed robbers are executing a daring heist of an armored car traveling on the ferry.
1x3 – Episode 3
Det. Halloran easily kills a fleeing robber who's about to shoot him, but Halloran's lingering feelings of guilt make getting through the aftermath with the man's family anguish. Halloran's wife and Lieutenant support him throughout his search for meaning.
1x4 – Episode 4
Gio, who lives by fishing coins out of sidewalk grates, longs to adopt an orphaned boy who he spins yarns for, as if Gio actually was a courageous deep-sea fisherman. By working 16 hours a day, old Gio saves money to adopt the boy, but in doing so violates the territorial rights of a local gang, who try to kill Gio.
1x5 – Episode 5
Detective Halloran goes undercover as a patient in a hospital mental ward in an attempt to identify the murderer of patient who was a witness in a gang killing.
1x6 – Episode 6
A young detective works to redeem himself after lying about the circumstances of his partner's shooting death during a stakeout.
1x7 – Episode 7
A young gang member is assigned to perform a revenge shooting after a member of his own gang is killed.
1x8 – Episode 8
A thief assaults milkmen and steals their uniforms in order to gain access to and rob from wealthy people's apartment buildings.
1x9 – Episode 9
After the murder of a gangster in a barber chair, the detectives track down the victim's fiancé who is holding papers incriminating to the killers.
1x10 – Episode 10
New York City detectives frantically hunt a killer who strangles married disabled women with a coat hanger, in their own homes. As the gumshoes wade through dozens of false confessions and bad leads, a young loner who made bizarre remarks at the funeral of the latest victim, comes forward. Is he just another attention seeker - or is he the real fiend ?
1x11 – Episode 11
A wealthy industrialist refuses to give in to an extortionist's demands even after the extortionist brutally assaults a neighbor girl and threatens the life of the man's alienated son.
1x12 – Episode 12
A naive young woman, Carol Thomas, fresh to New York, gets a mysterious phone call on her new line from a woman who sounds to be in the process of being murdered. Carol is unable to get prompt action from the police, so she ill-advisedly decides to play detective herself.
1x13 – Episode 13
The precinct investigates a brazen Christmas Eve robbery and shooting by the notorious Marco Butcher and his brother.
1x14 – Episode 14
The detectives fight against time to unravel a plan to murder a Commander aboard his yacht.
1x15 – Episode 15
When an elderly sewer worker learns that his son is the leader of a street gang, he begs him vainly to reform, and then tells police about his association. When the gang uses the sewers to escape after a jewel robbery, the old man follows them into the underground passages.
1x16 – Episode 16
In a vicious downpour, a killer prods a terrified man forward using a huge spear-gun. The man with the spear-gun is a meek New Yorker living with his mother, who disapproves of her son's fiancée. The poor couple need cash to remove their main barrier to marriage. Hilda tells fiancé Larry she's inherited money, but actually she won a bet with small-time local bookie Happy. The bookmaker sends her to his backer Dasher, who refuses to pay Hilda off.
1x17 – Episode 17
Detective Halloran helps hunt down a man whom he knows, and who has always been a well-liked solid citizen before suddenly snapping and going on a killing spree throughout the city.
1x18 – Episode 18
Matty, a down-and-out alcoholic in the Bowery, is accused of robbing and murdering a man, then using the stolen money to buy a horse-drawn cart.
1x19 – Episode 19
Lt. Muldoon counsels the son of a patrolman who is trying to join the force, despite his mother's wishes that he not follow in his father's footsteps.
1x20 – Episode 20
George Blake regrets having strayed from his wife, and terminates the affair just moments before the woman is murdered by another jealous man. Blake is the prime suspect, and works to clear his name and find the killer.
1x21 – Episode 21
Halloran goes undercover as the home room teacher for a "modified-curriculum" high school class after their previous home room teacher fell out of the window to his death.
1x22 – Episode 22
The detectives work to stymie a bomb threat during a ticker-tape parade for an Olympic champion.
1x23 – Episode 23
The detectives hunt down bootleggers on Fire Island after they shoot a revenue agent.
1x24 – Episode 24
A young immigrant hits a big score playing the numbers racket, but runs into complications collecting his winnings.
1x25 – Episode 25
After Lt. Muldoon is killed in a car wreck deliberately caused by a mob hit man, the detectives pull out all the stops in their search for the killer.
1x26 – Episode 26
The detectives are assigned to protect visiting Latin Americans dignitaries, including the adolescent son of a dictator and his bodyguard, a former bullfighter who is involved in a plot to kill the young man.
1x27 – Episode 27
A young hotel bellhop is mixed up with a gang of card sharps preying upon the convention crowd, and who are responsible for the killing of one of their victims.
1x28 – Episode 28
A recurring nightmare haunts a murderer - that he's been framed. But when his loving wife begs the 65th Precinct's skeptical detectives to re-investigate, Arnold Fleischman refuses to co-operate with the police. Det. Halloran becomes intrigued, especially when he uncovers crucial evidence that the wrong man was actually convicted. But the released killer Fleischman strongly maintains that he's definitely guilty. Why ?
1x29 – Episode 29
A former top mob assassin is lured out of retirement by the opportunity to kill a kingpin for his 13th hit.
1x30 – Episode 30
A cleaning woman, tired of her hardscrabble life, robs a bank in an attempt to buy happiness.
1x31 – Episode 31
A soldier returns home to find that his baby sister has become part of a shoplifting ring that has attracted the detectives' attention.
1x32 – Episode 32
Halloran goes undercover at a construction yard to see if he can find a connection between a mob-hit victim and the mobster who likely ordered the hit. He discovers an odd relationship between a benevolent man and a punch-drunk ex-boxer.
1x33 – Episode 33
A sleazy private detective, well known to Detective Parker, is murdered while on a case to find a mysterious young lady who worked in a dance club.
1x34 – Episode 34
A payroll robbery gang hires a washed-up wheel man for a job that goes bad.
1x35 – Episode 35
The detectives babysit a couple of bloodhounds belonging to a man involved in an auto accident, putting the dogs to good use while searching for a missing girl.
1x36 – Episode 36
The detectives investigate the source of numerous death threats that have been sent to a high-powered Madison Avenue agent having many real and perceived enemies.
1x37 – Episode 37
A pregnant woman's father is trying to kill her husband in order to cover up a stolen goods racket in which the two have been involved.
1x38 – Episode 38
A washed-up boxer needs fast money and desperately wants to get back into the ring to earn it despite knowing his health is at risk.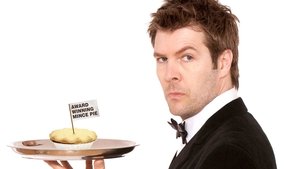 1x39 – Episode 39
To spare a condemned killer, Halloran forces his way into a kept woman's apartment the night of the execution. Ravishing Lois Heller is anesthetizing herself with expensive champagne and romantic music, while the idealistic young detective battles to shatter the redhead's mask of cynicism. Lois is protecting the real murderer, her lover Nicky who she alibied. As Halloran desperately struggles to convince her to call New York's governor, he learns why a woman could become so hardened.