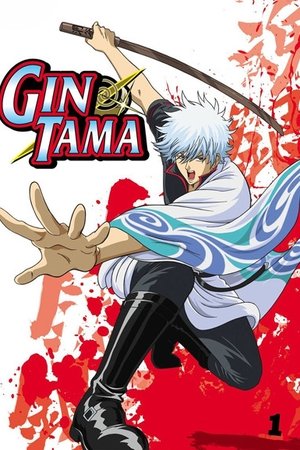 Start

04.04.2006

Regie

Drehbuch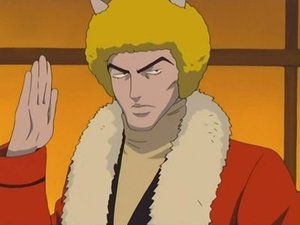 1x1 – Temêrâ!! Sore de mo gintama tsuiten no kâ! Zenpen
Gintoki and his friends Shinpachi and Kagura start their odd-jobs business with helping out a man whose house is on a faultline.
Gesehen von 2 Usern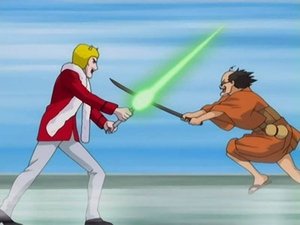 1x2 – Temêrâ!! Sore de mo gintama tsuiten no kâ! Kôhen
Gintoki stumbles across a conspiracy with an earthquake machine.
Gesehen von 2 Usern
1x3 – Tennen pâma ni warui yatsu ha inai
Shinpachi asks Gintoki for help as his sister has been abducted to pay a debt.
Gesehen von 2 Usern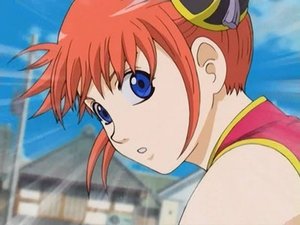 1x4 – Janpu ha tokidoki doyô ni deru kara ki wo tsukero
Kagura forces Gintoki and Shinpachi to help her escape some yakuza.
Gesehen von 2 Usern
1x5 – Jijii ni natte mo namae de yobi aeru tomodachi wo tsukure
Gintoki gets embroiled in a terrorist plot.
Gesehen von 2 Usern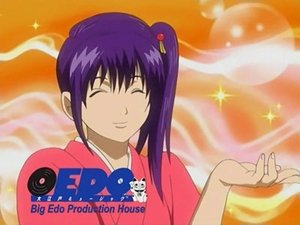 1x6 – Ichido shita yakusoku ha shinde mo mamore
Gintoki and Kagura get involved in jailbreak incident.
Gesehen von 2 Usern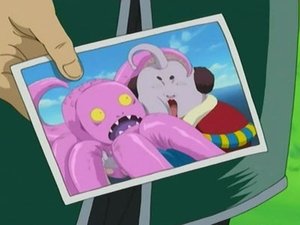 1x7 – Petto ha kainushi ga sekinin wo motte saigo made mendô wo mimashô
Gesehen von 2 Usern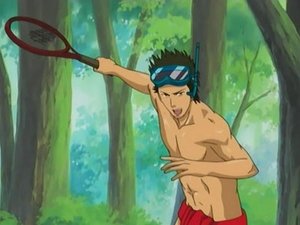 1x8 – Nebari zuyosa to shitsukosa ha kami hitoe
Gintoki has to fight a duel with Kondo Isao, leader of the police force, who is stalking Tae.
Gesehen von 2 Usern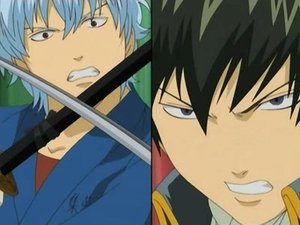 1x9 – Kenka ha gû de yarubeshi
Hijikata tracks down Gintoki to fight him in revenge for the duel with Kondo. But Gintoki is busy repairing a roof.
Gesehen von 2 Usern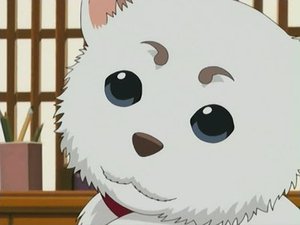 1x10 – Tsukareta toki ha suppai mono wo
Kagura adopts a giant dog as a pet, to the dismay of Gintoki and Shinpachi.
Gesehen von 2 Usern
1x11 – Becha becha shita dango nante nâ dango ja nê baka yarô
Gintoki and Kagura visit Shinpachi in the hospital. They encounter an old male inpatient, he asks them to look for his first love named Ayano.
Gesehen von 2 Usern
1x12 – Daiichi inshô ga ii yatsu ni roku na yatsu ha inai
One night, Otose finds a female alien named Catherine in a back alley. Otose employs Catherine because she was at a loss as to what to do.
Gesehen von 2 Usern
1x13 – Kosupure suru nara kokoro made kazare
A daughter of the prestigious family went missing, her father asks Yorozuya to find her.
Gesehen von 2 Usern
1x14 – Otoko ni ha kaeru ni furete ichi nin mae mitai na wake no wakaranai rûru ga aru/Waki dake aratto kya ii n da yo waki dake
Shinsengumi has to protect a corrupt high shogunate official, unwillingly. Meanwhile, a graceful girl wants Kagura to become a friend only a day.
Gesehen von 2 Usern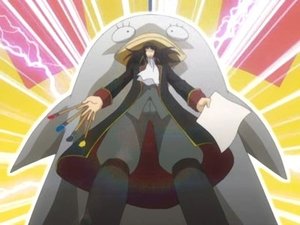 1x15 – Kainushi to petto ha niru
Katsura meets Gintoki again with "Elizabeth", a strange creature, it's a present from Tatsuma Sakamoto, one of their old friends.
Gesehen von 2 Usern
1x16 – Kangaetara jinsei tte ossan ni natte kara no hô ga nagai n ja nêka! Kowa!!
Hasegawa got the boot from the Immigration Bureau. Now, he is called "Madao" from the people, and reduces to beggary.
Gesehen von 2 Usern
1x17 – Oyako tte no ha iya na toko bakari niru mon da
The robots which Gengai Hiraga made will be featured in 20th anniversary festival of the opening of earth to the universe.
Gesehen von 2 Usern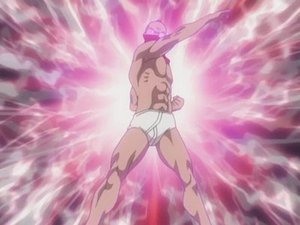 1x18 – Aa yappari wagaya ga ichi ban da wa
Lingerie theft cases occur frequently, Tae had her lingerie stolen. She is very angry about it, tries to catch the thief with Yorozuya and Shinsengumi.
Gesehen von 2 Usern
1x19 – Umi no mizu ga neze shoppai ka da to? Omê ra tokaijin ga oyoginagara yô tashiteru kara darô gâ!!
The creature from outer space which appeared on a beach and had a price on its head. Gintoki and Hasegawa heard such a story, they try to catch it with Shinpachi, Kagura and Tae.
Gesehen von 2 Usern
1x20 – Beruto konbea ni ha ki wo tsukero
Many member of Shinsengumi saw a young woman's ghost in their headquarters.
Gesehen von 2 Usern
1x21 – Senpûki tsukeppanashi de nechau to onaka kowashichau kara ki wo tsukete
Yorozuya catch a Kappa at a pond. / One summer day, Gintoki goes to electrical appliance store to buy a fan.
Gesehen von 2 Usern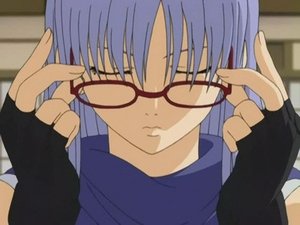 1x22 – Kekkon to ha kanchigai wo isshô gaishi tsuzukeru koto da
A female ninja, Ayame Sarutobi failed her mission. She hides out into the handyman office, and encounters with sleeping Gintoki.
Gesehen von 2 Usern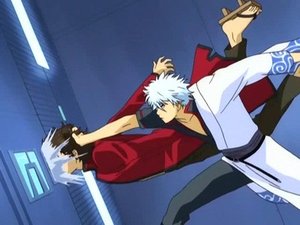 1x23 – Komatta toki ha warattoke warattoke
Kagura raffled off a trip into the space. But, the spaceship which handymen boarded is hijacked by soldiers of Sonno Joi. Gintoki has a reunion with one of his old friends, Tatsuma Sakamoto, amid the chaos.
Gesehen von 2 Usern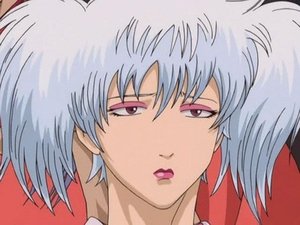 1x24 – Kawaii kao ni ha kanarazu nani ka ga kakureteru
Because Gintoki offended Saigou who is a drug queen, he serves in his bar as one of the drag queens. There is already Katsura who serves for a same reason as Gintoki.
Gesehen von 2 Usern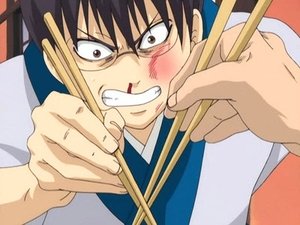 1x25 – Nabe ha jinsei no shukuzu de aru
Gintoki, Shinpati, Kagura prepare to eat Sukiyaki. They each want to eat beef more than others, try to play mind games like "Death Note".
Gesehen von 2 Usern
1x26 – Kazukashi garazu ni te wo agete ie
Madao asks handymen to work part-time as staff of a convenience store. Shinpati caught a shoplifter who is one of his old friends, Taka-chin.
Gesehen von 2 Usern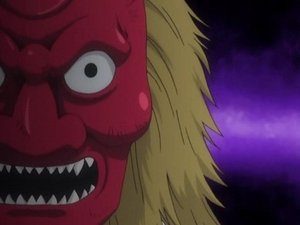 1x27 – Katana ja kirenai mono ga arau
Yorozuya investigates an underground-arena at the request of Okita.
Gesehen von 2 Usern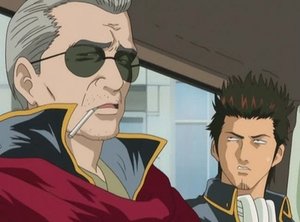 1x28 – Ii koto ha renzoku shite okoranai kuse ni warui koto ha renzoku shite okoru mon da
Because Yorozuya and Shinsengumi broke the underground-arena, one secret organization puts political pressure on Katakuriko Matsudaira, the Director of the National Police Agency.
Gesehen von 2 Usern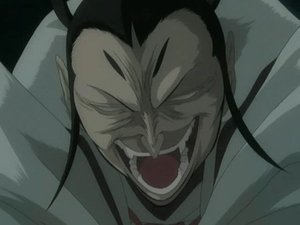 1x29 – Awateru na! Kûringu ofu to iu mono ga aru/Terebi toka shinbun toka chan to minai to dame datte
Gesehen von 2 Usern
1x30 – Aidoru datte hobo omaera to onaji koto yatten da yo
Shinpachi was shocked to hear that Tuu Terakado makes a date with Goemon who is one of idol. Soon after, Tuu asks Yorozuya for help because she is threatened by someone.
Gesehen von 2 Usern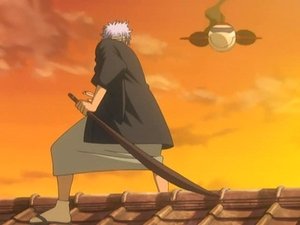 1x31 – Dô demo ii koto ni kagitte naka naka wasurenai
Gintoki lost his memories because he had an car accident. In order to recover his memories, Shinpachi and Kagura take him around Edo.
Gesehen von 2 Usern
1x32 – Jinsei ha beruto konbea no yô ni nagareru
It has been 2 weeks since Gintoki disappeared. Sagaru Yamazaki, a member of Shinsengumi finds Gintoki in a factory while he is undercover investigating.
Gesehen von 2 Usern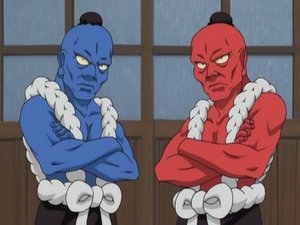 1x33 – Hito no namae toka machigaeruno hitsurei da
Gintoki recovered. He has to repair his office broken by Tatsuma. Tatsuma has arranged good carpenter brothers for him.
Gesehen von 2 Usern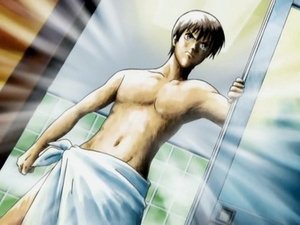 1x34 – Koi ni manyuaru nante iranai
Shinpachi saved a Nekomimi-girl who had a hard time with Katakuriko Matsudaira getting drunk.
Gesehen von 2 Usern
1x35 – Gaiken dake de hito wo handan shicha dame
Shinpachi and Nekomimi-girl, what will happen to their love? / Katakuriko dotes on his daughter, he wants her to break up with her boyfriend who looks like sleazy guy.
Gesehen von 2 Usern
1x36 – Sune ni kizu ga aru yatsu hodo yoku shaberu
Hanako, Tae's colleague has given many money to a cult religion. Yorozuya infiltrate to investigate into it.
Gesehen von 2 Usern
1x37 – Santa nante inênda yo tte ii haru yatsu koso honto ha iru tte shinjitainda yo
In Christmas Eve, a Santa Clues has a quarrel with his reindeer. Gintoki arbitrates their quarrel. / The characters spend a noisy day as usual on New Year's Eve.
Gesehen von 2 Usern
1x38 – Yuki de hashagu no ha kodomo dake/Fuyu ni taberu aisu mo naka naka otsu na mon da
The Snow Festival is hold in Kabuki-Chou. / Yorozuya takes care of an old firework-craftsman who is a patient of dementia at the request of his son.
Gesehen von 2 Usern
1x39 – Menyû no ôi râmen ya ha tai tei hayatte nai
While Katsura escaped from the police, he was hurt. He takes refuge in a ramen restaurant.
Gesehen von 2 Usern
1x40 – Ko zukuri ha keikaku teki ni
A dangerous extraterrestrial slips into Edo. Shinsengumi receives advice from Umi-Bouzu, a legendary alien-buster of Yato, they put a cordon around the area.
Gesehen von 2 Usern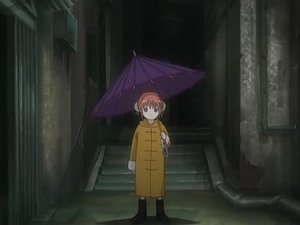 1x41 – Taitoru dake ja eiga no omoshirosa ha wakannai
When Gintoki finds that Umi-Bouzu wants to take back his daughter, Kagura, he decides to dismiss her from Yorozuya.
Gesehen von 2 Usern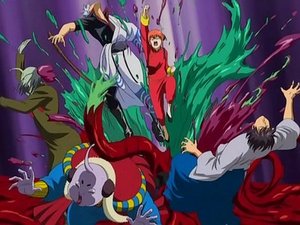 1x42 – Mimizu ni oshikko kakeru to hareru yo
Gintoki and Sadaharu who went to the terminal, were swallowed to the extraterrestrial which grew up.
Gesehen von 2 Usern
1x43 – Kyarakutâ ha shiruetto dake de dokusha ni miwake ga tsuku yô ni kaki wakeyô
The female characters certain that Kagura left Edo, they fight for the position of the new heroine. / Elizabeth was arrested by a corrupt magistrate. Katsura asks Yorozuya for help.
Gesehen von 2 Usern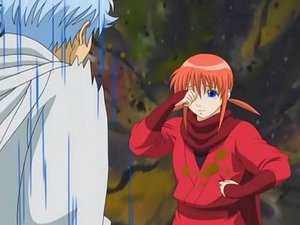 1x44 – Okâ san datte isogashii n dakara yûhan no menyû ni monku tsukeru no tomenasai
Go-Ninjar has to fight against Ninja-Five to rescue Elizabeth.
Gesehen von 2 Usern
1x45 – Aiken no sanpo ha tekido na supîdo de
Yorozuya has a hard time because suddenly Sadaharu grows bigger more and more. Then, Ane and Mone, the sisters of the shrine maiden visit Yorozuya.
Gesehen von 2 Usern
1x46 – Chome chome asobi ha ni ju ssai ni natte kara
Tae and Ane work in the same bar. Because both of them are troublemakers, the manager advises them to resign.
Gesehen von 2 Usern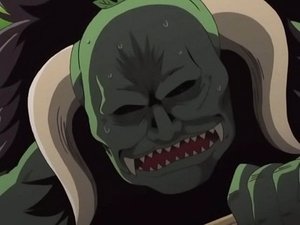 1x47 – Sakuranbo tte are sakura no ki ni naru no?
A flower shop opened at the rear of Yorozuya's office. Hedoro, a florist who has a demon-like face, frightens Yorozuya to death.
Gesehen von 2 Usern
1x48 – Niteru futari ha kenka suru
The soldiers of Joi will be caught up in the trouble of Hijikata and Gintoki. / An old man asks Kagura to play the "kick the can" game.
Gesehen von 2 Usern
1x49 – Gyanburu no nai jinsei nante wasabi nuki no sushi mitê na mon da
Gintoki and Madao encounter a legendary gambler in a casino which Kada runs. Kada is one of the big-four of the Kabuki-Chou.
Gesehen von 2 Usern
1x50 – Pending Means Pending, It's Not Final
Gesehen von 2 Usern
1x51 – Milk Should Be Served at Body Temperature
Gesehen von 2 Usern
1x52 – Hito ni au toki ha mazu apo wo
Gesehen von 2 Usern
1x53 – Episode #1.53
Gesehen von 2 Usern
1x54 – Doko no kâ chan mo daitai onaji
Gesehen von 2 Usern
1x55 – Mono wo taberu toki, kucha kucha oto wo tatenai
Gesehen von 2 Usern
1x56 – Ichinichi kyokuchô ni ki wo tsukerotten maiyâ san
Gesehen von 2 Usern
1x57 – Nakushita mono wo sagasu toki ha sono hi no kôdô wo sakanobore
Gesehen von 2 Usern
1x58 – Baiten de ha yappa korokkepan ga ichiban ninki
Gesehen von 2 Usern
1x59 – Kasa no oki wasure ni chûi
Gesehen von 2 Usern
1x60 – The Sun Will Rise Again
Gesehen von 2 Usern
1x61 – On a Moonless Night, Insects Are Drawn to the Light
Gesehen von 2 Usern
1x62 – Even Mummy Hunters Sometimes Turn Into Mummys
Gesehen von 2 Usern
1x63 – The Preview Section in JUMP Is Always Unreliable
Gesehen von 2 Usern
1x64 – Eating Nmaibo Can Make You Full in No Time!
Gesehen von 2 Usern
1x97 – Hanaya toka keeki ya no musume ni otoko wa yowai/Mukashi no buyuuden ha sanwarimashi de hanase
Gesehen von 2 Usern
1x173 – Daiji nano wa mitame de wa naku nakami/Mitame yori nakami to itte mo gendo ga aru
Gesehen von 2 Usern
Quelle:
themoviedb.org