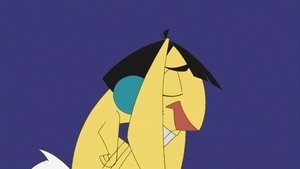 1x1 – Episode 1
Kuzco is up against the highly athletic Kronk in a race after one too many doctor's notes to get out of P.E. To make things worse, Yzma uses a a potion to turn Kuzco into an "ugly rabbit".
Gesehen von 5 Usern
1x2 – Episode 2
Squeakend At Bucky's: After failing his squirrel language test, Kuzco does everything he can to avoid doing any more school work while trying to impress Malina Kuzco Fever: Kuzco fakes being ill to regain the perks and privileges of being emperor.
Gesehen von 5 Usern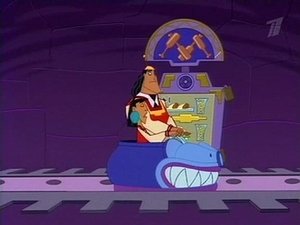 1x3 – Episode 3
[I - Empress Malina] Kuzco wants to take otherwise 'perfect' Malina to the Kuzcoteque (annual dance), as his presumable future empress. She considers Kuzco superficial, and indeed we worries about her facial fault, a pimple, enough to accept a potion from Kronk, which Yzma -posing as him- replaced with an elixir to give her a beak, and then pledge his throne for the antidote. It all goes otherwise. [II - The Adventures of Red-Eyed Tree Frog Man] Kuzco considers tree frogs nasty, Pacha scolds him for his ignorant prejudice. Kuzco is happy there are more after Yzma -as ...
Gesehen von 5 Usern
1x4 – Episode 4
[I- Hungry, Hungry Llama] Now Mr. Moleguaco is sick of Kuzco's ludicrous excuses that his homework was eaten by all kinds of beasts, Malina convinces him he must actually do the work, for the first time. Yzma turns Kronk into a llama to really eat it. [II- Only the Wrong Survive] The class is sent to three survival scenes. Kuzco, Kronk and Malina, who refuses to cheat, get the tough jungle, but Kuzco decides to use an imperial emergency shelter cave.
Gesehen von 5 Usern
1x5 – Episode 5
[I- Cart Wash] At the annual KuzCart Wash, even the emperor-to-be must raise money for charity by humbly washing car(t)s, in Pasha's case drenched in lama dun. Malina actually cares, and Kuzco for her. Yzma hopes he'll fail for this extracurricular school activity, so she tries to sabotage it. [II- Battle of the Bots] On the Kuzco Academy's annual Inventions day, originality is key. As inspiration fails, Kuzco decides to break into Yzma's lab and steal some crazy 'inventions' for himself and Malina, but she refuses to steal anything, as that's cheating.
Gesehen von 5 Usern
1x6 – Episode 6
Because Malina has an A- instead of the usual straight A, for gym, she may be banned from the Kuzco Academy cheerleading team. She desperately tries to join another club. Kuzco and Kronk feel passed over and decide to get closer again, using an elixir to turn themselves into girls.
Gesehen von 5 Usern
1x7 – Episode 7
[I- The Lost Kids] Kuzco is the only available babysitter for Pasha's anniversary spa day, but abuses the bell he was given 'strictly for emergencies' to call Malina's help almost constantly. However Yzma soon causes a real problem. [The Big Fight] Taunting a slow-witted giant once too often gets Kuzco challenged to a hopeless boxing duo. Malina makes Kronk pretend to loose from Kuzco, ignoring why that won't work.
Gesehen von 5 Usern
1x8 – Episode 8
A class assignment "My best friend" makes Kuzco realize he has none. He claims he needs no best friend, but for the occasion invents one: his alter-ego Brad Bowllama. Informed by Kronk, Yzma decides to actually make a Kuzco-clone, who assumes that name, to take Kuzco's place and fail all his assignments.
Gesehen von 5 Usern
1x9 – Episode 9
[I- Unfit to Print] Kuzco only wants to read about himself and Mr. Moleguaco feels that Malina's school paper articles are boring - so Kuzco is made editor in her place. When she scolds his invented stories, he decides to make his craziest feat come true, the first-ever landing on the moon. She stops him in time, alas witnessed by readers. [II- The Emperor's New Pet] Moleguaco makes the kids learn responsibility by taking care of kittens. Kuzco dumps his 'Homework', but takes it back to land a play-date with Malina's Fluffy after Yzma fed Homework an elixir to become ...
Gesehen von 5 Usern
1x10 – Episode 10
Kuzco enjoys annual Kuzco veneration day, when everybody -except Malina- obeys him unconditionally, but Mr. Moleguaco cruelly turns the class assignment around: who draws a golden stone will play emperor for a day. Malina cheats so not Kuzco but Kronk gets the part, then sort of chaperons Kuzco as peasant for a day and joins forces with him and Yzma when Kronk makes too many changes.
Gesehen von 5 Usern
1x11 – Episode 11
[I- Fortune Cookie Day] At the Kuzco Academy's exotic foods days, Yzma and Kronk make Kuzco believe fortune cookies always come true, so he'll obey one ordering him to hand her the imperial throne or be transformed into a slimy slug. [II- Gold Fools] Kuzco is too broke to buy a cool toy, and hates chores. Kuzco drags Kronk along to search for a type of gnome that gives gold away. They must accept a partnership with Malina, but the gnome plays a dirty trick.
Gesehen von 5 Usern
1x12 – Episode 12
Kuzco's class takes a trip to the ruins of Micchu Pachu, where legend has it the ghost of last emperor Micchu, transformed into an eater-eater skeleton, still roams about. Yzma drags Kronk along, hoping to make him fail by fear. The kids flirt with each-other's fears, but Kuzco actually faces the curse.
Gesehen von 5 Usern
1x13 – Episode 13
[I- Oops, All Doodles] Yzma planned for Kronk to steal the god Virocucha's golden mask while he, Kuzko and Malina were guarding it, but it disappeared before he could. Mr. Moleguaco's investigation exasperates not only him, but also Yzma. The real 'thief' is quit a surprise. [II- Chipmunky Business] At Kuz Clubs week, Kuzco must join one, and takes Malina's bad advice: the Junior Chipmunks, Kronk's scouts squad. Yzma sends her mean young cousins to sabotage Kuzco earning any badges, hence fail a class and forfeit the throne.
Gesehen von 5 Usern
1x14 – Episode 14
Everybody expected Kuzco to wriggle out of the annual family day contest, but Mamina motivates him by promising him a dance with the winner. So Kuzco first tries to train with Pacha's family, which they grudgingly let him, only to be deserted when Kuzco can't understand that he just doesn't fit in the canoe. Kuzco sees Kronk's giant family as 'athletically superior', so he deserts to their team. However, Malina says that the contest is all about belonging and family loyalty. During the contest, Kuzco plays in both teams, feeling like a miserable cheat. Still, he gets ...
Gesehen von 5 Usern
1x15 – Episode 15
[I- The New Kid] When new kid Osker arrives in the Kuzco Academy, a super-cool young emperor and yet Kuzco's greatest fan, Kuzco gets viciously suspicious. Supposing that it must by Amzy/Yzma in disguise, he plots against him, but gets another surprise. [II- Officer Kronk] Yzma hopes to have Kuzco expelled by making Kronk truancy officer in charge of enforce the 'three time you're out', but Kuco tricks him into thrice the same himself. New Kronk is blackmailed into enforcing Kuzco's own ludicrous rules, first just fun, then getting everyone incarcerated.
Gesehen von 5 Usern
1x16 – Episode 16
Yzama blames Kronk from all her failed plans, even those which just weren't his fault, so he's fired and kicked out of the palace. When Kuzko tells him he just needs to find a friendly family like Pacha's, Kronk simply moves in with them, and proves Kuzko's worst nightmare by doing all chores fast and perfectly unlike the prince's abysmal record, so Kuzko raises and follows up on a ultimatum 'It's him or me'; Kronk feels guilty and moves out. Yzma finds her life became impossible without her actually indispensable dogsbody, so she goes asks him to return but gets run ...
Gesehen von 5 Usern
1x17 – Episode 17
[1- Kuzcogarten] After thorough research of Kuzco's personal file, Yzma and Kronk find the emperor-to-be never finished Kuzgroup 1 (Kuzco kindergarten), so to Mr. Moleguaco's great joy he's transferred to repeat it- as this means lots of eating and sleeping without lessons, lazy-bones doesn't even mind. However Yzma masquerades as a toddler herself, determined to turn the class against Kuzco -he does so without any help- but things turn out differently, while the Academy misses its class clown... [2- Evil and Eviler] Yzma has run out of ideas to eliminate Kuzco, so ...
Gesehen von 5 Usern
1x18 – Episode 18
Just now Malina has consented to go on a date with Kuzko, he gets even better news: there is one way to gain the throne instantly, freeing him from the burdens of schoolboy-life and enjoying the full privileges of rulership: marrying, and the imperial match-maker has just arrived to tell his life-long quest to find a suitable bride, literally worthy of an emperor, has come to its point. At first Kuzko dreads the idea of wedlock, but a single sight of the beauty has his horny hormones change his mind. Alas, once engaged he not only looses the favor of scorned Malina ...
Gesehen von 5 Usern
1x19 – Episode 19
[I- U.F.kuzcO.] After Kronk accidentally loosens an umbrella which rolls and Kuzco mistakes it for an UFO (causing havoc), Yzma decides to play aliens with Kronk and later expose Kuzco, hoping he'll be chased by the furious villagers. [II- Attack Sub] Kuzco feels Mr. Moleguaco is too hard on his lazy attitude. To the class's surprise, Moleguaco takes time off. Instead of the easy, gullible temp Kuzco expected, the class gets Mr. Notaempa, a mean Marine instructor type, so everyone hates Kuzco and wants Moleguaco back. When he does, they get two surprises.
Gesehen von 5 Usern
1x20 – Episode 20
Jealous Yzma can't stand Kuzko is the star of the popular Kuzkoween festival, so she decides to ruin it, enlisting Kronk by promising a star to replace the decorations with spookier ones, hoping to turn it into Yzmaween. When told he's too old for trick or treat, Kuzko decides to give the festival a trendy face-lift, and Yzma's work makes it happen without him lifting a finger. Kuzko and Kronk both want to take Malina to the masked Kuzkoween ball and woo her with surprises, but she also gets some from an unknown competitor, Yzma also gets a gift basket from a certain ...
Gesehen von 5 Usern
1x21 – Episode 21
In an ill-considered attempt to escape the consequences of being caught with Malina peeking into Mr. Moleguaco's answers at the Kuzko Academy, Kuzko makes a wish at the temple of the god of Heaven not to be emperor anymore. The result is far more then he bargained for: the whole empire is transformed into Yzmopolis, almost a parallel reality, where nobody even remembers Kuzko was emperor (in training), and everybody has another role, e.g. Kronk is the Yzmopolis Academy principal. Actually, Yzma had her evil hand in this transformation, using a powerful potion...
Gesehen von 5 Usern
Quelle:
themoviedb.org