1x4 – Episode 4
Show and Tell, marching band, silly games and icebergs in the Antarctic.
1x5 – Episode 5
Caillou goes on his very first waterslide in "Caillou and the Waterslide;" in "Caillou the Sailor, " Caillou learns all about old ships; and in "Creepy Crawlies, " Caillou teaches Rosie about bugs.
1x6 – Episode 6
Just like his Daddy, Caillou loves anything to do with trucks, so he's very happy when Dad asks him to help wash the family truck. And while he sits in the truck, he imagines he's driving a truck to the beach. When he beeps the horn, he surprises Dad, making him accidentally turn the hose on himself. Later on, when the family really goes for a drive to the beach, Caillou is reminded of his imaginary journey.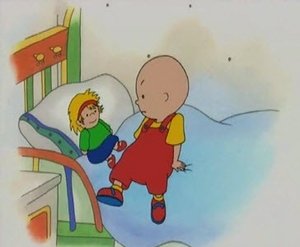 1x12 – Episode 12
In Caillou Outdoors, Caillou makes a scarecrow to protect his garden, takes a roadtrip with his family and plays with a special visitor named Alan who has Down's Syndrome.
1x14 – Caillou in der Badewanne - Der Schulbus
It's bathtime, and for Caillou that means trouble. He just doesn't like taking baths. But bit by bit bathtime turns into playtime, thanks to Daddy, a motorboat and a big bottle of bubble bath.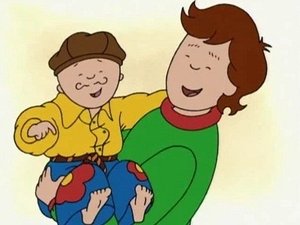 1x15 – Caillou verkleidet sich - Caillou übernachtet bei Leo
Mom's doing the laundry and Caillou decides to get dressed all by himself. The problem is, he doesn't have any clean clothes to wear. So Daddy suggests a dressing-up game with some of his old clothes. Pretty soon Caillou's not only all dressed up, he even has a moustache to go with his fancy outfit.
1x16 – Caillous Teddy-T-Shirt - Caillou fällt vom Fahrrad
Caillou's favourite t-shirt has teddy bears all over it. It's his teddy shirt. One day he sees Rosie wearing it and he gets very upset. But he has to admit that he's getting too big for the teddy shirt. In fact, he can hardly get into it. But he doesn't really want Rosie to have it, so he gives it to his favourite teddy bear to wear.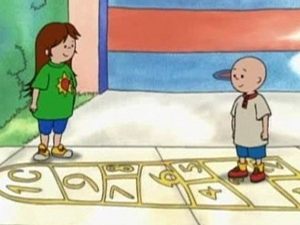 1x17 – Caillou geht allein spazieren - Caillous toller Treffer
Caillou enjoys a game with Mr. Hinkle, a trip to the retirement home with his grandmother, and playing in the park with his friends.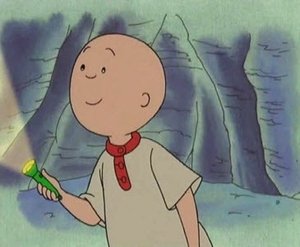 1x18 – Episode 18
Caillou is at Grandpa and Grandma's house. He goes looking for a special hiding place and gets stuck in a kitchen closet. Grandpa shows Caillou an extra special place: a hollow tree trunk. Caillou discovers an old toy in the hiding place and learns that it used to be his Daddy's hiding place when he was Caillou's age.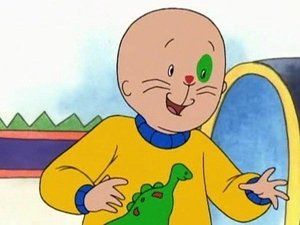 1x19 – Episode 19
It's Caillou's birthday and he's having a little party. His friends Clementine and Leo come to play with him and they all have face paint disguises. What Caillou really wants for his birthday is a special dinosaur. By the time the party's over he unexpectedly has two of them!
1x20 – Episode 20
Caillou has nobody to play with, so he recruits Gilbert his cat. He tries to get Gilbert to play his favourite games, but Gilbert isn't interested in the slightest. When Mom points out that Caillou has been trying to get the cat to play people games, he realizes that Gilbert probably wants to play kitty cat games.
1x21 – Episode 21
Caillou is tossing and turning. No matter what he does he just can't get to sleep. It's summer and his curtains are at the cleaners. Luckily Grandma has a wonderful idea: She makes a cardboard cutout night sky to put against the window. It darkens the room and projects the moon and the stars onto his walls and ceiling. Caillou falls asleep in no time.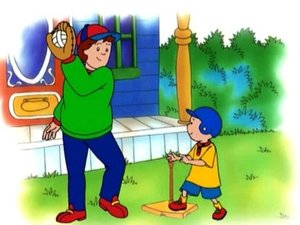 1x23 – Episode 23
Caillou and his family go to the zoo. Caillou is thrilled to see that animals have families too. He sees a baby rhino and a big family of chimpanzees. But his absolute favourite is a young sea otter which has to be taught how to swim.
1x24 – Episode 24
It's a rainy day and Caillou is looking forward to jumping in all the puddles when he goes out with his Mummy. But somehow or other, it takes Caillou a very long time to get ready to go out. There's always something else he has to do before he can leave. So by the time he does leave, it's stopped raining. But there are still some puddles to splash in.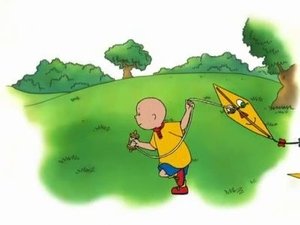 1x25 – Episode 25
Caillou and his family are spending the day at the beach. There's so much to see and do! Caillou and Dad go into the water; a seagull tries to steal Caillou's sandwich; Caillou sees a hermit crab and finally he and Dad build a sand castle.
1x26 – Episode 26
Caillou goes with Mom to buy a new pair of shoes. On the way he sees Sarah running fast. He decides he wants a pair of shoes he can run in. First, the salesman has to measure his feet. Eventually he picks exactly the right pair and he shows Sarah just how fast he can run.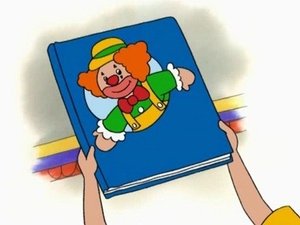 1x28 – Episode 28
Caillou is very excited because he's going to a parade with horses, drummers and clowns. But Rosie is afraid of clowns so Mom isn't sure it's a good idea to go. Caillou is upset because he thinks he'll miss the parade just because of that. And then he has a good idea: If he shows Rosie that clowns are just people wearing silly costumes, she won't be afraid any more.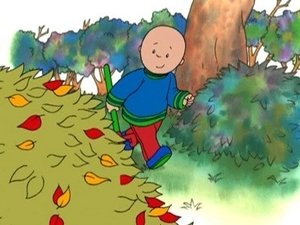 1x30 – Episode 30
It's fall and the back yard is covered in leaves. Caillou and Rosie have so much fun playing in the leaves that he doesn't want to go into the house. He asks Dad if he can help him rake the leaves into piles. When they've made piles of piles, Caillou pretends the piles of leaves are houses and cities.
1x32 – Episode 32
Caillou is visiting Grandma's house and he's not in a very good mood. While Grandma goes into the kitchen, Caillou starts to make a finger painting with Grandma's blue paint and pretty soon he's using all of Grandma's colours, and feeling much, much better.
1x33 – Episode 33
Mum is upset when the postman only brings bills, bills and more bills. She tells Caillou she'd love to get a nice letter for a change. Caillou and Dad decide to make a nice letter for her and early the next morning they give it to the mailman to deliver. Mom is thrilled to get such a nice letter from Caillou.
1x36 – Episode 36
Mum and Dad are going out. Caillou wants his regular babysitter, not Julie, whom he has never met before. He's sure he isn't going to like her. He gives Julie a hard time, refusing to eat his supper. But then Julie turns suppertime into a game and serves breakfast instead. Long before Mum and Dad come home, Caillou has decided he likes his new babysitter after all.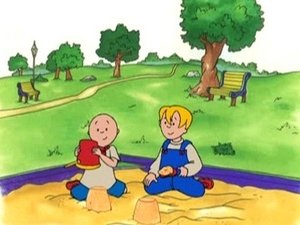 1x38 – Episode 38
Caillou makes pizza for dinner with his family. Mummy and Daddy are gone overnight and Grandpa and Grandma are babysitting. Caillou is hesitant to try bowling, until he gets to the bowling alley and sees how much fun his friend, Sarah, is having while bowling.
1x39 – Episode 39
Mum and Rosie are out for the day and that means Caillou and Dad will spend the day together "taking care of business." Caillou likes having Dad all to himself and the two of them make a bookshelf for Mum and go out for a bike ride together, the way Caillou likes it: just the two of them, Caillou and Dad.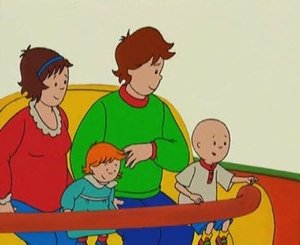 1x41 – Episode 41
Caillou and his family have a wonderful day out at a theme park. Caillou and Dad go on the thrilling Niagara River Ride, they all go on a Ferris wheel and for a special treat they have cotton candy for dessert. The perfect day is made even better when Dad tosses rings at a midway booth and wins the biggest teddy bear Caillou has ever seen.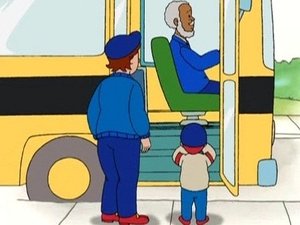 1x42 – Episode 42
Caillou doesn't go to school yet but he really wants to ride on the school bus that stops outside his house every morning. When Dad takes him to see the bus from close up the driver offers to take Caillou with the other children the next day. Caillou makes a special painting for the driver and they have a marvellous ride.
1x43 – Episode 43
Caillou is having a game of dinosaur hunter with Gilbert the cat. He goes for a snack and when he comes back there's no sign of Gilbert. He's disappeared! Mom says Caillou will have to be a detective and together they search the house, looking for clues. Eventually they find Gilbert curled up and fast asleep in Caillou's bed.
1x45 – Episode 45
Caillou wants to wear his favourite socks, but one of them is missing. When he goes looking in the basement he accidentally gets himself locked in. Daddy to the rescue! Only now they're both locked in! Caillou and Dad shout to attract Mum's attention. She comes and lets them out, they find the missing sock.
1x47 – Episode 47
Caillou is excited because Clementine is coming over for a playdate. Unfortunately for him, Clementine begins to go through his stuffed animals and have a tea party, when his idea of fun is to play with dinosaurs. Caillou throws a fit and screams in her face, and, oblivious to this, Clementine suggests the dinosaurs be their children, making Caillou run crying to Mommy. Caillou apologizes to Clementine, and Clementine's older brother, Billy, a baseball champion, comes over to play catch and have juice soon after that.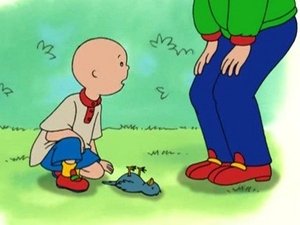 1x48 – Episode 48
Caillou is very curious when he finds a dead bird in the garden. He wants to know why it died. Dad explains that it probably got too old. Caillou thinks about that and begins to worry about getting too old himself. He tells Mom and Dad he doesn't want to get any older because of what happened to the bird. They reassure him and he agrees he has plenty of time to get older.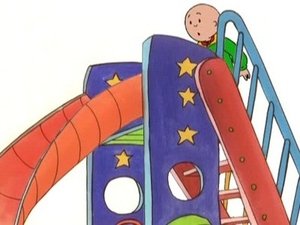 1x49 – Episode 49
Caillou is playing in the park with Clementine. She's a lot more confident about most things than he is and she isn't at all scared to go on the big kids' slide. Caillou is frightened, but he can't bring himself to admit it to Clementine. She teases him anyway. When Dad comes to fetch Caillou they go down the slide together. Caillou discovers it isn't so scary after all and does it all by himself.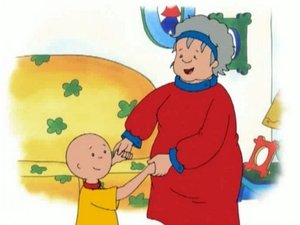 1x50 – Episode 50
Grandma is looking after her friend's dog again. She shows Caillou how to walk the puppy on a leash and how to play 'fetch' with a ball. Caillou loves having the puppy obey his orders and pesters Mom and Dad for a dog of his own. They say he already has a pet: Gilbert. Maybe when he's a bit older he can have a dog. Caillou understands and in the meantime he attaches a leash to a toy dog and proudly walks it around the house.
1x52 – Episode 52
Caillou has a fever. Then he gets itchy spots. Chicken pox! He's not very comfortable and he has to take special baths to soothe the itching. He knows he's not supposed to scratch but he just can't help himself. When he sees Rosie playing in the garden he wants to play with her and can't wait to get better.
1x53 – Episode 53
When Mum is busy on the phone all morning and doesn't have time for Caillou he feels very left out of things. He plays with his toy phone and then talks to Grandma on the real phone. He likes talking on the phone, it makes him feel very grown up.
1x54 – Episode 54
Caillou is going to spend the night away from his home and family for the very first time. He goes to Leo's house and has a lot of fun in Leo's tree house, but at bedtime he's feeling lonely and homesick. Leo's mom suggests he should phone home. He feels much better when he speaks to his Mummy and even better when she reminds him he has his teddy bear with him.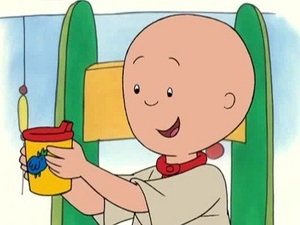 1x55 – Episode 55
Caillou thinks his sister Rosie is getting favourable treatment and it just isn't fair! Mum explains to him that Rosie is just a baby and can't do a lot of the things she asks him to do. Caillou decides being a baby is better than being four and pretends to be a baby, until Mom tells both her babies it's time for a nap. Maybe being four is better than being a baby after all!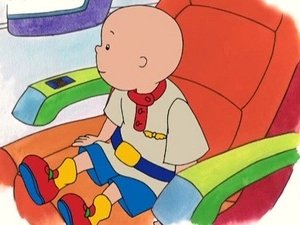 1x56 – Episode 56
It's Caillou's first flight and he's curious about everything. He loves looking out of the window at the ground below; he likes playing with the music system; breakfast on a plane is an adventure in itself and when the pilot invites him to visit the flight deck with Daddy that's the best of all!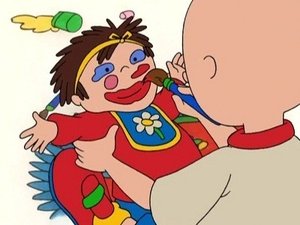 1x59 – Episode 59
Mum is putting on her makeup to go out with Dad and that gives Caillou an idea for a game. He takes one of Rosie's dolls and tries to make it look as pretty as his Mum, with disastrous results. He's ashamed, so he hides the doll. At first he tries to pretend he doesn't know where it is, but he quickly admits the truth and all is well again.
1x60 – Episode 60
Poor Caillou! He's fallen off his bike and scraped his knee. The mishap has hurt his knee and his pride too. He needs the special touch of Mum's first aid. When she puts on Caillou's special band-aids, the ones with the dinosaur pattern, he begins to feel much better.
1x61 – Episode 61
Caillou's big friend André has come to visit. André's a soccer player and Caillou wants to play too. Only Caillou isn't very good at kicking the ball. Sometimes he misses altogether, sometimes it only goes a few inches. He wants to give up, but André and Dad encourage him and eventually he makes the biggest kick of the day.
1x63 – Episode 63
There's a special event at Caillou's daycare. Leo, Clementine and Caillou are getting ready to be in a play. They enjoy dressing up and rehearsing and they enjoy it even more when their parents come to see the show.
1x65 – Episode 65
Caillou invites Leo to go on a family picnic. After lunch they go exploring in the woods and discover an old tree trunk that has fallen down. They pretend that they are brave knights and the tree trunk is a bad dragon. When it begins to rain, Caillou and Leo bravely lead the family to safety.
1x67 – Caillou's Missing School
Know what this is about? Be the first one to add a plot.
1x68 – Caillou Breaks His Window
Know what this is about? Be the first one to add a plot.
Quelle:
themoviedb.org