1x1 – Pilot
Follows four senators who live together in a rented house in Washington DC.
Gesehen von 4 Usern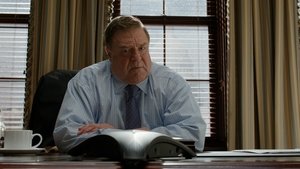 1x2 – No Shame
The senators adjust to their new roommate, and his girlfriend, as preparations for the Congressional Delegation to Afghanistan continue.
Gesehen von 4 Usern
1x3 – All Weapons Red
As the re-election battles heat up the four senators travel to Afghanistan as part of a Congressional Delegation.
Gesehen von 4 Usern
1x4 – Triggers
After a surprise explosion in Afghanistan leaves Louis recovering from an injury, Adriana makes controversial private arrangements for the group to return home. Louis returns home a hero warmly welcomed by his wife (Amy Sedaris) and friends including Senator Rosalyn Dupeche (Wanda Sykes), while Gil John is left to repair his image following a series of missteps in Afghanistan.
Gesehen von 4 Usern
1x5 – Hippo Issues
Tempers heat up as Gil John's wife Maddie (Julie White) arrives to help him prepare for his upcoming debate with Digger Mancusi. Meanwhile, Louis continues to recover in the hospital and Senator Armiston (Cynthia Nixon) leads an ethics committee invesitgation against Robert.
Gesehen von 4 Usern
1x6 – Zingers
Louis continues to gain constituent support as Shelby (Haley Joel Osment) chronicles his recovery. Gil John faces Digger Mancussi in a town hall where he struggles to keep up with his polished and well liked opponent, despite much help and coaching from Robert and Andy.
Gesehen von 4 Usern
1x7 – Prayer Brunch
Rosalyn (Wanda Sykes) organizes a prayer brunch to celebrate Louis' homecoming from the hospital, but the Senators and their fellow Democrats find it difficult to set aside their differences. Aaron and Tammy's relationship continues to grow and Lola has a surprise in store for James.
Gesehen von 4 Usern
1x8 – Ruby Shoals
While on the campaign trail through North Carolina, Gil John blows off a meeting with the governor to visit Ruby Shoals where he becomes re-inspired about his campaign. Robert's pro-fracking visit to a constituent's home in Pennsylvania does not go as planned.
Gesehen von 4 Usern
1x9 – The Rebuttal
Robert proves to the ethics committee that he would never take a mohair suit while Andy prepares to deliver a rebuttal after the State of the Union. Louis is put in the spotlight on his first day back when James mistakenly tweets a photo intended for Lola from the wrong account.
Gesehen von 4 Usern
1x10 – Showgirls
Louis decides to help showgirls organize, but the Watt brothers stand in his way. A video of Gil John hitting a soldier with a chair in Afghanistan goes viral so Maddie looks for a way to humanize him and Andy's Vanity Fair cover shoot takes an unexpected direction.
Gesehen von 4 Usern
1x11 – In the Saddle
When another senator dies unexpectedly, Gil John is asked to organize the funeral arrangements. Louis wins the Nevada primary but Robert has to face off in a Pennsylvania debate to cool the competition.
Gesehen von 4 Usern
Quelle:
themoviedb.org