1x1 – Episode 1
The Leafs get off to a great start, but head coach Sheldon Keefe wants the team to keep their focus on building Stanley Cup habits; to instill playoff-style values in the team's play from the get-go.
Gesehen von 1 User
1x2 – Episode 2
As they get towards the halfway point of the season, Andersen, Campbell, Simmonds, Muzzin, and Matthews manage various injuries. Tavares works on his game, Mikheyev wants to up his ice time, Vesey looks to stabilize himself in the line-up.
Gesehen von 1 User
1x3 – Episode 3
As Covid ravages the North Division schedule, the Leafs double down their efforts to stay safe. Galchenyuk joins the team. While Freddie Andersen struggles, Jack Campbell chases down NHL history. Dubas and Co. prep for the trade deadline.
Gesehen von 1 User
1x4 – Episode 4
With the playoffs just around the corner, Zach Bogosian and Zach Hyman sustain injuries, Nick Foligno joins the team, Matthews chases the NHL's goal-scoring title. The secret club in the Maple Leafs locker room is revealed.
Gesehen von 1 User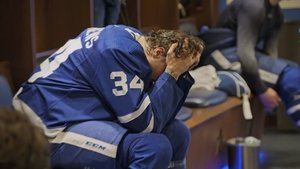 1x5 – Episode 5
It's Leafs vs. Habs in Round 1. The 1st place Toronto Maple Leafs enter the post-season healthy, but a scary injury to Captain John Tavares puts a new lens on things. The Leafs trade blows with the Canadiens in an intense 7-game series.
Gesehen von 1 User
Quelle:
themoviedb.org