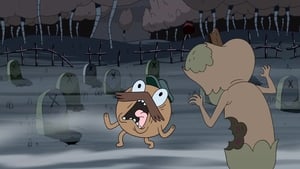 1x1 – Panik auf der Pyjamaparty
Princess Bumblegum's latest experiment accidentally unleashes an undead horde upon the Candy Kingdom.
Gesehen von 19 Usern
1x2 – Ärger in der Beulenwelt
Jake is bitten by Lumpy Space Princess and begins to transform into a Lumpy being. In order to find a cure, Finn is travels to Lumpy Space.
Gesehen von 19 Usern
1x3 – In den Fängen des Eiskönigs
After the Ice King kidnaps a large group of princesses, its up to Finn and Jake to free them.
Gesehen von 19 Usern
1x4 – Rüsseltier
Tree Trunks joins Finn and Jake on an quest, but finds her talents for adventuring leave something to be desired.
Gesehen von 19 Usern
1x5 – Das Enchiridion
Princess Bubblegum sends Finn on his most challenging quest yet--to recover The Enchiridion, the hero's handbook.
Gesehen von 19 Usern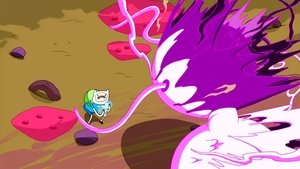 1x6 – Der Wackler
After finding a Jiggler in the wild, Finn and Jake decide to adopt the funny creature as a pet.
Gesehen von 19 Usern
1x7 – Ricardio, der Mann des Herzens
A new stranger arrives in the Candy Kingdom: a charismatic talking heart named Ricardio. He soon becomes very popular, except to Finn who believes he's hiding something.
Gesehen von 19 Usern
1x8 – Die Geschäftsmänner
Finn and Jake discover a tribe of businessmen frozen in a block of ice and hire them to make adventuring easier.
Gesehen von 19 Usern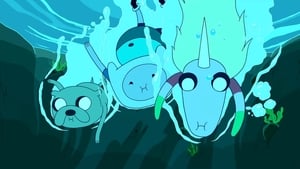 1x9 – Meine zwei liebsten Freunde
Jake tries hanging out with both his best friend, Finn, and his girlfriend, Lady Rainicorn, at the same time. But soon Jake becomes jealous when Finn and Lady seem too friendly.
Gesehen von 19 Usern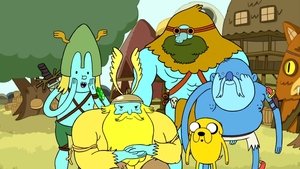 1x10 – Kindheitserinnerungen
While having trouble solving the contradictory problems of the residents of a mountain village, Finn recalls where he found the desire to help people.
Gesehen von 19 Usern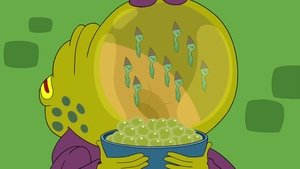 1x11 – Zauberei
Finn and Jake discover a secret tribe of wizards and take magic lessons for a price they aren't prepared to pay.
Gesehen von 19 Usern
1x12 – An die Luft gesetzt!
After Marceline the Vampire Queen visits Finn and Jake at their tree fort she informs them that she is moving in and kicking them out.
Gesehen von 19 Usern
1x13 – Dieb wider Willen
A mission leads Jake into a city where everyone is a thief and the chance to be corrupted is incredibly strong.
Gesehen von 19 Usern
1x14 – Der Hexengarten
A witch steals Jake's shape-shifting powers, but his ego makes getting them back very difficult.
Gesehen von 19 Usern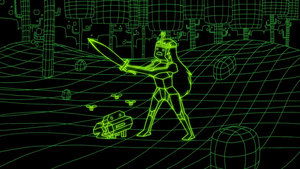 1x15 – Der Tortenwerfroboter
Finn creates a robot to continuously throw pies at Jake but unexpectedly imbues it with a soul.
Gesehen von 19 Usern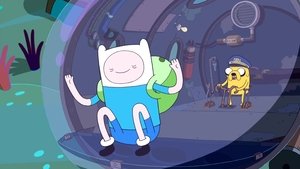 1x16 – Der Ozean der Angst
Finn must overcome his fear of the ocean.
Gesehen von 19 Usern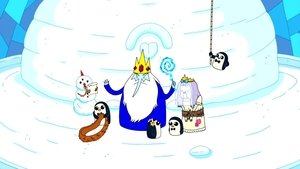 1x17 – Eisige Hochzeit
The Ice King announces that he is engaged and to the shock of Finn and Jake it seems the bride is actually willing. But will the Ice King give up his princess kidnapping ways?
Gesehen von 19 Usern
1x18 – Das Verlies
Finn adventures into a forbidden dungeon, against the wishes of Princess Bumblegum and Jake, and finds more than he bargained for.
Gesehen von 19 Usern
1x19 – Der Herzog
An accident in the Candy Kingdom which Finn and Jake cause is blamed on the Duke of Nuts. Finn and Jake, however, find admitting the truth to be harder and harder as time passes.
Gesehen von 19 Usern
1x20 – Freak City
A trickster turns Finn into a giant foot.
Gesehen von 19 Usern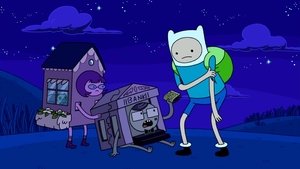 1x21 – Donny
Finn and Jake try to reform a bullying ogre, but realize that their good deed has unexpected consequences.
Gesehen von 19 Usern
1x22 – Der Handlanger
Marceline the Vampire Queen tricks Finn into swearing allegiance to her.
Gesehen von 19 Usern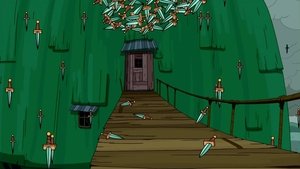 1x23 – Regentag Tagtraum
Jake's imagination literally runs wild, coming to life and bringing many dangers into the tree house.
Gesehen von 19 Usern
1x24 – Was hast Du getan?
After being told to arrest the Ice King, Finn and Jake face an ethical quandary when they realize the villain has not actually committed any recent crimes.
Gesehen von 19 Usern
1x25 – Sein Held
Finn meets his hero, the great warrior Billy, who is not everything Finn expected him to be.
Gesehen von 19 Usern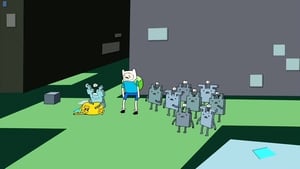 1x26 – Der Goldfresser
Jake is accused of being a horrible monster that has been terrorizing the locals. Soon, Jake himself is unsure if he is or isn't the monster.
Gesehen von 19 Usern