1x0 – Unaired Pilot
Know what this is about? Be the first one to add a plot.
Gesehen von 20 Usern
1x1 – Der neue Boss
Liz Lemon is called upstairs to meet the new network exec, Jack Donaghy, who instructs her to hire movie star Tracy Jordan to draw a young male audience to 'The Girlie Show'.
Gesehen von 21 Usern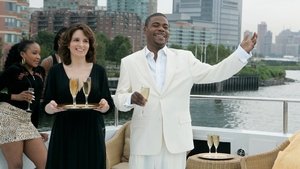 1x2 – Die Wiedergutmachungs-Party
The crew of The Girlie Show is skeptical of having Tracy Jordan join the cast, especially when the show is retitled 'TGS Tracy Jordan'. Feeling everybody blames them, Liz and Tracy decide to throw a party on a yacht.
Gesehen von 21 Usern
1x3 – Blind Date
Jack convinces Liz to go on a date with his friend Thomas. Since she hadn't had a date for a year, Liz gets quite nervous about the Blind Date. When her date turns out to be a woman, Liz is quite confused about how other people see her. Meanwhile the writing staff have a poker night with Tracy and Jack. The later one turns the usually friendly game into a tough competition, when he convinces everyone to play for real money. The only one, who gives Jack a hard time winning is Kenneth.
Gesehen von 21 Usern
1x4 – Jack, der Autor
Jack joins the writing staff during a meeting as an observer. He joins the group day after day and gets more and more involved in their work. The group gets annoyed by his weird, not so funny ideas and wants him to stop attending the meetings. It is up to Liz to tell Jack that he is no longer welcome at the meetings. After she does, Jack is more than just angry at her. Liz also has to deal with Cerie and the way she dresses, which distracts the male workers from their work. After Kenneth gets nachos for him from Yankee stadium, Tracy uses Kenneth for other "missions".
Gesehen von 21 Usern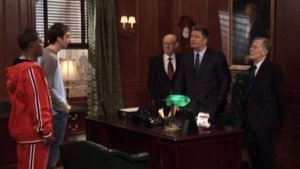 1x5 – Jack, der Schauspieler
Jack wants to integrate product placement in "TGS", but this idea is not very welcomed by the staff. Liz suspects that Tracy is not able to read since he never says what's on the cue-card nor has anyone ever seen him read anything. When Liz confronts her about her suspicion, Tracy pretends to be illiterate. Frank and Toofer talk Jenna into the idea that an actor is getting fired from the show. Her fears seem to get confirmed when Jack wants to appear on the show and Jenna sees her only chance not to get fired by using her sexuality. Jack's appearance on the show ...
Gesehen von 21 Usern
1x6 – Rendezvous mit dem Rattenkönig
Liz is back with her ex-boyfriend Dennis, who seemed to be an annoying character in the past. When Liz is on a date with him in a restaurant they meet Jack and Dennis embarrasses Liz in front of Jack. It gets worse when Dennis shows up in the office. When Jenna lies about her age to Jack, she starts feeling old and decides to do something to look younger. Tracy meanwhile fears he's image turned into that of a nice and normal guy.
Gesehen von 21 Usern
1x7 – Tracy vs. Conan
Jenna was supposed to be on Conan O'Brien's show, but got bumped. Instead, Jack wants to send Tracy to the show as a guest. Tracy is worried about not having an interesting story to tell on Conan's show. He also seems to be behave even more crazy than he usually does. As it turns out, Tracy has some weird reactions to some new medication his doctor prescribed to him. Jenna, meanwhile, is worried that Jack has no respect for her work, since he took her off of Conan's show. Besides being stressed out by a crazy star, a nervous friend and a critical boss like always, Liz...
Gesehen von 21 Usern
1x8 – Die Trennung
Jenna takes Liz out on the town after she breaks up with Dennis, Jack is having problems with his new relationship, and Tracy and Toofer clash over negative African American stereotypes.
Gesehen von 21 Usern
1x9 – Muttergefühle
Tracy wants Josh to be fired, because he doesn't like Josh's impression of him. Liz tells Josh to stop making the impression, but he doesn't. Cerie is engaged to a guy whom she only has known for 3 months and Liz kind of worries that Cerie is making a mistake to marry. After talking to Cerie about marriage and kids, Liz can hear her biological clock ticking. She tells Jenna about her concerns and Jenna tells the complete staff. Jack is very stressed out, especially because of his mother, who constantly calls him from her retirement home.
Gesehen von 21 Usern
1x10 – Zickenkrieg
Jenna is mad at Liz because she thinks her new movie is terrible, and Jack helps Tracy create and market a new cooking machine.
Gesehen von 21 Usern
1x11 – Verwandte Seelen
Jenna and Liz meet two people working at NBC whom they call the head and the hair, because they don't know their names. Jenny sends Liz to ask the head for a date, but Liz ends up with the hair. Just for one day, Jack works for Kenneth and gets to know some of the uncomfortable work Kenneth has to go trough. Tracy realizes that his autobiography is due the next day and involves a main part of the staff in the writing process.
Gesehen von 21 Usern
1x12 – Der Geburtstag des Prinzen
Jack asks Liz to accompany him to a very classy event, which leads to the assumption that this will be a date. Jack first tells her it is not a date until they meet his ex-wife at the party and Jack introduces Liz as his girlfriend. Jenna sneaks herself into the party, because she wants to meet the Austrian Highness, whose birthday is celebrated at the party. Tracy uses the NBC office as a party spot and invites some female dancers over. One of the dancers tries to seduce Pete into cheating on his wife and he even thinks about doing so. Kenneth tries to stop him.
Gesehen von 21 Usern
1x13 – Valentinsnacht
Liz makes the staff work on Valentine's Day all night long. While Liz gets flowers and she doesn't know who send them to her, Pete forgets about the Valentine's Day, which is also his wife's birthday. Jack meets with Bianca to make their divorce final. To celebrate that he is divorced, Jack goes with Tracy into a bar, but Tracy has to leave because he wants to spend time with his wife. Jenna has got the feeling that Frank doesn't like her, which turns out to be true when he tells her so. Meanwhile, the staff tries to talk Kenneth into hooking up with Cerie.
Gesehen von 21 Usern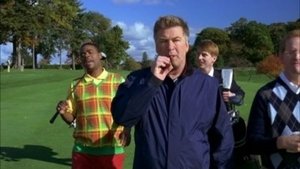 1x14 – Das F-Wort
Liz decides to be a nicer boss when she overhears one of the writers calling her an offensive name.
Gesehen von 21 Usern
1x15 – Verhandlungssache
Kenneth becomes part of Tracy's entourage. And, while Kenneth treats Tracy honestly, it turns out that other members of Tracy's entourage have let him win computer and basketball games and even laugh about his jokes, when they are not funny, just to please him. Jenna is voted as one of the funniest women by a magazine and when giving an interview for the magazine gets mis-quoted about the American army troops. This gives her a bad public image. To correct this, she wants to give another interview but it seems as if she has no idea what she is talking about. Jack wants...
Gesehen von 21 Usern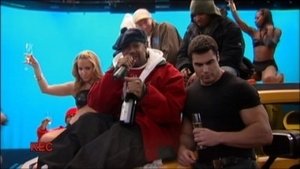 1x16 – Rassistin wider Willen
Liz dates an African American man called Steven and when they don't hit it off, he accuses her of racism. Jack tries to mend a feud between Tracy Jordan and rap producer Ridikolus by having the former present the Source awards and the latter endorse his Donaghy wine.
Gesehen von 21 Usern
1x17 – Der Kampf der Iren
Eddie, Jack's brother, comes for a visit, who tells him that their father died. It turns out that Jack hasn't seen his father in 17 years and that Eddie took care of him for the rest of his life and is now broke and his now to live in the YMCA. While their first meeting ended in a fight, it is now time for them to reconcile. Liz is supposed to fire 10% of her staff and, as everyone finds out, the staff tries to please her as much as they can to not get fired. During aerobics Liz meets the guy who accidentally send her flowers on Valentine's Day and his girlfriend. ...
Gesehen von 21 Usern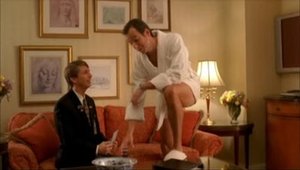 1x18 – MännerfreundschaftFeuerwerk
Jack uses Kenneth to scout a young gay competitor, Liz poses as an alcoholic to impress a guy she has a crush on, and Dr. Spaceman tells Tracy that he is a descendant of Thomas Jefferson.
Gesehen von 21 Usern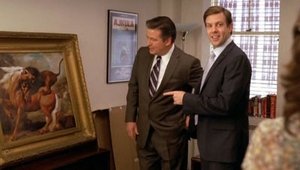 1x19 – Folge 19
After the "Salute to Fireworks" disaster, Jack is taken away the microwave department by Don Geiss. Geiss also talks to Tracy, who tells him about his movie project "Jefferson" in which Tracy wants to play Thomas Jefferson, one of his ancestors. When Geiss turns the ideas down, Tracy plans to shoot an own "Jefferson" promotion on his own to convince Geiss that the movie is a great idea. Liz is very happy with Floyd and Jack wants to meet him. So, Jack, Floyd and Liz are having dinner together, but Jack is very sad about being taken away the microwaves. Floyd and Jack ...
Gesehen von 21 Usern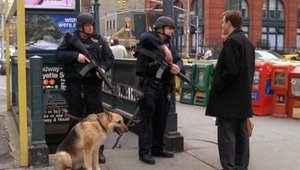 1x20 – Oh, wie schön ist Cleveland
Liz considers moving to Cleveland with her new boyfriend, Tracy thinks the "Black Crusaders" are after him for playing negative black stereotypes, and Jack has sexual problems with his new fiancée.
Gesehen von 21 Usern
1x21 – Herzflattern
Tracy goes AWOL before the final show to avoid the "Black Crusaders," but Kenneth reveals that he's actually staying with his cousin. Meanwhile, the pressure of his imminent wedding and a visit by his mother lands Jack in the hospital.
Gesehen von 21 Usern
Quelle:
themoviedb.org