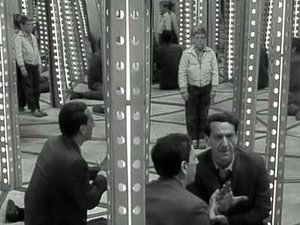 5x1 – In Praise of Pip
In the early 1960's, small-time bookie Max Phillips (Jack Klugman) hates his life. His only pride is his son, Pip, then serving in the U.S. Armed Forces in Vietnam. When a young bettor uses company funds to bet with Max, then loses everything, Max returns his money, angering Max's bosses.
Gesehen von 2 Usern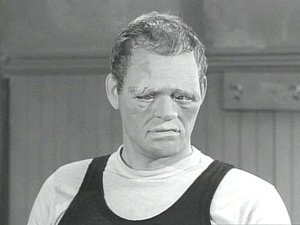 5x2 – Steel
In the near future boxing has been outlawed and is performed by mechanical robots. To replace his broken client, the manager decides to enter the ring and replace him.
Gesehen von 2 Usern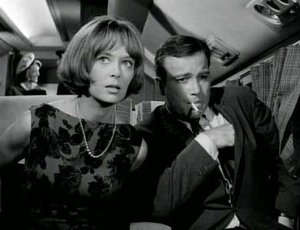 5x3 – Nightmare at 20,000 Feet
A man, newly recovered from a nervous breakdown, becomes convinced that a monster only he sees is damaging the plane he's flying in.
Gesehen von 2 Usern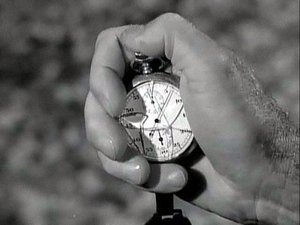 5x4 – A Kind of a Stopwatch
A man is given a stopwatch that halts time.
Gesehen von 2 Usern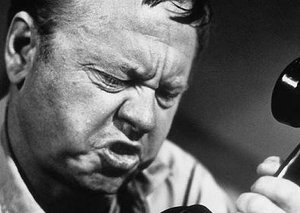 5x5 – The Last Night of a Jockey
A washed-up jockey gets his wish while waiting for the results of his race fixing hearing.
Gesehen von 2 Usern
5x6 – Living Doll
A frustrated father does battle with his stepdaughter's talking doll, whose vocabulary includes such phrases as "I hate you" and "I'm going to kill you".
Gesehen von 2 Usern
5x7 – The Old Man in the Cave
In a post-apocalyptic settlement, the inhabitants' survival is dependent on the advice of an unseen man living in a nearby cave. This dependence is tested when a band of soldiers descends on their town.
Gesehen von 2 Usern
5x8 – Uncle Simon
Caregiver Barbara Polk must take care of her uncle's robot after his untimely and accidental death.
Gesehen von 2 Usern
5x9 – Probe 7, Over and Out
Colonel Cook stranded on another planet with no hope for rescue meets a woman who is the sole survivor from another planet.
Gesehen von 2 Usern
5x10 – The 7th Is Made Up of Phantoms
Three 1960's Army National Guard soldiers on maneuvers near the Little Big Horn battle site find themselves unwittingly involved in Custer's last stand.
Gesehen von 2 Usern
5x11 – A Short Drink from a Certain Fountain
An aging married man convinces his brother to inject him with a youth serum.
Gesehen von 2 Usern
5x12 – Ninety Years Without Slumbering
An old man believes that his life will end the moment his grandfather clock stops ticking.
Gesehen von 2 Usern
5x13 – Ring-A-Ding Girl
Movie star Bunny Blake receives a ring from her hometown which is giving her warnings to come home while she flies cross country.
Gesehen von 2 Usern
5x14 – You Drive
After involved with a hit-and-run killing a child, Mr. Oliver Pope is haunted by his car.
Gesehen von 2 Usern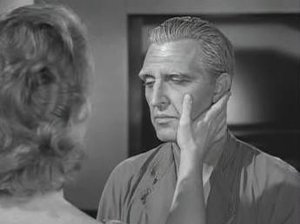 5x15 – The Long Morrow
Before leaving on a decades long mission, astronaut Douglas Stansfield meets a woman and falls in love.
Gesehen von 2 Usern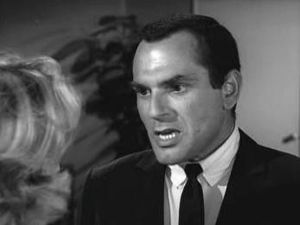 5x16 – The Self-Improvement of Salvadore Ross
Saladore Ross has a unique talent where he can trade physical characteristics with other people and will do anything to get the love of Leah Maitland.
Gesehen von 2 Usern
5x17 – Number 12 Looks Just Like You
In a future society everyone must undergo an operation at age 19 to become beautiful and conform to society. One young woman desperately wants to hold onto her own identity.
Gesehen von 2 Usern
5x18 – Black Leather Jackets
Three leather jacket wearing, motorcycle riding men invade a peaceful neighborhood.
Gesehen von 2 Usern
5x19 – Night Call
Telephone calls begin to haunt a disabled elderly woman.
Gesehen von 2 Usern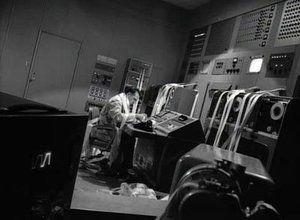 5x20 – From Agnes - with Love
A computer technician begins to take advice for his love life from Agnes, the computer he works with.
Gesehen von 2 Usern
5x21 – Spur of the Moment
An engaged heiress is terrorized by a middle-aged woman on a horse pleading with her not to go through with her impending marriage.
Gesehen von 2 Usern
5x22 – An Occurrence at Owl Creek Bridge
It is the end of the Civil War and Union troops have occupied the South. They are going to execute a Southern resistance fighter.
Gesehen von 2 Usern
5x23 – Queen of the Nile
A reporter interviews a Hollywood movie queen who has a secret to her eternal beauty.
Gesehen von 2 Usern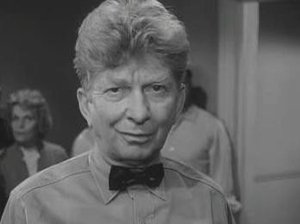 5x24 – What's in the Box
Philanderer Joe Britt sees his indiscretions shown on his own TV set after it was worked on by a very unique repairman.
Gesehen von 2 Usern
5x25 – The Masks
Wealthy Jason Foster is dying and he invites his greedy heirs to a Mardi Gras party where they must wear the masks he specially had made for them or else be cut off from their inheritance.
Gesehen von 2 Usern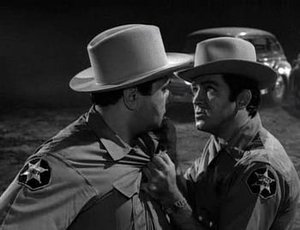 5x26 – I am the Night - Color Me Black
The sun won't rise on a small town where an execution is scheduled to take place.
Gesehen von 2 Usern
5x27 – Sounds and Silences
Roswell Flemington enjoys loud noises, is an annoyance to others and is suitably punished.
Gesehen von 2 Usern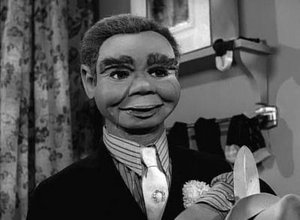 5x28 – Caesar and Me
When ventriloquist Jonathan West can not find any work his dummy Caesar suggests he turn to robbery.
Gesehen von 2 Usern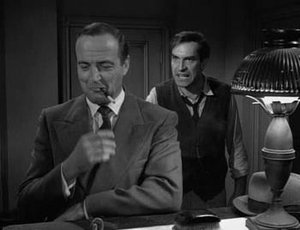 5x29 – The Jeopardy Room
A defector is trapped in a hotel room and given 3 hours to find a hidden bomb.
Gesehen von 2 Usern
5x30 – Stopover in a Quiet Town
After drinking too much at a party, Bob and Millie Frazer awaken in a strange bed, in a strange house in a strange town. They're still dressed in the clothes they wore to the party but their memories are fuzzy. Bob was too drunk to drive so Millie was behind the wheel and she vaguely remembers a shadow falling over them. They soon realize that everything in the town is fake. The telephone in the house isn't wired; the drawers and cupboards in the kitchen are only a facade; even the trees are fake. The town is deserted and Millie begins to wonder if they're dead. They ...
Gesehen von 2 Usern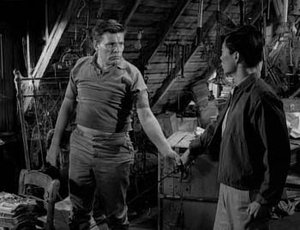 5x31 – The Encounter
A man, Fenton, is cleaning out his attic when a Japanese gardener, Arthur Takamuri, stops by asking if he would like his grass cut. Fenton invites him up for a beer but having served in the Pacific during World War II isn't quite sure what to make of his visitor. He has his prejudices but wavers as Arthur says he was born in the USA and is no different than any other American. As they discuss their pasts, it's revealed that both men have lied and are haunted by what happened to them.
Gesehen von 2 Usern
5x32 – Mr. Garrity and the Graves
Mr. Garrity comes into town offering to resurrect the dead and reunite the townsfolk with their departed loved ones out of the goodness of his heart. Do the town-folks want these miracles to occur?
Gesehen von 2 Usern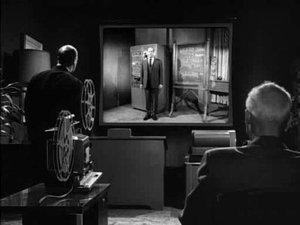 5x33 – The Brain Center at Whipple's
A heartless CEO completely automates his factory and lays off almost all of his workers over the objections of his employees.
Gesehen von 2 Usern
5x34 – Come Wander with Me
Singer Floyd Burney searches the backwoods for new songs and finds Mary Rachel and much more deep in the Twilight Zone.
Gesehen von 2 Usern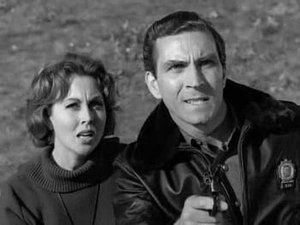 5x35 – The Fear
Charlotte Scott and policeman Robert Franklin seem to be stalked by giants.
Gesehen von 2 Usern
5x36 – The Bewitchin' Pool
Two children escape their bickering parents through a portal in the bottom of their swimming pool to a magical land watched over by a kindly old woman the children call Aunt T.
Gesehen von 2 Usern
Quelle:
themoviedb.com