4x1 – Lazarus erhebt sich
Sam tries to move on without his brother and becomes hardened and more reckless in the way he hunts. Bobby and his psychic friend Pamela try to contact the other side to find out more about Dean's ultimate fate.
Gesehen von 75 Usern
4x2 – Die Zeugen
The Winchesters and Bobby Singer encounter the angry spirits of people they couldn't save.
Gesehen von 75 Usern
4x3 – Am Anfang war…
Castiel sends Dean back in time to 1973 where he encounters younger versions of his parents and for the first time meets his grandfather Samuel Campbell who holds a secret that sheds a light on the Winchester Family's connection to the hunter community.
Gesehen von 75 Usern
4x4 – Metamorphose
A hunter named Travis points Sam and Dean towards a meat eating creature called a Rugaru. Complicating matters is the fact that Travis's target is a normal suburban dad in the earlier process of changing and he hasn't killed anyone yet.
Gesehen von 75 Usern
4x5 – Monsterfilm
It's Halloween time and the Winchesters face-off against a shapeshifter with a penchant for impersonating classic movie monsters like Dracula, the Wolfman, and the Mummy.
Gesehen von 75 Usern
4x6 – Gelbfieber
Sam and Dean discover a Colorado small town's darkest secret as a wave of people fall prey to a "ghost sickness" that induces fear, paranoia, and ultimately a fatal heart attack. Sam and Bobby must figure out the cause and cure of the sickness when Dean himself falls prey to it.
Gesehen von 75 Usern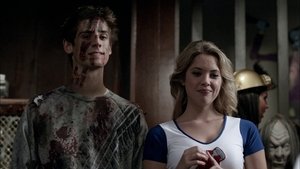 4x7 – Der große Kürbis, Sam Winchester
Investigating two mysterious deaths in a small town, Sam and Dean discover a witch is sacrificing people to summon an ancient powerful and extremely dangerous demon.
Gesehen von 75 Usern
4x8 – Wunschdenken
Sam and Dean investigate when a small town's wishing well actually starts to grant the people's wishes.
Gesehen von 75 Usern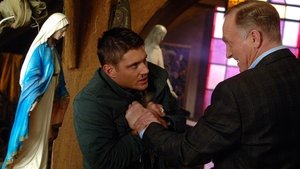 4x9 – Ich weiß, was du letzten Sommer getan hast
Sam, Dean, and Ruby discover the existence of a female prophet named Anna Milton, who can hear the voices of angels and thus figures into the plans of a demon named Alastair who wants to use her as a tool against the angels.
Gesehen von 75 Usern
4x10 – Himmel und Hölle
Dean and Sam figure out why Castiel and Uriel want Anna Milton dead when the three of them are forced to go on the run, not only from heavenly and vengeful angels, but from Alastair and his demon minions who also try to track down Sam, Dean, and Anna. With the assistance from the now-blind soothsayer, Pamela Barnes, they discover that 'Anna' is a fallen (former) angel and needs to seek her grace wings before the forces of both Heaven and Hell find them.
Gesehen von 75 Usern
4x11 – Familiäre Überreste
The Winchesters try to stop a family from moving into a haunted house.
Gesehen von 75 Usern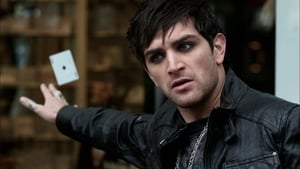 4x12 – Illusionen
Sam and Dean investigate the activities of a trio of magicians who are using a grimoire to execute real feats of magic.
Gesehen von 75 Usern
4x13 – Schulzeit
Sam and Dean investigate a haunting at one of their old high schools where we will see what school was like for the brothers back in 1997.
Gesehen von 75 Usern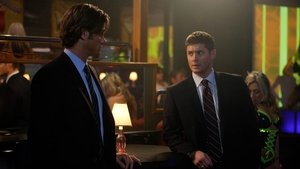 4x14 – Sex und Gewalt
The Winchester's investigation into a series of deaths takes a deadly turn when a siren tries to tear them apart for good.
Gesehen von 75 Usern
4x15 – Der Tod macht Urlaub
Sam and Dean try to find out why people in a small town are having near death experiences with alarming frequency by going into the spirit world.
Gesehen von 75 Usern
4x16 – Teuflischer Engel
Castiel and Uriel ask Dean to torture Alastair for information. But when Alastair breaks free, Castiel starts to believe that there is a traitor among the angels.
Gesehen von 75 Usern
4x17 – Dieses Leben ist ätzend
In an alternate reality mysteriously created as if Sam and Dean were never brothers and have never met, Sam and Dean work at a marketing office where they are forced to team up with one another when a series of mysterious suicides point to a ghost haunting the premises.
Gesehen von 75 Usern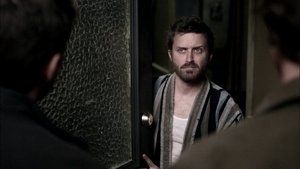 4x18 – Das Monster am Ende des Buches
An author has been writing books about Sam and Dean since 2005. Sam and Dean try to figure out how he knows so much about them.
Gesehen von 75 Usern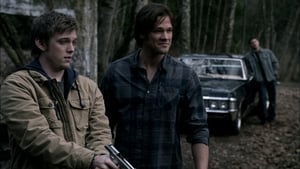 4x19 – Grabräuber
Sam and Dean are contacted by one Adam Milligan who claims to be John Winchester's son. The boys immediately suspect a demon trap and go to investigate. Adam turns out to legitimately be John's son and Dean is furious that John kept Adam's existence from them as well as sheltered Adam from the hunting life. Meanwhile other supernatural forces are at work, which lead to a tragic twist that neither Sam, Dean, or their new sibling could have guessed.
Gesehen von 75 Usern
4x20 – Die Wiederkunft
Castiel has been sent back to Heaven. His human host, Jimmy, tries to regain his life. But the demons won't leave him alone and now his family is at risk. Sam and Dean can help a little, but they're going to need a "miracle" to win.
Gesehen von 75 Usern
4x21 – Wenn der Damm bricht
Sam is becoming more and more inhuman. Dean and Bobby put him in the safe hold until he gets over his addictions. After Sam escapes with help, unknown to him, from Castiel, he finds Ruby and begins to feed once again. Dean begins to truly believe that the old Sam is gone for good.
Gesehen von 75 Usern
4x22 – Luzifer erhebt sich
When the last few of the 66 Seals are broken by Lilith's minions, Sam and Dean prepare for the big and probably futile fight in very different ways. Sam joins Ruby on a final attempt to kill Lilith before Lucifer rises, while Castiel and Zachariah tell Dean that it's time to play his part in stopping Lucifer.
Gesehen von 75 Usern
Quelle:
themoviedb.com