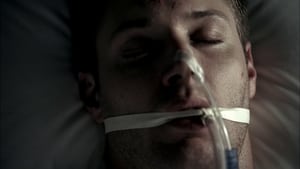 2x1 – Während ich starb
In the aftermath of the car crash, the surviving Winchesters go to the hospital, where one is stalked by a Reaper while another must consider sacrificing himself to save the others.
Gesehen von 81 Usern
2x2 – Alle lieben Clowns
Sam and Dean listen to a message on John's cell phone from a woman named Ellen (guest star Samantha Ferris)and decide to track her down. They are shocked to discover Ellen runs a road house that also serves as a gathering place for hunters like themselves. Meanwhile, at a small town carnival, a demonic clown is persuading children to let it into their home so he can murder their parents.
Gesehen von 81 Usern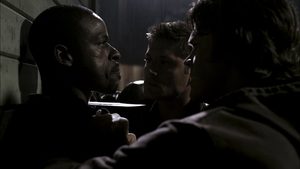 2x3 – Blutrausch
The Winchester brothers enjoy Dean's new baby: a shiny newly restored car, while checking out a report of two recent human deaths and over a dozen split-open cows in the small town of Red Lodge, Montana. The local sheriff laughs at Sam and Dean's idea that a cult is behind it, claiming it happens naturally in the sun. But when Sam and Dean sneak into the morgue under false pretenses, they find a victim that has retractable vampire fangs. They catch demon hunter Gordon Walker, who claims to be a friend of their late father and having made both kills after six months of...
Gesehen von 81 Usern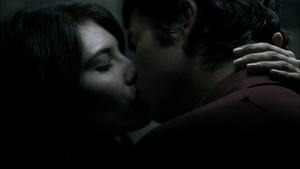 2x4 – Spiel nicht mit toten Dingen
Dean and Sam assist Neil Levine, a heartbroken college kid who consoles his long-time crush after her breakup and then loses her in a car accident. Determined to have his feelings returned, Neil uses necromancy to bring her back from the dead. His efforts backfire when she returns as an angry and vengeful Zombie, forcing the brothers to stop her after she kills her boyfriend Matt and the girl he cheated on her with.
Gesehen von 79 Usern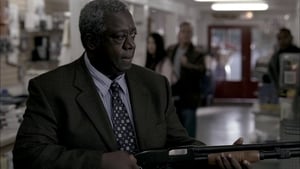 2x5 – Simon hat gesagt…
Visions show Sam, still hunting for the master demon with Dean, the way to another small town where paranormal events occur, some innocent, some chillingly evil. The Winchester brothers are convinced it's all the paranormal work of 23-year-old Andy Gallagher, but doubt as that boy, although a bit of an outcast loser living in a van filled with philosophy as well as rock music seems sincerely surprised and using his powers with self-control. Soon they find after rescuing Tracy from what seems his work there is another at least as able and less scrupled, in fact, Andy's...
Gesehen von 79 Usern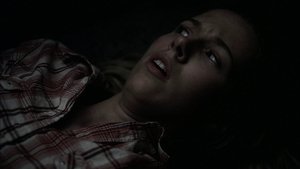 2x6 – Mörderburg
Sam and Dean meet up with America's first serial killer, while Jo lies to her mother about going to Vegas and joins Sam and Dean to help them on their hunt.
Gesehen von 79 Usern
2x7 – Die üblichen Verdächtigen
Dean has been framed for murder. Sam tries to find the one behind it.
Gesehen von 79 Usern
2x8 – Kreuzung zur Hölle
The people of a small town have been selling their souls to a crossroads demon.
Gesehen von 79 Usern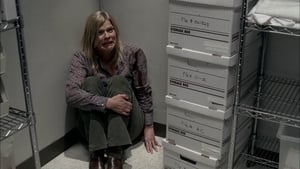 2x9 – Croatoan
Another one of Sam's visions in which Dean kills a man by name of Duane Tanner sends the Winchesters to Rivergrove, a near ghost town facing mass demonic possession. Sam and Dean begin to believe that the demons are trying to destroy the town from the inside out when the remaining town-folk try to kill them.
Gesehen von 79 Usern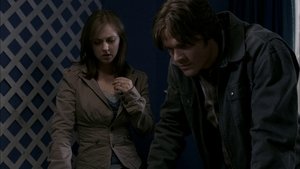 2x10 – Gejagt
Sam is shocked when Dean finally tells him their dad asked him to watch over Sam to save him, or if that fails kill him. Sam leaves alone to let Ash look up a same-type clairvoyant demonic victim. Ava Wilson, from Peoria, Indiana, fits that bill and looks up Sam to warn she saw his death, then leaves ridiculing him. Dean followed Sam, just in time to intervene when crazy Gordon Walker turns up, who will stop at nothing to destroy 'utterly evil' Sam. It's a testing fight for the brothers.
Gesehen von 79 Usern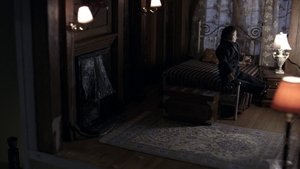 2x11 – Spielsachen
Sam and Dean visit the Pierpont Inn, a creepy old mansion turned failing hotel. They meet the owner, Susan, and her daughter Tyler, who are packing to move after they sell the hotel. Tyler is playing with a little girl named Maggie. The brothers notice strange items around the hotel, including an urn with a familiar pattern, dolls with their heads backwards and Susan's mother, who looks vacant and beyond terrified. When Susan finds them in her mother's room trying to talk to her, she throws them out and threatens to call the cops.
Gesehen von 79 Usern
2x12 – Der Mandroid
A jewelry store heist committed by an employee and linked to a mysterious bank robbery bring Sam and Dean into the chase. The weird part seems to be the fact that the suspects commit suicide directly following the heist. A friendly tip points towards another shapeshifter. However, the search is interrupted by a hostage crisis.
Gesehen von 79 Usern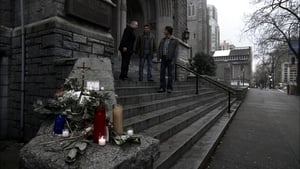 2x13 – Haus der Heiligen
In Providence, Rhode Island, the local Gloria kills a man claiming that an angel in a beautiful white light had chosen her for redemption and asked her to stab the sinner to accomplish God's will. Dean and Sam investigate the case and they discover that other people had been visited by the angel and committed murders. Further, the angel has appeared after the death of Father Gregory, who was murdered on the steps of his church two months ago. When Sam is visited by the angel and asked to kill a man, the skeptical and atheist Dean confronts the faith of Sam telling ...
Gesehen von 79 Usern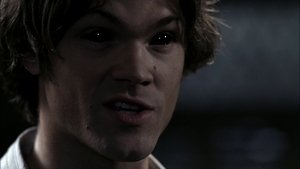 2x14 – Unter einem schlechten Stern
After Sam goes missing for over a week, Dean finally receives a phone call from his brother. Dean finds Sam in a hotel room, covered in blood and suffering from the effects of a week long memory blackout. Upon investigation, the brothers find a video-tape of Sam killing another hunter in cold blood, which leads Sam to believe his dark side is taking over. When the dark side finally emerges Sam attacks Dean and continues on his hunter killing spree with his next targets being family friends Jo Harvelle and Bobby Singer.
Gesehen von 79 Usern
2x15 – Tricks und Legenden
When colleague hunter Bobby Singer arrives, the Winchester brothers tell him alternative versions, each incriminating the other, of their weird experiences in a university where improbable stories happened. Professor Cox made a fatal fall when seduced by a non-student girl, a frat's pledge-master reportedly suffered extreme hazing after an alien abduction, a research assistant's arm was eaten alive by a sewer alligator. Sam lost his computer, Dean his car. Bobby concludes it's the work of a trickster demon. The brothers have a single suspect, who puts on a grand final...
Gesehen von 79 Usern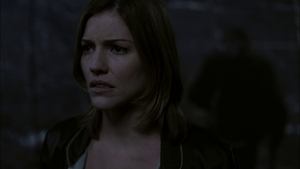 2x16 – Highway 41
Molly and her husband are driving along a long deserted highway at night when they come upon a farmer in the middle of the road who Molly tries unsuccessfully to not hit. Next thing she knows her husband is missing and the farmer is chasing her. Things get worse when the Winchesters inform Molly that the farmer is actually a highway ghost who, it seems, appears annually to get his revenge on her.
Gesehen von 79 Usern
2x17 – Herz
A mauled body is found with its heart missing, the brothers know that means one thing - a werewolf ... and tonight the moon is full. Can they save a lovely girl from being the next gruesome fatality?
Gesehen von 79 Usern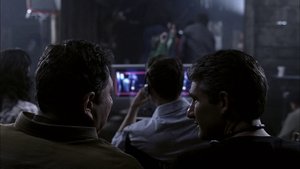 2x18 – Hollywood Babylon
The Winchesters go undercover as PAs on a haunted movie set after getting wind of reports of tag teaming ghosts. The brothers deal with an asinine studio executive out to make cheap marketing stunts(guest star Gary Cole), a disenfranchised screenwriter seeking revenge for unnecessary revisions to a formally great script, and Dean's fan-boyish feelings for the leading lady.
Gesehen von 79 Usern
2x19 – Hinter Gittern
When an old block is reopened in the Green River County Detention Center after thirty years, a fiend is released, killing the inmates. Three months later, Dean and Sam are arrested during a heist to be sent to the haunted prison to help Deacon, a former friend of their father. While FBI Agent Victor Henricksen presses Dean, the public defender Mara Daniels believes the brothers are not guilty of most of the inconsistent charges against them, and helps the Winchester brothers in the end.
Gesehen von 79 Usern
2x20 – Wie es ist und wie es niemals sein sollte
Dean gets attacked by a Djinn, a creature capable of warping reality. The next things he knows he's in Lawrence, Kansas, in a stable relationship with a woman named Carmen, his mother is alive and well, and he and Sam are no longer on speaking terms. When the idea of a peaceful existence begins to settle in, visions of his previous life as a hunter start appearing out of nowhere.
Gesehen von 79 Usern
2x21 – Der Sturm bricht los (1)
The Yellow Eyed Demon transports Sam, Andy, and Ava along with other "Special Children" Jake and Lily to the remains of a ghost town to initiate the first steps of his war against mankind. Dean contacts Bobby Singer, Ash, and Ellen for help in locating his brother.
Gesehen von 79 Usern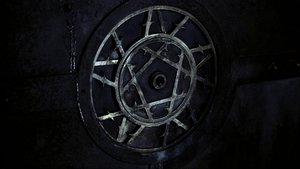 2x22 – Der Sturm bricht los (2)
Dean hits an emotional rock bottom after a devastating personal loss. The Yellow Eyed Demon begins a calculated strategic move to unleash the armies of hell.
Gesehen von 79 Usern
Quelle:
themoviedb.com