10x0 – A Very Special Supernatural Special
A behind-the-scenes look at the first nine seasons; interviews with the cast and crew; a look at season ten.
Gesehen von 33 Usern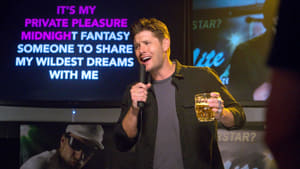 10x1 – Dunkelheit
Dean is a demon and running amuck with Crowley while Sam tries to figure out what happened to his brother. Meanwhile, Castiel is dealing with his diminishing grace.
Gesehen von 36 Usern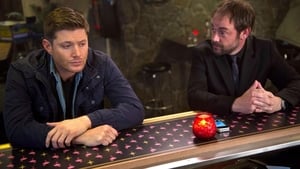 10x2 – Der Reichenbachfall
Crowley is worried about Dean getting out of control, giving him a target to feed the mark. Sam struggles to escape from Cole. Hannah tries to convince Metatron to give Castiel's grace back.
Gesehen von 35 Usern
10x3 – Wiedergeburt
Sam continues to try to save Dean from the Mark of Cain. Realizing that Dean's antics are causing problems for him in hell, Crowley seeks help from a reluctant Castiel.
Gesehen von 35 Usern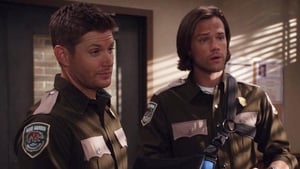 10x4 – Paper Moon
Sam and Dean investigate a series of werewolf attacks in an attempt to find out who the culprit is.
Gesehen von 35 Usern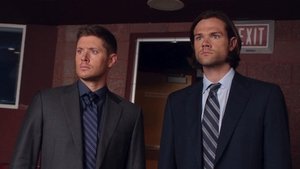 10x5 – Fan Fiction
Sam and Dean investigate a haunting at a theatre.
Gesehen von 35 Usern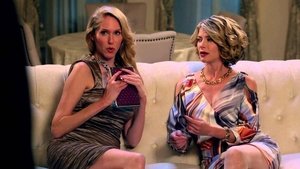 10x6 – Cluedo
Dean encounters a surprising message on Bobby's phone, and Sam and Dean investigate.
Gesehen von 35 Usern
10x7 – Hexensabbat
Sam and Dean discover a group of witches "gone wild" and they attempt to stop them.
Gesehen von 35 Usern
10x8 – Notruf Hibbing
Jody Mills is matched with an overeager partner during a mandatory sheriff's retreat; when a gruesome corpse is discovered, Jody calls Sam and Dean to help investigate.
Gesehen von 35 Usern
10x9 – Die Menschen, die wir zurück lassen
When Castiel finds Jimmy's daughter in a group home, she persuades him to break her out; Crowley is faced with a big challenge.
Gesehen von 35 Usern
10x10 – Machtkämpfe
Sam and Dean try to deal with the aftermath following the bloodbath. Castiel attempts to fix a struggling relationship with Claire, and Claire wants revenge on Dean for what he did to her friend.
Gesehen von 35 Usern
10x11 – Zuhause ist es doch am schönsten
Charlie returns from Oz - Sam is scanning the internet for suspicious paranormal activity and comes across a video of Charlie beating up a district attorney. Dean suspects she's back from Oz and hunting on her own, assuming the district attorney must have been a demon. When they do find Charlie, they are shocked when she tells them why she really came back from Oz.
Gesehen von 35 Usern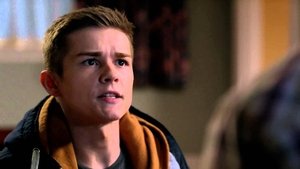 10x12 – Der Tag an dem die Hexe starb
Dean is mysteriously transformed into a teenager. He has to deal with teenage struggles all over again, along with being a hunter.
Gesehen von 20 Usern
10x13 – Der WLAN-Geist
To take his mind off of the Mark of Cain, Dean goes hunting. They track down a ghost that is killing college students through electronics and the internet.
Gesehen von 20 Usern
10x14 – Das Lied vom Henker
Sam, Dean, and Castiel must deal with Cain's return. Rowena and Crowley grow closer.
Gesehen von 35 Usern
10x15 – Was sie trugen
Despite Dean's directive to forget about looking for a cure for the MOC, Sam continues to do research. Dean suspects Sam is hiding something but decides to focus on a murder case where they run into Cole.
Gesehen von 35 Usern
10x16 – Eine Frage des Glaubens
Dean and Sam investigate grisly, identical suicides by various people with little in common; the brothers begin to suspect that a priest is involved.
Gesehen von 20 Usern
10x17 – Entscheidungen
Castiel comes back and he and Sam check out a lead on the Mark of Cain. They decide to go to Bobby for help. Meanwhile Dean and Rowena meet up.
Gesehen von 20 Usern
10x18 – Das Buch der Verdammten
Charlie contacts Sam and Dean after she finds the Book of the Damned - which could help eliminate the mark of Cain; Castiel and Metatron look for Castiel's grace.
Gesehen von 20 Usern
10x19 – Werther
Sam looks for a magical box built by former Men of Letters, Magnus, hoping it will cure Dean, but is surprised by a deadly alarm system.
Gesehen von 20 Usern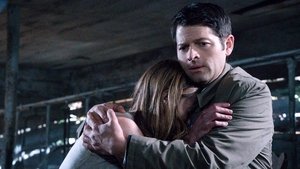 10x20 – Der Himmel im Geiste
Castiel tries to reconnect Claire with her mother who went missing, and calls Sam and Dean for help with the case.
Gesehen von 20 Usern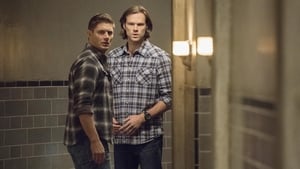 10x21 – Die dunkle Macht
While investigating a strange murder, Sam and Dean discover the killer has the same tattoo as those from the Styne family; Castiel plays referee when Charlie and Rowena must work together; Crowley turns to an old enemy for help with Rowena.
Gesehen von 20 Usern
10x22 – Schicksal
Dean takes matters into his own hands regarding Stynes; Sam attempts to come to terms with his decision.
Gesehen von 20 Usern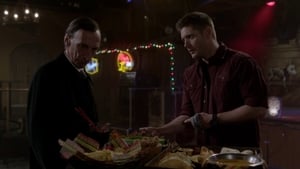 10x23 – Finsternis
Dean comes to a stunning decision that will alter his life -- as well as Sam's; Rowena and Crowley face off, putting Castiel in the middle.
Gesehen von 20 Usern
Quelle:
themoviedb.com